Peter Thiel
German-born American–New Zealand entrepreneur, venture capitalist, and hedge fund manager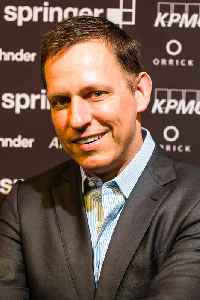 Peter Andreas Thiel is a German-American billionaire entrepreneur and venture capitalist. A co-founder of PayPal, Palantir Technologies, Founders Fund, he was the first investor in Facebook. He was ranked No. 4 on the Forbes Midas List of 2014, with a net worth of $2.2 billion, and No. 391 on the Forbes 400 in 2020, with a net worth of $2.1 billion.


You Might Like
Total eclipse of the Hart? Thiel's wealth surges as Palantir goes public
Peter Thiel's spook software outfit Palatir has surged 37 per cent on its first day of trading on the NYSE, taking its market cap to US$22 billion. Read More Peter Thiel, others invest $4m in Auckland..
New Zealand Herald - Published
China is running furtive surveillance of innocents' lives online. And so are we
First published by The Spinoff There is little to separate the methods of Zhenhua Data from those of the Peter Thiel founded Palantir, which has an office in Wellington alongside our spy agencies. It..
New Zealand Herald - Published
Thiel met with 'racist fringe' figure as he campaigned for Trump: report
New Zealand citizen and Facebook board member Peter Thiel dined with a member of the "white nationalist racist fringe" in 2016, Buzzfeed says. Read More Peter Thiel, others invest $4m in Auckland..
New Zealand Herald - Published
Kris Kobach projected to lose Kansas primary, despite backing from Peter Thiel
Shelly Yang/Kansas City Star/Tribune News Service via Getty Images Decision Desk is projecting that Rep. Roger Marshall will win the Republican primary for Senate in Kansas, a huge blow to contender..
The Verge - Published
Everything you need to know about Palantir, the secretive company coming for all your data
Palantir co-founder Peter Thiel was an early supporter of Donald Trump and served on the president's transition team. | Drew Angerer/Getty Images How Palantir and Peter Thiel might lead the biggest..
WorldNews - Published
Peter Thiel told Zuckerberg not to fact-check political ads: Report
San Francisco: While Twitter and Snapchat have acted hard on political ads on their platforms - with Twitter CEO Jack Dorsey banning all kinds of political ads - Facebook has not taken any decision and..
WorldNews - Published
Thiel's Founders Fund sells remaining Facebook shares
Early Facebook Inc backer, Founders Fund, has sold all of its holdings in the social media giant as part of a previously established trading plan by the venture capital firm's partner, Peter Thiel,..
Reuters - Published
Google finally says it will kill censored Chinese search engine Project Dragonfly
Google has finally said its controversial project to build a censored search engine for China has been "terminated". Speaking at a Senate Judiciary Committee hearing on Tuesday, Google's vice president..
WorldNews - Published