Air Force One
Air traffic control call sign of any US Air Force aircraft carrying the president of the US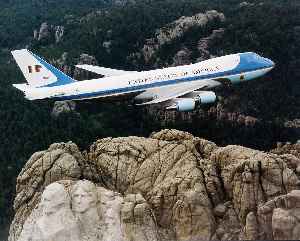 Air Force One is the official air traffic control call sign for a United States Air Force aircraft carrying the president of the United States. In common parlance, the term is used to denote U.S. Air Force aircraft modified and used to transport the president. The aircraft are prominent symbols of the American presidency and its power.


Will Trump Carry Out His Threat To Ban TikTok?

President Donald Trump told reporters aboard Air Force One Friday evening that he plans to ban TikTok. The popular music and dance app is one of many owned by Chinese companies. According to Gizmodo,..
Credit: Wochit News Duration: 00:42
Published
You Might Like



How Kristi Noem, Mt. Rushmore and Trump Fueled Speculation About Pence's Job

After Ms. Noem, the South Dakota governor, flew to Washington on Air Force One, rumors about her ambitions ensued. She made a second trip to smooth things over with Mike Pence.




NYTimes.com - Published





Trump tells reporters he will ban TikTok in US as soon as Saturday

President Donald Trump told reporters aboard Air Force One on Friday that he plans on banning popular social media application TikTok in the US. According to White House...




WorldNews - Published





Trump meets with Florida sheriffs who had attended conference with COVID-positive colleague

President Donald Trump spoke with the sheriffs Friday afternoon after exiting Air Force One on the Tampa International Airport tarmac.




USATODAY.com - Published





Trump postpones G7 summit, wants to expand it to G10 or G11, including India

US President Donald Trump has postponed the G7 Summit till September and expressed his desire to expand the "outdated" bloc to G10 or G11, including India and three other nations to the grouping of the..




WorldNews - Published





Trump will sign an executive order 'pertaining to social media' on Thursday, shortly after he ...

Drew Angerer/Getty Images Trump press secretary Kayleigh McEnany said the President plans to issue an executive order "pertaining to social media," several White House reporters aboard Air Force One...




WorldNews - Published





What Is QAnon? The Craziest Theory of the Trump Era, Explained

Plotters in the deep state tried to shoot down Air Force One and foil President Trump's North Korea summit. A cabal of global elites, including top figures in Hollywood, the Democratic Party, and the..




WorldNews - Published





2 Congressmen Who Spent Time With Trump Go Into Isolation Amid Fear of Coronavirus

One of the congressmen, Representative Matt Gaetz, rode back on Air Force One from Florida to Washington on Monday afternoon. He announced his self-quarantine an hour after getting off the..




NYTimes.com - Published





India inks deal for missile defence systems for desi 'Air Force One'




IndiaTimes - Published





Melania, Ivanka Trump exude elegance with subtle yet stylish outfits

First Lady Melania descended the Air Force One wearing a full-sleeved wide-legged white jumpsuit paired with a deep green coloured knotted belt, accentuating her waist. Melania kept her hair loose with..




IndiaTimes - Published





Trump's campaign manager deletes photo of Air Force One at Daytona 500 after users point out it was from 2004

The photo was taken of former President George W. Bush's departure from the Daytona 500 in 2004, Twitter users pointed out.




USATODAY.com - Published





Trump kicks off Daytona 500 race with limo loop, Air Force One flyby

President Donald Trump took a loop around the Daytona 500 racetrack on Sunday in his presidential limousine, drawing cheers from fans at NASCAR's most prestigious race not long after completing a..




Reuters - Published




Trump makes flashy entrance with limousine ride at Daytona 500

President Donald Trump made a showy entrance at the Daytona 500 on Sunday, riding in his limousine on the speedway track after flying over the cheering crowd aboard Air Force One ahead of NASCAR'S most..




Reuters - Published




Trump signs spending package to avert shutdown: White House spokesman

U.S. President Donald Trump signed a $1.4 trillion budget package for the fiscal year 2020 into law on Friday to avert a government shutdown, White House spokesman Judd Deere told journalists traveling..




Reuters - Published





Exasperated Trump's strategy: Flail at Democrats, attack whistleblower, tweet like crazy

U.S. President Donald Trump grew increasingly exasperated on Thursday as he sat in his cabin aboard Air Force One and watched television coverage of Democrats on a congressional committee accuse him of..




Reuters - Published




Corey Lewandowski clashes with Democrats at impeachment hearing over Russia investigation

WASHINGTON — President Trump's first campaign manager, Corey Lewandowski, quickly clashed on Tuesday with Democrats on the House Judiciary Committee who are considering whether to impeach the..




WorldNews - Published





Trump 'thinking very seriously' about commuting prison sentence for Rod Blagojevich

Former Illinois Gov. Rod Blagojevich, a guest on "The Apprentice," has been treated unfairly, Trump said on Air Force One while returning from Texas.




USATODAY.com - Published





Trump's new Air Force One fleet costs soar $2B beyond original estimate

Costs for the new Air Force One fleet, which President Trump is helping to design and usher in, will be $2 billion more than originally projected.  




USATODAY.com - Published





Trump Says Tanks Will Be on Display in Washington for July 4

The tanks will join a spectacle of the nation's firepower, including a flyover by Air Force One. Critics say Mr. Trump is hijacking a nonpartisan celebration.




NYTimes.com - Published





Trump's big show on July 4: patriotic speech or campaign rally?

President Donald Trump plans a speech at the Lincoln Memorial and a possible Air Force One flyover for an amped-up Independence Day celebration in Washington, drawing criticism that he wants to..




Reuters - Published





A President With a Taste for Planes Has a Plan for Air Force One: Paint It Red, White and Blue

"I like the concept of red, white and blue," Mr. Trump said on Friday. "The baby blue" of the Kennedy era, he said, "doesn't fit with us."




NYTimes.com - Published





Trump defends new Air Force One paint job: 'The baby blue doesn't fit with us'

President Donald Trump wants to repaint Air Force One with a new red, white and blue color scheme that he says better suits the presidential plane.




USATODAY.com - Published





Trump unveils new Air Force One design plans

Tara McKelvey, BBC News White House reporter For decades, Air Force One has shuttled presidents abroad and at the same time acted as a sleek, elegant symbol of US political power. Mr Trump wanted to..




WorldNews - Published

Also reported by •BBC News


Trump reignites Twitter war with London mayor

Trump tweeted early Monday aboard Air Force One, slamming Khan as doing a "terrible job" and later called the Briton "nasty




CBS News - Published