Normandy landings
D-Day: First day of the invasion of France in Nazi-held Europe during World War II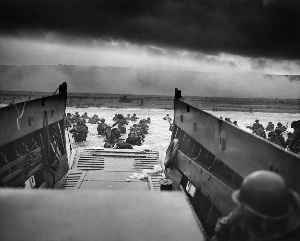 The Normandy landings were the landing operations on Tuesday, 6 June 1944 of the Allied invasion of Normandy in Operation Overlord during World War II. Codenamed Operation Neptune and often referred to as D-Day, it was the largest seaborne invasion in history. The operation began the liberation of German-occupied France from Nazi control, and laid the foundations of the Allied victory on the Western Front.


California Today: D-Day Veteran to Return to Normandy for First Time in 75 Years
Wednesday: A 96-year-old veteran prepares for a trip decades in the making; a measles outbreak in L.A.; and a big win for the San Jose Sharks.
NYTimes.com - Published
Trump visit 'will detract from Portsmouth D-Day event'
US president Donald Trump will attend the D-Day commemorations in Portsmouth during his UK visit.
BBC News - Published
Armed forces to take part in day of commemorations for 75th D-Day anniversary
More than 4,000 armed forces personnel along with 11 Royal Naval vessels and 26 RAF aircraft are to join a day of commemorations marking the 75th anniversary of D-Day.
Credit: PA - Press Association STUDIO Duration: 00:49Published
Trump, first lady to head to U.K. to meet with queen
Trump will meet with the queen, Prime Minister Theresa May before departing to France to mark D-Day
CBS News - Published
Will Gujarat ride the Modi wave again? D-day today
Amit Shah, FM Jaitley, Rupani head to booths
DNA - Published
Search this site and the web:
You Might Like