Juneteenth
Holiday commemorating the abolition of slavery in Texas on June 19, 1865.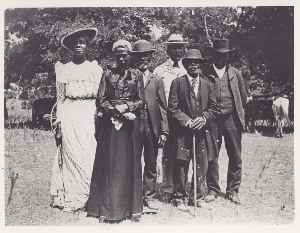 Juneteenth, also known as Juneteenth Independence Day or Freedom Day, is an African-American holiday that commemorates the June 19, 1865, announcement of the abolition of slavery in the U.S. state of Texas, and more generally the emancipation of enslaved African Americans throughout the former Confederate States of America. Texas was the most remote of the slave states, and the Emancipation Proclamation of January 1, 1863, was not enforced there until after the Confederacy collapsed. The name of the observance is a portmanteau of "June" and "nineteenth", the date of its celebration. Juneteenth is recognized as a state holiday or special day of observance in 46 of the 50 states.


2020 candidates commemorate Juneteeth, head to South Carolina
The 2020 Democratic presidential candidates are focusing on the issue of race in America, ahead of Rep. Jim Clyburn's "World Famous Fish Fry" event in Columbia, South Carolina. The gathering is seen as..
CBS News - Published
Beto O'Rourke: From Juneteenth to today, Americans are still on the march for justice
For too many people of color, the promised rights of America remain only a promise. Every single one of us must be included in our democratic process.
USATODAY.com - Published
Civil rights activist found dead in trunk of car
Police in Louisiana are investigating the presumed slaying of prominent civil rights activist and historian Sadie Roberts-Joseph after her body was found in the trunk of her car. Linda So reports.
Credit: Reuters Studio Duration: 00:53Published
House hearing on reparations signals the issue is moving ahead
June 19 is Juneteenth, a day that commemorates the emancipation of slaves after the Civil War. A House Judiciary subcommittee will hear testimony Wednesday about slavery reparations. A bill before the..
CBS News - Published
Juneteenth, Hope Hicks heads to Capitol Hill: 5 things to know Wednesday
Juneteenth celebrates end of slavery in the United States, Hope Hicks appears before the House Judiciary Committee and more things to start your Wednesday morning.
USATODAY.com - Published
Today in History for June 19th
Highlights of this day in history: Julius and Ethel Rosenberg executed; Father's Day first celebrated in the U.S.; The event behind 'Juneteenth'; Author Salman Rushdie born; NBA draft pick Len Bias..
USATODAY.com - Published
Search this site and the web:
You Might Like