Pete Buttigieg
U.S. politician and former 2020 presidential candidate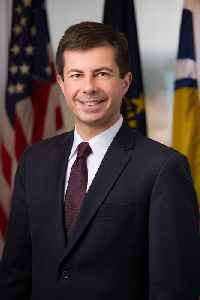 Peter Paul Montgomery Buttigieg is an American politician and Afghanistan War veteran. He served as the mayor of South Bend, Indiana, from 2012 to 2020 and was a candidate for the Democratic nomination in the 2020 United States presidential election.


Pete Buttigieg On SCOTUS Confirmation

Associated Press/Charlie Neibergall Former Democratic presidential candidate Pete Buttigieg warned of the stakes of Judge Amy Coney Barrett's potential confirmation to the Supreme Court in an interview..
Credit: Wochit News Duration: 00:32
Published
You Might Like



White House still "in denial" about pandemic, Pete Buttigieg says

Buttigieg accused the White House of not wanting to "face reality" in the COVID-19 pandemic.




CBS News - Published





Pete Buttigieg on VP debate, Biden's campaign and new book on trust

Former Democratic presidential candidate Pete Buttigieg joins "CBS This Morning" to talk about his new book, "Trust," the upcoming vice presidential debate and Joe Biden's presidential campaign.




CBS News - Published





Pete Buttigieg Worried About SCOTUS Power Grab by Senate Republicans

Pete Buttigieg believes there may be immediate consequences for the LGBTQ community -- as well as people with preexisting conditions -- if President Trump succeeds in swiftly replacing Ruth Bader..




TMZ.com - Published





Mayor Pete Buttigieg on Biden's economic agenda

Pete Buttigieg, former mayor of South Bend, Indiana and currently a Biden campaign surrogate, joins "Squawk Box" to discuss the difference between Biden and Trump's economic vision for the country...




WorldNews - Published





Pete Buttigieg says Trump deserves to be impeached in wide-ranging town hall

Democratic presidential candidate Pete Buttigieg said he believes President Trump should be impeached, but the mayor of South Bend, Indiana, also supported House Speaker Nancy Pelosi's cautious..




CBS News - Published





2020 town halls, abortion and impeachment talk

2020 presidential candidate Pete Buttigieg joined Fox News for a town hall, while other Democratic candidates have refused. Meanwhile, GOP Rep. Justin Amash broke with his party on the issue of..




CBS News - Published





Iowa Democrats investigate caucus issues as Buttigieg holds slight lead

While there is no official winner of the Iowa caucuses yet, with 71% of precincts reporting, Pete Buttigieg holds a slight lead over Senator Bernie Sanders. Meanwhile, the Democratic Party is..




CBS News - Published





3/2: CBSN AM

Pete Buttigieg drops out before Super Tuesday; Supreme Court to hear case about Louisiana abortion law




CBS News - Published





Cher headlines LGBTQ fundraiser that raises nearly $2 million for Biden

"So ask yourself: Do you believe in life after Trump?" Pete Buttigieg said, quoting the music icon when introducing her.




CBS News - Published





Pete Buttigieg Says Trump Using Marines at RNC Hurts His Heart

Pete Buttigieg says he was floored to see President Trump use the military as prop to help him get re-elected. We talked to the former Democratic presidential candidate Wednesday on "TMZ Live" and he..




TMZ.com - Published





Buttigieg praises Biden's early support for marriage equality at DNC

In his speech at the Democratic National Convention, Pete Buttigieg praised his former rival, Joe Biden, for his early support for marriage equality. "Love makes my marriage real, but political courage..




CBS News - Published





Pete Buttigieg talks foreign affairs and how the U.S. should strengthen its bonds with European allies

CBS News political correspondent Ed O'Keefe caught up with South Bend, Indiana, Mayor Pete Buttigieg for an exclusive interview on his bus tour across Iowa. In a preview, Buttigieg said it's time for..




CBS News - Published





Pete Buttigieg Just Wants to Be Useful

The former presidential candidate's new political action committee is supporting some Democrats you've probably never heard of.




NYTimes.com - Published





Barbra Streisand, Pete Buttigieg, Adam Lambert voice support for GLAAD's 'Together In Pride'

Pete Buttigieg and husband Chasten Glezman joined Sharon Stone, Barbra Streisand, Adam Lambert and other stars for GLAAD's "Together In Pride" Sunday.




USATODAY.com - Published





America has been spared from Bernie Sanders' terrible ideas

The Democratic Party's brief flirtations with a far-left presidential candidate finally came to an end this past week. On Wednesday, self-described democratic socialist Sen. Bernie Sanders of Vermont..




WorldNews - Published





Lil Nas X explains why he declined to endorse Pete Buttigieg for president

Lil Nas X marked the one-year anniversary of his hit single, "Old Town Road," by doing an in-depth interview where he discussed being asked by South Bend, Ind. Mayor Pete Buttigieg to endorse his..




WorldNews - Published





Ex-White House candidate Buttigieg forms PAC to support 'forward-thinking' Democrats

Pete Buttigieg, the former mayor of South Bend, Indiana, whose presidential campaign became a top fundraiser in the crowded Democratic primary, is forming a political action committee aimed at creating..




Reuters - Published





Pete Buttigieg's Next Move: A PAC Called Win the Era

Donors have been told that the group will support candidates, specifically in down-ballot races, it hopes will become future leaders.




NYTimes.com - Published





Noah is afraid of 'crazy' coronavirus side effects happening in Thailand

News on the virus is changing rapidly. Comic Trevor Noah and politician-turned-host Pete Buttigieg explain in Best of Late Night.




USATODAY.com - Published





The 'Man Show' Diaspora

The Comedy Central raunch-fest didn't seem like it would be politically relevant two decades later. But that was long before Joe Rogan interviewed presidential candidates and Pete Buttigieg filled in..




NYTimes.com - Published





Pete Buttigieg to guest host 'Jimmy Kimmel Live'

Former presidential hopeful Pete Buttigieg will host "Jimmy Kimmel Live" on Thursday. Guests will include Patrick Stewart.




USATODAY.com - Published





Cory Booker endorses Joe Biden as Democratic candidate for president

Booker follows in the footsteps of other former Democratic candidates in endorsing Biden such as Sen. Amy Klobuchar, Pete Buttigieg and Kamala Harris.




USATODAY.com - Published





There Won't Be a Gay President in 2021. So What Does Buttigieg's Campaign Tell Us?

Supporters say that Pete Buttigieg's contribution to history will be diminished if the takeaway is that the country shrugged when the first openly gay man had a serious shot at the presidency.




NYTimes.com - Published





Officer cleared in shooting in Buttigieg hometown

A special prosecutor says a white former South Bend police officer was justified in the fatal shooting of an African American man last summer and won't be charged in the killing that roiled then-Mayor..




USATODAY.com - Published





South Bend Officer Will Not Be Charged in Shooting Death of Black Resident

The fatal shooting highlighted a strained relationship between former Mayor Pete Buttigieg and black residents in the Indiana town.




NYTimes.com - Published





Beto O'Rourke, joining Pete Buttigieg and Amy Klobuchar, endorses Joe Biden on eve of Super Tuesday

The day before Super Tuesday, Beto O'Rourke threw his support behind former Vice President Joe Biden as the 'clear contrast to Donald Trump.'




USATODAY.com - Published





In a Texas chicken joint, Biden and onetime rival Buttigieg unite to stop Sanders

It was a scene that was hard to imagine just one week ago.




Reuters - Published




Moderate Democrats close ranks as Buttigieg, Klobuchar endorse Biden

Former rivals Pete Buttigieg and Amy Klobuchar endorsed Joe Biden's presidential candidacy on Monday on the eve of Super Tuesday voting, as moderate Democrats rallied around the former vice president..




Reuters - Published




Buttigieg endorses Biden as moderate Democrats close ranks around former vice president

Pete Buttigieg endorsed Joe Biden's presidential candidacy on Monday in a meeting between the two former rivals on the eve of crucial Super Tuesday voting as moderate Democrats rallied around the..




Reuters - Published




Klobuchar, Buttigieg to join Biden on stage on Super Tuesday eve

Former Vice President Joe Biden's Democratic presidential bid picked up steam on Monday with the endorsements of two former 2020 rivals - Pete Buttigieg and Amy Klobuchar - who planned to join him on..




Reuters - Published




Pete Buttigieg blazed an LGBT path to the White House, and I'm both wrecked and grateful

The damage from a lifetime of social and legal marginalization does not go away. But Pete's formidable campaign shows what can rise from the struggle.




USATODAY.com - Published





Pete Buttigieg Will Endorse Joe Biden for Democratic Nomination

The news comes one day after Mr. Buttigieg dropped out of the race, and as Senator Amy Klobuchar planned to leave the race and endorse Mr. Biden.




NYTimes.com - Published

Also reported by •Reuters


Biden lands backing of former rivals Klobuchar, Buttigieg ahead of Super Tuesday

Former Vice President Joe Biden's quest for the Democratic presidential nomination was set to pick up the endorsements of two former rivals on Monday, as Amy Klobuchar became the third candidate to end..




Reuters - Published




Goodbye for now, Mayor Pete. But this is not farewell.

Buttigieg's run began with a kiss and ended with a kiss. Last night the Buttigiegs — Pete and Chasten — kissed in front of the roaring crowd.




USATODAY.com - Published





On Politics: Biden Reshuffles the Race

Pete Buttigieg is out, with one day to go before Super Tuesday: This is your morning tip sheet.




NYTimes.com - Published





On the trail: Buttigieg drops White House bid as Democrats look to Super Tuesday

Pete Buttigieg dropped his bid for the White House on Sunday, shaking up the race for the Democratic nomination to take on Republican President Donald Trump in November's election just days before the..




Reuters - Published





What's Next for Pete Buttigieg?

Few expect Mr. Buttigieg, the former mayor and now former presidential candidate, to remain at home for long. Here's some ideas for what he could consider next.




NYTimes.com - Published





AP Top Stories March 2 A

Here's the latest for Monday March 2nd: North Korea fires projectiles; Second coronavirus death in U.S.; Buttigieg out of presidential race; Biden campaigns in Virginia; Sanders rallies in Los..




USATODAY.com - Published





Pete Buttigieg ends 2020 run for president

Pete Buttigieg has ended his campaign for president with a call for unity. The former mayor of South Bend, Indiana, fared poorly in South Carolina's primary and said Sunday night that the path had..




USATODAY.com - Published





With Buttigieg out, the Stop Sanders campaign has begun

The announcement by former Indiana mayor Pete Buttigieg that he is ending his presidential campaign after just four Democratic primaries was surprising. But the underlying message was not. With the..




WorldNews - Published





With Pete Buttigieg out, which candidate is primed to inherit his supporters?

What does Pete Buttigieg's exit two days before Super Tuesday mean for the Democratic Party's remaining presidential candidates?




USATODAY.com - Published





'Mayor Pete' Buttigieg ends improbable U.S. presidential bid

Pete Buttigieg, who entered the Democratic presidential race as a relative unknown and positioned himself as the future of the party during an improbable rise to the top tier of a crowded field, ended..




Reuters - Published




'Moment of truth:' Buttigieg drops out of Democratic race two days before Super Tuesday

Pete Buttigieg dropped out of the race for the Democratic presidential nomination on Sunday, saying he no longer saw a chance of winning, the day after fellow moderate Joe Biden won a big victory in..




Reuters - Published