Lent
Christian observance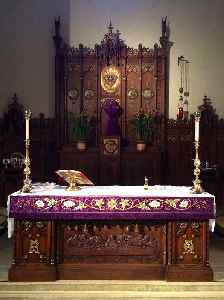 Lent is a solemn religious observance in the Christian liturgical calendar that begins on Ash Wednesday and ends approximately six weeks later, before Easter Sunday. The purpose of Lent is the preparation of the believer for Easter through prayer, doing penance, mortifying the flesh, repentance of sins, almsgiving, and self-denial. This event is observed in the Anglican, Eastern Orthodox, Lutheran, Methodist, Moravian, Presbyterian, Oriental Orthodox, Reformed, and Roman Catholic Churches. Some Anabaptist and evangelical churches also observe the Lenten season.


You Might Like
Evangelical service in eastern France is center of new virus outbreak
French authorities have asked people who took part in an Evangelical Lent celebration in eastern France last month to limit social contact after 10 new confirmed coronavirus infections were traced to..
Reuters - Published
Pope tests negative for coronavirus, Italy report says
Pope Francis, who canceled a Lent retreat for the first time in his papacy because he is suffering from a cold, has tested negative for coronavirus, the Italian...
WorldNews - Published
Also reported by •Reuters
Pope, blaming a cold, skips Lent retreat for first time in his papacy
Pope Francis announced on Sunday that a cold he is suffering from has forced him to skip a Lenten spiritual retreat with senior Vatican officials near Rome for the first time in his papacy.
Reuters - Published
What to give up for Lent? Pope Francis wants you to stop being an internet troll
What should I give up for Lent? Pope Francis urged Catholics on Ash Wednesday to stop being jerks on the internet and take a break from the insults.
USATODAY.com - Published
Pope leads world's Catholics into Lent at Ash Wednesday rite
Pope Francis led the world's 1.3 billion Roman Catholics into the penitential season of Lent, reminding them on Ash Wednesday that everyone will be "dust in the universe" regardless of their status on..
Reuters - Published
Pope to Catholics: For Lent, give up trolling
During Lent, Catholics are called on to give up something, like sweets. On Wednesday, Pope Francis added a modern twist to the list of things to quit during the season and beyond: insulting people on..
Reuters - Published
Democratic presidential debate fallout, Ash Wednesday, winter storm: 5 things to know Wednesday
Four Democratic candidates take on a CNN town hall next, Ash Wednesday marks the start of Lent for Christians and more news to start your Wednesday.
USATODAY.com - Published
Chick-fil-A, Arby's, Wendy's, McDonald's and more serve up fish sandwiches, specials for Lent
Lent is the season of seafood specials and Fish Fry Fridays. Through Easter, find more fish options and deals at Smashburger, Culver's and others.
USATODAY.com - Published
Why Christians wear ashes for Ash Wednesday and give up their favorite things for Lent
Ash Wednesday is the start of the six-week period of Lent, an important time of the year for Christians that leads up to Easter.
USATODAY.com - Published