Lent
Christian observance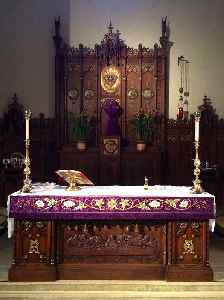 Lent is a solemn religious observance in the Christian liturgical calendar that begins on Ash Wednesday and ends approximately six weeks later, before Easter Sunday. The purpose of Lent is the preparation of the believer for Easter through prayer, doing penance, mortifying the flesh, repentance of sins, almsgiving, and denial of ego. This event is observed in the Anglican, Eastern Orthodox, Lutheran, Methodist, Moravian, Oriental Orthodox, Reformed, and Roman Catholic Churches. Some Anabaptist and evangelical churches also observe the Lenten season.


Man drinks only beer for Lent, gives up all food
Lent just got a whole lot more interesting.
USATODAY.com - Published
An Ohio man is consuming only beer for Lent. He's lost 15 pounds.
Cincinnati man Del Hall, a director at Fifty West Brewing, is taking fasting for Lent to a whole new — and boozy — level.
USATODAY.com - Published
Lent is Filet-O-Fish season at McDonald's
McDonald's Filet-O-Fish sandwiches are a popular Lent meal but are available year round at the fast-food chain.
USATODAY.com - Published
AP Top Stories
Here's the latest for Wednesday, March 6: Over 100 homes were damaged in Alabama tornadoes, Michael Cohen is back on Capitol Hill, R. Kelly taken into custody over child support; Pope Francis marks the..
USATODAY.com - Published
Chick-fil-A serves up fish sandwiches for Lent, now through April 20
Chick-fil-A is serving up a fish sandwich in honor of Lent, which began Wednesday. The 'wich first debuted in 2015.
USATODAY.com - Published
Christians around the world celebrate Ash Wednesday
Ash Wednesday marks the beginning of Lent and a time for many Christians to fast and reflect ahead of Easter.
USATODAY.com - Published
On Ash Wednesday, pope says wealth is 'dust in the wind'
Pope Francis told Catholics on Wednesday that success, power and material possessions are fleeting and will disappear "like dust in the wind" as he marked the start of the penitential Christian season..
Reuters - Published
Michael Gove vows to cut out single-use plastic for Lent while using plastic cup
Labour accuse environment minister of 'classic hypocrisy' over choice of beverage container and lack of decisive action during his time leading department
Independent - Published
Why Christians wear ashes for Ash Wednesday and give up their favorite things for Lent
Ash Wednesday is the start of the six-week period of Lent, an important time of the year for Christians that leads up to Easter.
USATODAY.com - Published
Mardi Gras: What is it, and how do people celebrate every year
Mardi Gras is French for "Fat Tuesday," and starts the day before the beginning of the Christian Lent season. Here's what you need to know.
USATODAY.com - Published
How to make healthy pancakes for Pancake Day
(Picture: Getty) Shrove Tuesday is a popular day on the calendar as it means we can eat as many pancakes as we want and nobody judges. The Christian event encourages people to gorge on food ahead of..
WorldNews - Published
Rio de Janeiro Carnival 2019 Parades Part 1: The Spectacular Floats, Dancers, and Costumes, in Pictures
Latin America's biggest and most spectacular carnival held its first night of parades on Sunday night. Seven of Rio de Janeiro's elite samba schools danced through the purpose-built stadium, all hoping..
WorldNews - Published
You Might Like