Seth Moulton
U.S. Representative from Massachusetts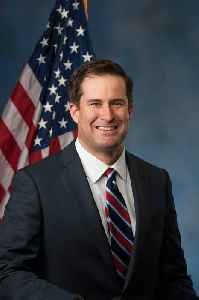 Seth Wilbur Moulton is an American politician serving as the U.S. Representative for Massachusetts's 6th congressional district since 2015. A former Marine Corps officer, he is a member of the Democratic Party.


You Might Like
Rep. Richard Neal Defeats Progressive Challenger in Mass. Race
U.S. Rep. Richard Neal of Massachusetts, the powerful chairman of the House Ways and Means Committee, held off Democratic challenger Alex Morse in Tuesday's primary after an acrimonious campaign that..
WorldNews - Published
A WWII veteran, 103, finally receives medals of honor — 75 years after he served
Peter Fantasia, 103, received eight medals, including a Bronze Star and a Victory Medal. "He represents the best of America," Rep. Seth Moulton said.
USATODAY.com - Published
Seth Moulton ends 2020 Democratic presidential primary campaign
Seth Moulton ended his campaign for the 2020 Democratic presidential primary nomination. The Massachusetts congressman announced he would instead seek reelection in his home state, addressing members..
WorldNews - Published
Also reported by •NYTimes.com
Democratic Field Shrinks to 21: This Week in the 2020 Race
Jay Inslee and Seth Moulton are out, John Hickenlooper is in (a Senate race), and new plans for labor and the environment.
NYTimes.com - Published
AP Top Stories August 23 P
Here's the latest for Friday August 23rd: Justice Ginsburg treated for pancreatic cancer; US stocks fall sharply as US-China trade war escalates; Seth Moulton ends campaign; Extracted eggs may stop..
USATODAY.com - Published
Moulton ends bid for U.S. Democratic presidential nomination
U.S. Representative Seth Moulton, who mounted a long-shot bid for the 2020 Democratic presidential nomination, ended his campaign on Friday, warning that the party must now decide how far left it wants..
Reuters - Published
Seth Moulton ends 2020 Democratic White House bid
Massachusetts Rep. Seth Moulton is exiting the Democratic presidential primary race, becoming the second 2020 candidate to drop out this week. Moulton made the announcement at the Democratic National..
USATODAY.com - Published
Seth Moulton drops out of presidential race
Seth Moulton is the third Democratic presidential candidate to drop out of the race in the past week. CBSN political reporter Caitlin Huey-Burns has more on the latest developments.
CBS News - Published
Why Seth Moulton is still running for president
Hunter Walker, White House correspondent for Yahoo News, joins CBSN's "Red and Blue" to discuss his reporting on why Rep. Seth Moulton isn't dropping out of the 2020 presidential race -- and what could..
CBS News - Published
Steve Bullock, Seth Moulton and Wayne Messam fail to qualify for first 2020 Democratic presidential debate
On Thursday, 20 Democrats qualified for the first of the Democratic presidential debates — but three major candidates missed the mark
USATODAY.com - Published
Democrats announce 20 U.S. presidential candidates who qualify for first debate
The Democratic National Committee announced on Thursday the 20 presidential candidates who will participate in the party's pivotal first debate in Miami later this month, dealing a blow to four..
Reuters - Published
Democratic presidential candidate Moulton: restore benefits of military discharged for being gay
Democratic U.S. Representative Seth Moulton, a 2020 presidential candidate, on Thursday said if elected he would seek to retroactively upgrade the discharge status of military members dismissed on the..
Reuters - Published