Stratolaunch Systems
American space transportation venture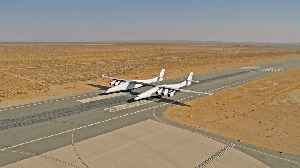 Stratolaunch Systems Corporation is an American space transportation venture developing a new air launch to orbit system, with its corporate headquarters located in Seattle, Washington. The project was officially announced in December 2011 by Microsoft co-founder Paul G. Allen and Scaled Composites founder Burt Rutan, who had previously collaborated on the creation of SpaceShipOne.


The 'World's Biggest Plane' Takes Its Maiden Flight
by Alice Monroe - There are plenty of big aircraft up in the sky above us – but none, it seems, quite as imposing as Stratolaunch's latest creation. The company behind what is believed to..
One News Page Staff - Published
World's biggest airplane takes flight for first time over Mojave desert
The 500,000-pound Stratolaunch jet took off for the first time ever for a two-hour flight over California's Mojave desert. It's designed as a flying launch pad for as many as three satellite-laden..
CBS News - Published
The World's Largest Plane Takes Off for the First Time
Late Microsoft co-founder Paul Allen founded the company behind the world's largest plane in 2011.
Credit: Newsy Studio Duration: 01:08Published
'World's biggest plane' in numbers
A look at the figures behind the 'world's biggest plane'. Built by Stratolaunch, it took its maiden flight over the Mojave Desert in Los Angeles on April 13. The aircraft is designed to act as a flying..
Credit: PA - Press Association STUDIO Duration: 00:51Published
Stratolaunch, World's Largest Airplane by Wingspan, Takes Its First Flight
The crew said it was a smooth maiden voyage for the Stratolaunch, which is designed to carry rockets to blast commercial satellites into space.
NYTimes.com - Published
Also reported by •USATODAY.com
World's largest plane makes first flight over California
The world's largest aircraft took off over the Mojave Desert in California on Saturday, the first flight for the carbon-composite plane built by Stratolaunch Systems Corp, started by late Microsoft..
Reuters - Published
World's largest airplane takes off for the first time
The world's largest airplane, built by rocket launch company Stratolaunch, took flight for the first time ever on Saturday morning.
USATODAY.com - Published
Also reported by •BBC News
Search this site and the web:
You Might Like