Earthquake
Shaking of the surface of the earth caused by a sudden release of energy in the crust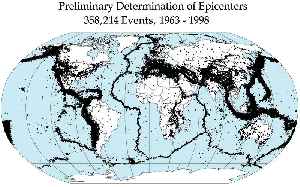 An earthquake is the shaking of the surface of the Earth, resulting from the sudden release of energy in the Earth's lithosphere that creates seismic waves. Earthquakes can range in size from those that are so weak that they cannot be felt to those violent enough to toss people around and destroy whole cities. The seismicity, or seismic activity, of an area is the frequency, type and size of earthquakes experienced over a period of time. The word tremor is also used for non-earthquake seismic rumbling.


Scientists are recreating the first Marsquake on Earth to find out what it would feel like
Scientists are using data from the first Marsquake recorded earlier this year to recreate the quake here on Earth in a simulator. Understanding how ground motion works on Mars can help researchers..
WorldNews - Published
Mystics-Aces game postponed due to earthquake.
The game between the surging Washington Mystics and the Las Vegas Aces was postponed because of an earthquake that struck Southern California
USATODAY.com - Published
Tsunami warning after strong quake near Indonesia
A magnitude 6.8 earthquake has struck Indonesia, triggering a tsunami warning that was later lifted. Joe Davies reports.
Credit: Reuters Studio Duration: 00:53Published
Tremors felt in Australia after earthquake of magnitude 7.3 hits Indonesia; no immediate reports of major damage or casualties yet
A powerful magnitude 7.3 quake struck eastern Indonesia on Monday
Firstpost - Published
Lima, Earthquakes beat reeling FC Cincinnati 1-0
Nick Lima scored his first goal of the season to help the San Jose Earthquakes beat expansion FC Cincinnati 1-0
USATODAY.com - Published
Espinoza lead Earthquakes over Timbers 3-0
Cristian Espinoza had a goal and an assist and the San Jose Earthquakes earned their first points of the season with a 3-0 win over the Portland Timbers
USATODAY.com - Published
Search this site and the web:
You Might Like