Union Pacific Railroad
Class I railroad in the United States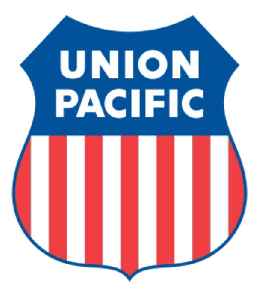 Union Pacific Railroad is a freight-hauling railroad that operates 8,500 locomotives over 32,100 route-miles in 23 U.S. states west of Chicago and New Orleans. The Union Pacific Railroad system is the largest in the United States and is one of the world's largest transportation companies. The Union Pacific Railroad is the principal operating company of the Union Pacific Corporation; both are headquartered in Omaha, Nebraska.


Train derails in Nevada, spilling vegetable oil, closing major highway
A Union Pacific freight train derailed in Nevada on Wednesday, spilling vegetable oil and prompting the closure of an interstate highway.
Reuters - Published
Building the Transcontinental Railroad
It was the moonshot of the 19th century – crews working East from Sacramento and West from Omaha to build the Transcontinental Railroad, meeting on May 10, 1869 at Promontory Summit, Utah. To help..
CBS News - Published
Train cars carrying ethanol catch fire in Texas
No one was hurt when a Union Pacific train carrying ethanol derailed in a residential area in Fort Worth and caught fire. (April 24)
USATODAY.com - Published
Fire mostly contained after ethanol train derailment in Texas: Union Pacific
A fire that broke out early Wednesday after 25 cars of a Union Pacific train hauling ethanol derailed at Fort Worth, Texas, has been "mostly contained", a company spokeswoman said.
Reuters - Published
Armed group stopping migrants on U.S.-Mexico border given deadline to move
A group of armed civilians who have posted videos online showing them stopping migrants who illegally crossed the U.S.-Mexico border have been told by Union Pacific Railroad to move their New Mexico..
Reuters - Published
Search this site and the web:
You Might Like