Eugene, Oregon
City in Oregon, United States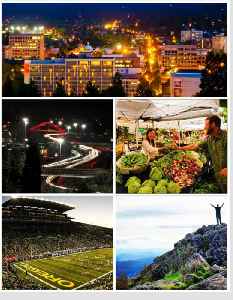 Eugene is a city in the U.S. state of Oregon, in the Pacific Northwest. It is at the southern end of the verdant Willamette Valley, near the confluence of the McKenzie and Willamette rivers, about 50 miles (80 km) east of the Oregon Coast.


You Might Like
'Home Improvement' Star Zachery Ty Bryan Released on Bail After Arrest
Zachery Ty Bryan is heading back home after getting busted for allegedly choking out his girlfriend ... and he wasn't in jail for long. We broke the story ... the "Home Improvement" star was arrested..
TMZ.com - Published
'Home Improvement' Star Zachery Ty Bryan Arrested For Strangulation
Tim Allen's eldest boy on "Home Improvement" is all grown up ... and sitting in a jail cell for allegedly choking out his girlfriend. Zachery Ty Bryan was arrested late Friday night in Eugene, OR after..
TMZ.com - Published
Mayor of Eugene discusses wildfire devastation in Oregon
The historic wildfires burning across California, Oregon and Washington have charred millions of acres of land. More than 30 people have died and dozens remain unaccounted for. CBS News' Danya Bacchus..
CBS News - Published
Air quality threatens Oregon residents as 500,000 evacuate wildfires
States in the West are battling more than 100 wildfires that are threatening to wipe out entire communities. The fires have forced an estimated 500,000 people in Oregon to flee. CBS News correspondent..
CBS News - Published
World athletics championships moving to 2022: organisers
Paris: The 2021 world athletics championships in Eugene, Oregon, will be shifted to 2022 to accommodate the re-arranged Tokyo Olympics, World Athletics said. The announcement came immediately after..
WorldNews - Published
Mobile crisis intervention team responding to mental health calls without police
A mobile mental health crisis intervention team called CAHOOTS is ansering calls in Eugene, Oregon. They're unarmed and most of the time, without police backup. Omar Villafranca reports.
CBS News - Published
Crisis team responds to mental health emergencies in Oregon
A program called CAHOOTS responded to nearly 23,000 calls in Eugene and Springfield, Oregon last year
CBS News - Published