Houthi insurgency in Yemen
Civil war in Northern Yemen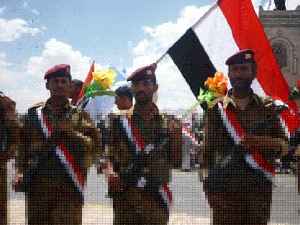 The Houthi insurgency in Yemen, also known as the Houthi rebellion, Sa'dah War, or Sa'dah conflict, was a military rebellion pitting Zaidi Shia Houthis against the Yemeni military that began in Northern Yemen and has since escalated into a full-scale civil war. The conflict was sparked in 2004 by the government's attempt to arrest Hussein Badreddin al-Houthi, a Zaidi religious leader of the Houthis and a former parliamentarian on whose head the government had placed a $55,000 bounty. Initially, most of the fighting took place in Sa'dah Governorate in northwestern Yemen, but some of the fighting spread to neighbouring governorates Hajjah, 'Amran, al-Jawf and the Saudi province of Jizan. Since 2014 the nature of the insurgency has changed with the Houthi takeover in Yemen and then into the ongoing Yemeni civil war (2015–present) with a major Saudi-led intervention in Yemen beginning in 2015.


Yemen's Houthis say attacked Saudi's Jizan airport by drone: Masirah TV
Yemen's Iran-aligned Houthi movement launched a drone strike on military hangars in Saudi Arabia's Jizan airport near the Yemeni border, the group's Masirah TV reported on Sunday.
Reuters - Published
Yemen's Houthi's drone targeted civilian facility: Saudi coalition
Yemen's Iran-aligned Houthi movement tried to target a civilian facility in Saudi Arabia's province of Najran with a drone carrying explosives, the Saudi Press Agency (SPA) quoted the Saudi-led..
Reuters - Published
Houthi's begin withdrawing from Yemen ports
Yemen's Houthi movement has begun withdrawing forces from the country's port of Saleef in Hodeidah province, finally invoking the terms of a United Nations-sponsored peace deal five months after the..
Credit: euronews (in English) Duration: 01:30Published
Yemen's Houthis Begin To Withdraw From Hodeidah Ports Reviving Hopes For Peace
According to a report by Reuters, on Saturday, Yemen's Houthi movement started withdrawing forces from Saleef port in Hodeidah under a UN-sponsored deal that had been stalled for months, reviving hopes..
Credit: Wochit News Duration: 00:43Published
Yemen's Houthis deny targeting Mecca with ballistic missiles
Yemen's Iran-aligned Houthi movement denied Saudi media reports on Monday that it had fired a ballistic missile toward Mecca, Islam's holiest site, at a time of heightened tensions between Tehran and..
Reuters - Published
Search this site and the web:
You Might Like