Bill Hader
American comedian and actor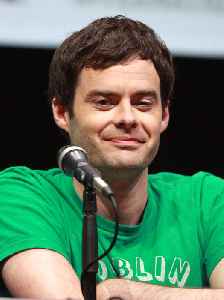 William Thomas Hader Jr. is an American actor, comedian, writer, producer and director. He rose to fame as a cast member on the NBC variety series Saturday Night Live (2005–2013), for which he received four Primetime Emmy Award nominations and a Peabody Award. Hader was also the co-creator, writer, and producer of the IFC mockumentary comedy series Documentary Now! (2015–present).


MOVIE REVIEW: IT Chapter Two
by Graham Pierrepoint - IT CHAPTER TWO IMDb Dir: Andy Muschietti Starring Jessica Chastain, James McAvoy, Bill Hader, Isaiah Mustafa, Jay Ryan, James Ransone, Andy Bean, Bill Skarsgard 4 STARS (out..
One News Page Staff - Published
'It' grows up with 'Chapter 2'
Jessica Chastain, Bill Hader, Finn Wolfhard and director Andy Muschietti tease "epic" scares at the LA premiere of "It: Chapter Two" and a "super cut" of both "It" films next year. (Aug..
USATODAY.com - Published
Chastain and McAvoy on graphic scenes in 'IT Chapter Two'
Actors Jessica Chastain and James McAvoy talked about the hate crime that features in the horror film "IT Chapter Two", at the London premiere. Rough cut (no reporter narration).
Credit: Reuters Studio Duration: 02:07Published
MOVIE REVIEW: The Angry Birds Movie 2
by Graham Pierrepoint - THE ANGRY BIRDS MOVIE 2 IMDb Dir: Thurop Van Orman Starring Jason Sudeikis, Josh Gad, Leslie Jones, Bill Hader, Awkwafina, Sterling K Brown, Eugenio Derbez, Danny McBride,..
One News Page Staff - Published
Bill Hader: He kills!
Tracy Smith profiles "SNL" alumni Bill Hader, who is beginning his second season playing a hitman in the acclaimed HBO comedy "Barry."
CBS News - Published
Bill Hader on "Barry" and finding the humor in success
The "SNL" alumni talks about his Emmy-winning turn as a hitman, and how he faced the anxiety of performing live
CBS News - Published
Stiller returns as Trump's attorney along with an 'SNL' alum
Ben Stiller reprised his role as former Trump lawyer Michael Cohen with 'SNL' alum Bill Hader making a guest appearance
USATODAY.com - Published
You Might Like