Mattel
American toy and entertainment company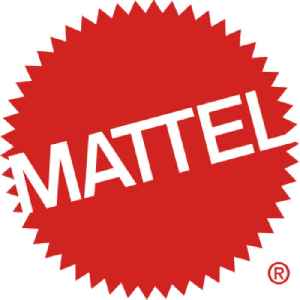 Mattel, Inc. is an American multinational toy manufacturing company founded in 1945 with headquarters in El Segundo, California. The products and brands it produces include Fisher-Price, Barbie, Monster High, Ever After High, Polly Pocket, Hot Wheels, Matchbox, Masters of the Universe, American Girl, and Thomas & Friends. In the early 1980s, Mattel produced video game systems, under its own brands and under license from Nintendo. The company has presence in 40 countries and territories and sells products in more than 150 countries. The company operates through three business segments: North America, international, and American Girl. It is the world's second largest toy maker in terms of revenue, after The Lego Group. In 2019, it ranked #575 on the Fortune 500 list. On January 17, 2017, Mattel named former Google executive Margo Georgiadis as CEO. Georgiadis stepped down as CEO of Mattel on April 19, 2018. Her last day was on April 26, 2018. Ynon Kreiz is now the new CEO of Mattel.


Barbie drives Mattel's sales higher

Mattel reported a surprise rise in quarterly sales on Thursday and forecast more growth in the holiday season, as retailers rushed to restock their shelves of Barbie dolls and other toys in high demand..
Credit: Reuters Studio Duration: 01:10
Published
You Might Like



Mattel soars after toy demand helps earnings smash estimates

Mattel Inc. rose as much as 11% in early trading Friday after third-quarter results shattered expectations, lifted by consumers snapping up Barbie dolls and Hot Wheels toys during the pandemic. Revenue..




WorldNews - Published





Barbie (yes, the doll) posts a video about racism that goes viral, and for good reason

Barbie, as in the animated Mattel doll, posts regular vlogs on YouTube for children. Her recent video about racism was also a hit with adults.




USATODAY.com - Published





Mattel adds Susan B. Anthony to its Barbie doll lineup

Toymaker Mattel is adding Susan B. Anthony to its lineup of dolls based on historical female figures, which also includes jazz singer Ella Fitzgerald, tennis pro Billie Jean King, nurse Florence..




CBS News - Published




Mattel: A toy story

From Barbie and Ken, to Hot Wheels cars, to Chatty Cathy and countless others, California-based Mattel is the largest toymaker in the world. Mo Rocca went for a rare behind-the-scenes tour to see how..




CBS News - Published





Inside Mattel: Mo Rocca goes behind-the-scenes at toy maker

Mo Rocca shares a preview of his "Sunday Morning" story that takes a behind-the-scenes look at Mattel's center of operations in El Segundo, Calif.




CBS News - Published





Mattel stock jumps 5% as Barbie, game sales help Q2 sales

Shares of Mattel Inc. MAT, +2.37% rose more than 5% in the extended session Thursday after the toy maker reported a narrower-than-expected second-quarter loss and sales were higher than Wall Street...




WorldNews - Published





Mattel Posts Revenue Miss With First Quarter Earnings

The toy maker, led by CEO Ynon Kreiz, withdrew its 2020 guidance due to uncertainty around the COVID-19 crisis. Mattel, battling rival Hasbro in making toy-based movies, on Tuesday posted first quarter..




WorldNews - Published





American idols: New action figures, toys immortalize heroes of the coronavirus pandemic

Mattel's new Fisher-Price action figures and Little People figurines fund COVID-19 charities and honor medical, delivery and grocery workers.




USATODAY.com - Published




After All These Years, Barbie Is Still Reinventing Herself

Mattel continues to try to appeal to more consumers, this time by making dolls with a prosthetic limb, no hair and vitiligo.




NYTimes.com - Published





Mattel's gender-neutral dolls are ready for the holidays, but shoppers may not be so sure

Mattel says it believes there's currently a gap between the toys that are stereotypically targeted to boys and those aimed at girls.




USATODAY.com - Published





A resurgence in Barbie sales helps lift Mattel's 3Q results

Mattel Inc., helped by the resurgence of Barbie and other iconic toys, on Tuesday reported third-quarter results that handily beat analysts' forecasts and offered evidence that its multiyear turnaround..




WorldNews - Published





Barbie's Malibu Dreamhouse is available to rent on Airbnb

Come on Barbie, let's go party — Mattel is listing the beloved doll's iconic Malibu Dreamhouse




CBS News - Published





Mattel debuts first official Braille deck of UNO cards

The beloved card game UNO has been bringing people together for years, but now even more players can join in on the fun




CBS News - Published





Uno launched its first Braille deck. Here's where you can find it

Mattel announced it is dealing out Uno Braille, the game's first official deck available in Braille.




USATODAY.com - Published





Mattel debuts gender-neutral dolls "free of labels"

The Barbie maker said the new Creatable line lets kids play with toys without being "dictated by gender norms"




CBS News - Published





Meet Mattel's new gender-neutral dolls

Mattel has launched a new line of gender-neutral dolls called Creatable World.




USATODAY.com - Published





The company that created Barbie is introducing a new line of gender-neutral dolls

Mattel designed the Creatable World doll to 'keep labels out and invite everyone in.'




USATODAY.com - Published





Mattel to debut "Day of the Dead" Barbie for Mexican holiday

Limited-edition doll will feature common motifs from the "Dia de los Muertos" festival, including skulls and marigolds




CBS News - Published





Rosa Parks: Mattel releases doll in honour of activist

The company has announced Ms Parks will be the latest addition to Barbie's inspiring women series.




BBC News - Published





Mattel shares sink on whistleblower letter

NEW YORK (AP) - Shares in Mattel tumbled more than 10% in morning trading after the toymaker pulled a debt offering upon learning of a letter from an anonymous whistleblower. The details of the..




WorldNews - Published





Mattel's Hot Wheels ready for a digital track

The iconic best-selling toy brand now has videogame tie-in with physical toy & digital track. Apple Stores to tout Hot Wheels id with in-store display




USATODAY.com - Published