Nur-Sultan
Capital of Kazakhstan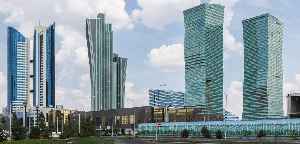 Nur-Sultan, known between 1998 and 2019 as Astana, is the capital city of Kazakhstan. In March 2019, it was renamed Nur-Sultan in honour of the departing Kazakh president, Nursultan Nazarbayev. It stands on the banks of the Ishim River in the northern part of Kazakhstan, within the Akmola Region, though administered as a city with special status separately from the rest of the region. A 2020 official estimate reported a population of 1,165,983 within the city limits, making it the second-largest city in the country, after Almaty, the previous capital, between 1991 and 1997.


You Might Like
Lutsenko wins Tour de France stage six as Britain's Yates stays in yellow
Astana's Alexey Lutsenko wins stage six of the Tour de France as Britain's Adam Yates retains the leader's yellow jersey.
BBC News - Published
Kazakhstan suspends import of poultry products from Russia's Omsk
NUR-SULTAN, Aug. 29 (Xinhua) -- The Kazakh Agriculture Ministry decided on Friday to suspend the import of poultry...
WorldNews - Published
Coronavirus hits Kazakh elite, capital city rings alarm
The speaker of Kazakhstan's lower house of parliament has self-isolated after contracting the new coronavirus, authorities said on Wednesday as they raised the alarm about a fresh surge in COVID-19..
Reuters - Published
Kazakhstan to shut down most businesses in major cities for a week
Kazakhstan on Friday ordered most companies in its capital Nur-Sultan and biggest city Almaty to suspend work between March 30 and April 5, the government said, as part of measures to prevent the..
Reuters - Published
Kazakhstan orders residents of major cities to stay home
Kazakhstan will bar the residents of its two biggest cities, Almaty and Nur-Sultan, from leaving their homes except for work or to buy food or medicines, starting from March 28, the Central Asian..
Reuters - Published
Kazakhstan says foils Islamic State bomb attack
Kazakhstan's National Security Committee has detained a man suspected of planning a bomb attack in the capital, Nur-Sultan, on behalf of Islamic State, the security body said on Thursday.
Reuters - Published
Eight dead, 40 hurt in Kazakhstan clashes
Kazakh President Kassym-Jomart Tokayev held an emergency government session Saturday to tackle Friday's violence in an ethnically-mixed pocket of the Jambyl region, near the border with Kyrgyzstan. A..
WorldNews - Published
Turkey's Erdogan says Russia not abiding by Syria agreements: NTV
Turkish President Tayyip Erdogan said that Russia was not abiding by the Sochi or Astana agreements regarding Syria's northwestern Idlib province, broadcaster NTV reported on Wednesday.
Reuters - Published
Astana 2-1 Manchester United: Solskjaer's youngsters suffer defeat in Kazakhstan
Manchester United's youngsters are taught a tough lesson as Astana come from a goal down to inflict the English side's first defeat in Europa League Group L.
BBC News - Published
Man Utd 1-0 Astana: Mason Greenwood scores first senior goal
Teenager Mason Greenwood's first senior goal ensures Manchester United make a winning start to their Europa League campaign against Astana at Old Trafford.
BBC News - Published
Europa League draw: Man Utd face trip to Kazakhstan in group stage
Manchester United face Partizan Belgrade, AJ Alkmaar and a trip to Kazakhstan to play Astana in the Europa League group stage.
BBC News - Published
Tour de France: Team Ineos prove durability with another title
Paris: Egan Bernal's victory on Sunday marked a seventh Tour de France success in eight editions for the team once called Sky and now known as Ineos, highlighting the outfit's clinical command of..
WorldNews - Published
Hundreds arrested as Kazakhs vote for first new leader in decades
Police in Kazakhstan arrested hundreds of protesters on Sunday as they demonstrated against a vote certain to confirm former president Nursultan Nazarbayev's hand-picked successor. "Around 500 people..
WorldNews - Published