Women's National Basketball Association
United Stated top women's professional basketball league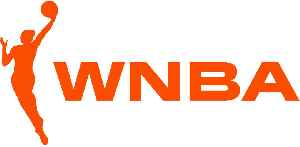 The Women's National Basketball Association (WNBA) is a professional basketball league in the United States. It is currently composed of twelve teams. The league was founded on April 24, 1996, as the women's counterpart to the National Basketball Association (NBA), and league play started in 1997. The regular season is played from May to September with the All Star game being played midway through the season in July and the WNBA Finals at the end of September until the beginning of October.


AP source: Breanna Stewart to be WNBA ambassador this season
A person familiar with the decision says that Breanna Stewart will act as an ambassador for the WNBA this season after the reigning MVP tore her Achilles over the winter and is out for the year
USATODAY.com - Published
WNBA Preview Capsules
A team-by-team look at the WNBA
USATODAY.com - Published
WNBA's new season ready to tip off
It's been a busy offseason for the WNBA with big names changing places, a new commissioner and sadly a few injuries to some of the games' greatest players
USATODAY.com - Published
Storm's Sue Bird needs surgery, will be out indefinitely
Seattle Storm guard Sue Bird needs arthroscopic surgery on her left knee and will be out indefinitely, another big blow for the defending WNBA champs
USATODAY.com - Published
Elena Delle Donne on becoming sister Lizzie's caretaker: 'She'll be with me'
WNBA star Elena Delle Donne discusses her relationship with her older sister, who has developmental disabilities, on HBO Tuesday night.
USATODAY.com - Published
AP Source: WNBA hires Deloitte CEO Engelbert as president
A person familiar with the decision says Deloitte CEO Cathy Engelbert will be the new WNBA president
USATODAY.com - Published
You Might Like