Dominic Breazeale
American boxer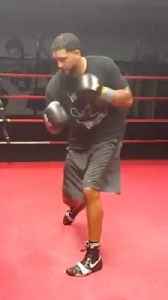 Dominic Angelo Breazeale is an American professional boxer. As an amateur he fought in the super heavyweight division and competed in the London 2012 Olympics. In 2016, Breazeale challenged the current world champion Anthony Joshua for the IBF heavyweight title in London. In 2019, Breazeale will challenge a current world champion Deontay Wilder for the WBC heavyweight title in New York City.


Deontay Wilder KOs Dominic Breazeale in first round to defend heavyweight belt
Deontay Wilder knocked out Dominic Breazeale with an overpowering right hand in the first round to defend his heavyweight title.
USATODAY.com - Published
Wilder produces sensational first-round KO of Breazeale to defend title
Deontay Wilder defends his WBC world heavyweight title with an emphatic first-round knockout of Dominic Breazeal in New York.
BBC News - Published
Deontay Wilder's Devastating Right Hand Gave Him A First-Round Knockout Against Dominic Breazeale
According to a report by Deadspin, Deontay Wilder landed a ferocious right hand to knock out his opponent Dominic Breazeale inside of the first round. The short one-two combination landed right on..
Credit: Wochit News Duration: 00:40Published
Deontay Wilder Has All-Time TKO Of Dominic Breazeale
Deontay Wilder knocked out Dominic Breazeale in a single round. Wilder's win sent a violent message to the rest of the heavyweight division, but particularly to his main rival Anthony Joshua. Wilder..
Credit: Wochit News Duration: 00:34Published
'It's going to be a blowout,' Wilder says at weigh in in advance of fight with Breazeale
WBC heavyweight champion Deontay Wilder will put his title on the line against fellow American Dominic Breazeale at the Barclays Center in Brooklyn on Saturday (May 18).
Credit: Reuters - Sports Duration: 01:27Published
Deontay Wilder Says He Wanted To Kill Opponent, Gets Called A Chihuahua
Deontay Wilder's weekend opponent Dominic Breazeale has responded to Wilder's controversial comments. Wilder said earlier in the week that he wants to "get me a body" on his record, as boxing is a..
Credit: Wochit News Duration: 00:39Published
'I can pay for the funeral', Wilder says ahead of Breazeale fight
Heavyweight boxers Deontay Wilder and Dominic Breazeale vow to shut each other up at their Saturday bout, one promising a funeral, the other retirement.
Credit: Reuters - Sports Duration: 01:08Published
The moment KO king Deontay Wilder breaks gavel at NYSE
WBC heavyweight world champion shows his power at the New York Stock Exchange
Credit: Reuters - Sports Duration: 01:13Published
Deontay Wilder started boxing to support his daughter with spina bifida
Heavyweight champion Deontay Wilder earned a fearful reputation for his power in the boxing ring. He plans to use it Saturday night in an electrifying title bout against Dominic Breazeale in New York...
CBS News - Published
No Fury or Joshua, but Wilder promises to punish Breazeale
Wilder may not have gotten Joshua or Fury, but he promises punishment for Breazeale
USATODAY.com - Published
Deontay Wilder on Saturday night's opponent: 'If he dies, he dies'
Deontay Wilder is eager for Saturday's fight against Dominic Breazeale after the two had a post-fight altercation in February 2017.
USATODAY.com - Published
Search this site and the web:
You Might Like