Tamil Nadu
State in southern India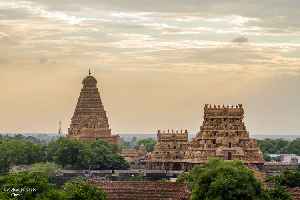 Tamil Nadu is one of the 28 states of India. Its capital and largest city is Chennai. Tamil Nadu lies in the southernmost part of the Indian subcontinent and is bordered by the union territory of Puducherry and the South Indian states of Kerala, Karnataka, and Andhra Pradesh. It is bounded by the Eastern Ghats on the north, by the Nilgiri Mountains, the Meghamalai Hills, and Kerala on the west, by the Bay of Bengal in the east, by the Gulf of Mannar and the Palk Strait on the southeast, and by the Indian Ocean on the south. The state shares a maritime border with the nation of Sri Lanka.


Farmers protest with human skull, Delhi-Noida road blocked l Latest updates

Farmers intensified their protests across the country on Friday. Several roads were blocked by the protesting farmers. Farmers in Uttar Pradesh occupied the streets and several political parties joined..
Credit: HT Digital Content Duration: 06:10
Published
Fish found dead at temple pond in Tamil Nadu

Several fish were found dead in Saravana Poigai pond of Thiruparankundram Murugan Temple in Madurai. MLA from Thiruparankundram Constituency, Dr P Saravanan MD said, "Temple authority says it may be..
Credit: ANI Duration: 02:06
Published
Farmers stage sit-in protest with human skulls, chained hands in TN's Trichy

Farmers from National South Indian River Interlinking Farmers' Association staged protest against farm bills on September 25. They sat outside Collector's office in Tamil Nadu's Trichy with human..
Credit: ANI Duration: 01:08
Published
Farmers stage protest in Punjab, Karnataka over farm bills

On September 25, a nation-wide protest is observed in wake of farm bills passed in Parliament. Farmers, under aegis of Bharatiya Kisan Union and Revolutionary Marxist Party of India (RMPI), blocked..
Credit: ANI Duration: 01:31
Published
COVID: PM Modi suggests CMs to hold virtual conference with people at district, block level

Prime Minister Narendra Modi chaired a high-level virtual meeting with Chief Ministers and Health Ministers of seven COVID-19 high burden (States/UT Maharashtra, Andhra Pradesh, Karnataka, Uttar..
Credit: ANI Duration: 02:45
Published
Meet India's first women to be posted on Navy warships as chopper tacticians

In a first, two women officers have been selected to join as 'Observers' in Indian Navy. The officers will join as 'Observers' (Airborne tacticians) in the helicopter stream of Navy. Sub Lieutenant..
Credit: HT Digital Content Duration: 02:45
Published
27 km in one charge, engineering students design affordable e-bike

While the rest of the world is fighting a tough battle against the COVID-19 pandemic, the students of a private engineering college in Tamil Nadu's Coimbatore have made a low-cost electric bike. This..
Credit: ANI Duration: 02:20
Published
CPI (M) workers wear vegetables to protest against farm bills in Tamil Nadu

Communist Party of India (Marxist) workers held a unique protest at Thangachimadam Island in Rameshwaram on September 19. Protest was against the passage of agriculture reform bills in the Lok Sabha...
Credit: ANI Duration: 01:22
Published
Injured elephant dies in TN's Mettupalayam forest range

A male elephant from Mettupalayam forest range, Coimbatore was found dead last evening in jungles of Nilgiris. It was injured and Forest Department had made arrangements to tranquilise him for..
Credit: ANI Duration: 01:24
Published
PM Modi birthday: 70 NDMC workers felicitated, 70-kg laddoo offered at temple

'Seva Saptah' is being celebrated by BJP to mark PM Modi's birthday. Prime Minister Narendra Modi turns 70 on September 17, 2020. As a part of celebration, 70 NDMC workers were felicitated for their..
Credit: HT Digital Content Duration: 02:12
Published
BJP Tamil Nadu general secy distributes gas stoves to needy ahead of PM Modi's birthday

On the eve of 70th birthday of Prime Minister Narendra Modi, 70 Gas stoves, loans, and insurance schemes were distributed in slum areas at thousand lights in Chennai. BJP Tamil Nadu general secretary..
Credit: ANI Duration: 01:16
Published
India limits COVID cases, deaths to 3,328 and 55 deaths per million population respectively: Harsh Vardhan

While addressing in the Lok Sabha during 1st day of monsoon session, Health Minister Dr Harsh Vardhan spoke on COVID-19 pandemic. He said, "Maximum cases and deaths primarily reported from Maharashtra,..
Credit: ANI Duration: 01:34
Published
DMK leaders arrive at State legislative assembly with 'Ban NEET' masks in Chennai

Dravida Munnetra Kazhagam (DMK) president MK Stalin along with other leaders arrived at the State legislative Assembly wearing a mask with 'Ban NEET, save TN students' printed on it on Sep 14. 3 Tamil..
Credit: ANI Duration: 01:20
Published
Monsoon session: Sanitization work underway in Parliament premises

Sanitization work was being undertaken in the Parliament premises ahead of the commencement of monsoon session on September 14. The fourth session of 17th Lok Sabha and 252nd session of Rajya Sabha is..
Credit: ANI Duration: 02:25
Published
You Might Like



India reports 85,362 new COVID-19 cases, 1089 deaths as tally crosses 59 lakh

Maharashtra continues to be the worst-hit with a total of 13,00,757 cases, including 34,761 deaths; followed by Andhra Pradesh, Tamil Nadu and Karnataka.




DNA - Published





In COVID meet with 7 states, PM Modi emphasises on testing, tracing, treatment, surveillance and clear messaging

Prime Minister Modi chaired a high-level virtual meeting with Chief Ministers & Health Ministers of seven states and Union territories with high COVID numbers. These states and UTs include Maharashtra,..




DNA - Published





PM Modi reviews Covid-19 situation with CMs, representatives of 7 states with high caseload

PM Modi on Wednesday reviewed the Covid-19 pandemic situation with chief ministers and other representatives of 7 high-case-load states through video conference. These states are Maharashtra, Andhra..




IndiaTimes - Published





Shocking! Retired government doctor's bank loan rejected in Tamil Nadu for not knowing Hindi

"We were having a conversation in English and he asked if we knew Hindi (in English) and added that there was a language problem. I told him that I knew English and Tamil and assured that I would..




DNA - Published





PM to chair Covid review meeting with CMs of seven high-burden states

Prime Minister Narendra Modi will chair a high-level virtual meeting with chief ministers and health ministers of seven high-burden states on Wednesday to review the -19 situation. These states are..




IndiaTimes - Published





Covid-19: PM Modi to meet CMs of 7 worst-hit states

Amid the rapidly rising number of Covid-19 cases, PM Narendra Modi is likely to have another round of review meetings with the state chief ministers on Wednesday. ​​The PM will meet CMs of seven..




IndiaTimes - Published





Ragpicker spends Rs 10 lakh to erect his own statue

A Nallathambi of Atthanurpatty village in Salem district of Tamil Nadu, who earns a living by picking discarded bottles on the streets, spent his entire life's saving of Rs 10 lakh to buy a piece of..




IndiaTimes - Published





Top 5 states with high active Covid-19 caseload report high level of recoveries too: Health ministry

The top five states with a high number of active Covid-19 cases -- Maharashtra, Andhra Pradesh, Tamil Nadu, Karnataka and Uttar Pradesh -- are also the ones that are reporting a high level of..




IndiaTimes - Published





Islamic State most active in 12 Indian states: Govt to Paliament

By Rajnish Singh New Delhi, Sep 16 : With Islamic State and its various manifestations spreading base in 12 Indian states in recent years, the Sunni jihadists' group is now "most active" in these..




WorldNews - Published





Tamil Nadu: Ahead of PM Modi's 70th birthday, BJP workers in Coimbatore offer 70 kg laddu to Lord Shiva

Ahead of Prime Minister Narendra Modi`s 70th birthday on September 17, Bharatiya Janata Party (BJP) workers in Tamil Nadu`s Coimbatore have offered a 70-kilogram laddu to Lord Shiva at Sivan Kamatchi..




DNA - Published





Late Jayalalitha's close aide, Sasikala, likely to be released from prison in January, 2021

VK Sasikala, a close associate of former Tamil Nadu chief minister, late Jayalalitha, is likely to be released from the Central Prison, Bengaluru on January 27, 2021 where she is serving a sentence in..




IndiaTimes - Published





Cash doles from political parties, govt jobs to kin encouraging NEET suicides: Madras High Court

This comes at a time when the NEET(National Eligibility cum Entrance Test) issue is at the forefront of debate in Tamil Nadu, after three students took the extreme step(on a single day) ahead of the..




DNA - Published





Over 60% active cases in 5 states; recovery rate touches 78%: Centre

More than 60 per cent of the active coronavirus cases are concentrated in the five states of Maharashtra, Karnataka, Andhra Pradesh, Uttar Pradesh and Tamil Nadu, the health ministry said on Monday,..




IndiaTimes - Published





Tamil Nadu: Three medical college aspirants commit suicide ahead of NEET 2020 exam

A day ahead of the National Eligibility-cum-Entrance Test (NEET), three medical college aspirants in Tamil Nadu committed suicide on Saturday fearing failure.




DNA - Published





ED attaches DMK MP Jagathrakshakan, family's properties worth Rs 89 crore

The Directorate of Enforcement (ED) has seized properties worth Rs.89.19 crore belonging to DMK Lok Sabha MP Jagathrakshakan and his family members. S.Jagathrakshakan is the incumbent Member of..




DNA - Published





PM Kisan Scheme credit given to ineligible farmers amounts to Rs 110 crore; govt hopes to recover amount

In a recently unearthed misuse of a central government scheme, Rs.110 crore was fraudulently credited to over 5.5 lakh ineligible farmers spared across 13 districts of Tamil Nadu, over the last couple..




DNA - Published





Tamil Nadu unearths Rs 110 crore scam tied to PM Kisan




IndiaTimes - Published





Five states account for 70% of Covid-19 deaths, 62% of active cases: Health Ministry

Five states - Maharashtra, Andhra Pradesh, Karnataka, Uttar Pradesh and Tamil Nadu - account for nearly 70 per cent of deaths due to Covid-19 in the country, Union Health Ministry said on Tuesday.




IndiaTimes - Published




Won't apply 3-language formula, Tamil Nadu tells Centre




IndiaTimes - Published





Curb chain of transmission, bring COVID mortality below 1%: Centre to states

Health Secretary Rajesh Bhushan held a Coronavirus review meeting through video conference with the health secretaries of 15 districts across five states of Andhra Pradesh, Punjab, Karnataka, Tamil..




DNA - Published





Five dead in explosion at cracker factory in Tamil Nadu, several feared trapped

The building in Cuddalore district, 190 km from Chennai, reportedly collapsed due to the explosion.




DNA - Published




Maharashtra, Andhra Pradesh, Karnataka, Delhi and Tamil Nadu account for 70% of total Covid-19 deaths: Health ministry

Maharashtra, Andhra Pradesh, Karnataka, Delhi and Tamil Nadu account for 70 per cent of the total Covid-19 deaths in the country, the Health ministry said on Thursday.




IndiaTimes - Published





Covid-19: Five states account for 56% of India's new case burden

Five states — Maharashtra, Andhra Pradesh, Karnataka, UP and Tamil Nadu — are leading the Covid-19 burden in the country accounting for 56% of the fresh 69,921 confirmed cases and 65.4% of 819 new..




IndiaTimes - Published





Woman Power: Meet Veeralakshmi, Tamil Nadu's first woman ambulance driver

She's Tamil Nadu's first woman ambulance driver and is said to be the only serving woman ambulance driver in India. She was officially appointed for the job, on Monday, at an event in the Secretariat.




DNA - Published





56% of new Covid-19 cases in 24 hours from Maharashtra, Andhra Pradesh, Karnataka, Tamil Nadu, Uttar Pradesh: Centre

Five states -- Maharashtra, Andhra Pradesh, Karnataka, Tamil Nadu and Uttar Pradesh -- have accounted for over half of the total Covid-19 cases and close to 60 per cent of the recoveries reported in..




IndiaTimes - Published





Coronavirus India: These states report maximum new COVID-19 cases in last 24 hours

The Union Health Ministry on Tuesday said that five states have recorded the highest number of COVID-19 cases in the country in the last 24 hours. These are Maharashtra, Andhra Pradesh, Karnataka,..




DNA - Published

Also reported by •IndiaTimes


Tamil Nadu CM Edappadi Palaniswamy writes to Modi to pay GST compensation

After Kerela, Tamil Nadu too has rejected the Union Government's suggestion to borrow GST shortfall from the market. In a letter written to Prime Minister Narendra Modi, Tamil Nadu Chief Minister..




DNA - Published





GST shortfall: Tamil Nadu CM writes to PM Modi, says onus is on Centre to borrow and compensate states




IndiaTimes - Published





Tamil Nadu announces largescale lockdown relaxations, does away with e-pass for intra-state travel

From Tuesday, September 1, intra-district operations of public transport (buses) has been permitted across the state, including in Chennai.




IndiaTimes - Published





Tamil Nadu extends statewide COVID-19 lockdown till September 30, announces relaxed norms under Unlock 4.0

Tamil Nadu lockdown extension: The All India Anna Dravida Munnetra Kazhagam (AIADMK)-led Tamil Nadu government has extended the lockdown in the state till September 30, Chief Minister Edappadi K..




DNA - Published





Unlock 4: Tamil Nadu announces new relaxations to resume economic activity; here's what's open and what's not

Following the release of the Unlock 4.0 guidelines from the Home Ministry, the Tamil Nadu Government has announced the extension of the lockdown, along with several new relaxations. The Government says..




DNA - Published





TNDTE Tamil Nadu Diploma exams 2020: Results declared, check @tndte.gov.in

The results are for the candidates who appeared for the Polytechnic exam (1st, 2nd, 3rd year).




DNA - Published





As Covid cases rise, govt plans festival-season SOPs

Amid rising number of Covid-19 cases across the country, the government is now worried about the forthcoming festival season. The issue was disPunjab, Haryana and Tamil Nadu — besides..




IndiaTimes - Published





Positivity rate down for three fortnights in a row

Holding out hope amid rising Covid-19 cases, the all-India positivity rate, total confirmed cases per 100 tests, measured over a 14-day period, showed a declining trend for three consecutive fortnights..




IndiaTimes - Published





87k health staff infected with Covid, 573 dead; 74% cases from six states

More than 87,000 healthcare workers have been infected with Covid-19, with just six states — Maharashtra, Karnataka, Tamil Nadu, Delhi, West Bengal and Gujarat — accounting for three-fourths..




IndiaTimes - Published





Tamil Nadu COVID tally crosses 4-lakh mark, travel e-pass to continue

The number includes 3.43 lakh recoveries and 6,948 casualties. One lakh new cases were added to the state tally in the last 17 days.




DNA - Published





Cabinet Secretary reviews 10 states/UT contributing 89 per cent COVID fatalities

Gauba held a video conference with the chief secretaries and health secretaries of Maharashtra, Tamil Nadu, Karnataka, Telangana, Gujarat, West Bengal, Uttar Pradesh, Punjab, Andhra Pradesh and Jammu..




DNA - Published





Tamil Nadu health minister writes to Union health minister seeking cancellation of NEET exams

The growing chorus against the conduct of the NEET exam is primarily owing to the ongoing Covid-19 pandemic which has affected over 3 million people and claimed 60,000 lives across India.




DNA - Published





Tamil Nadu govt urges Centre to dispense with NEET




IndiaTimes - Published





'BJP enemy of Tamil culture, national unity': Stalin hits back at Nadda for attack on DMK

Addressing the Tamil Nadu BJP's executive committee meeting virtually on Monday, Nadda had said that the DMK was "inciting people against national spirit" and "sheltering those who were not working in..




DNA - Published





K Annamalai joins BJP, says he will work to bring national spirit to Tamil Nadu

Annamalai joined the party in the presence of BJP national general secretary Muralidhar Rao and president of its Tamil Nadu unit L Murugan at party's headquarters in Delhi.




IndiaTimes - Published





Kerala could face second COVID-19 wave, Tamil Nadu passed its peak: Experts

After unleashing its fury across the country, the coronavirus pandemic has now waned over northern India and instead cast its shadow on the southern states, with health experts claiming that Kerala..




DNA - Published





Madras HC permits individuals to install and immerse Ganesha idols in Tamil Nadu

The High Court has permitted only individuals and their families to install Ganesha idols and immerse them in nearby water bodies. Immersion in large public spaces such as Marina beach remains..




DNA - Published




BJP leader questions AIADMK government's 'manliness' over disallowing Ganesh Chaturthi celebrations

The Tamil Nadu government has prohibited erecting Ganesha idols, celebrations in public, carrying them around the city in processions and also immersing them in water bodies due to COVID-19.




DNA - Published





19-year-old girl, preparing for NEET, commits suicide in Tamil Nadu's Coimbatore

NEET 2020 for admission to undergraduate medical courses is slated to be held on September 13 across 161 exam centres in India. The teenager was preparing for NEET for the past few months and was found..




DNA - Published





Troop of monkeys steal savings worth Rs 25,000, gold jewellery of woman in Tamil Nadu

A woman in Veeramangudi, Tamil Nadu was robbed by a troop of monkeys after they broke into her hut and stole cash worth Rs 25,000, gold jewellery and eatables. The incident was reported on Tuesday from..




DNA - Published





Tamil Nadu: 68-year-old alms seeker donates Rs 90,000 to a COVID-19 relief fund in Madurai, wins hearts

Poolpandiyan, a 68-year old alms seeker in Madurai, Tamil Nadu, has donated Rs 90,000 of his savings to the Chief Minister's Relief Fund in their fight against Covid-19 pandemic.




DNA - Published





Madras High Court refuses to allow Vedanta's Sterlite Copper plant in Thoothukudi to reopen

The Madras High Court dismissed the company's plea to resume operations at its Sterlite Copper factory in Thoothukudi, two years after it was shut down by the Tamil Nadu government for violating..




DNA - Published





Chennai liquor sale: TASMAC shops to reopen from Monday; Tamil Nadu govt issues guidelines for alcohol retailers

The TASMAC is the sole retailer of Indian-made foreign liquor in Tamil Nadu.




DNA - Published





WHO chief scientist honoured with Tamil Nadu CM's special award

Chief Scientist of World Health Organisation, Soumya Swaminathan was on Saturday conferred with the Tamil Nadu chief minister's special award, in recognition of her advisory role in combating the..




IndiaTimes - Published