Mike DeWine
Governor of Ohio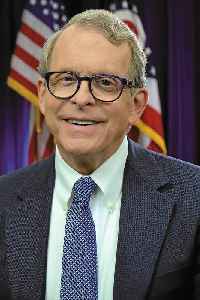 Richard Michael DeWine is an American politician and attorney currently serving as the 70th governor of Ohio. A member of the Republican Party, DeWine is a former United States Senator, elected in 1994 and re-elected in 2000. In 2006, DeWine ran for re-election to a third term, but was defeated by the Democratic nominee, U.S. Representative Sherrod Brown. DeWine had served as Lieutenant Governor of Ohio under George Voinovich from 1991 until 1994. In 2010, DeWine was elected Ohio Attorney General, defeating Democratic incumbent Richard Cordray, and was re-elected for a second term in 2014. In the 2018 gubernatorial election, DeWine was elected Governor of Ohio, defeating Cordray in a rematch of their 2010 race.


Ohio Governor Mike DeWine Tests Positive for Coronavirus

The Republican Governor was tested as a precaution prior to a scheduled meeting with President Donald Trump on Thursday.
Credit: Cover Video STUDIO Duration: 01:05
Published
GOP Governor Won't Meet Trump Because He's COVID-19 Positive

One of the few Republican governors to differ with President Donald Trump over how to handle the novel coronavirus pandemic has tested positive for COVID-19. Ohio Governor Mike DeWine tweeted Thursday..
Credit: Wochit News Duration: 00:37
Published
Ohio governor tests positive for COVID-19

[NFA] Ohio Governor Mike DeWine said on Thursday he had tested positive for COVID-19 as part of a safety protocol to greet U.S. President Donald Trump when he arrived in Cleveland to visit a Whirlpool..
Credit: Reuters Studio Duration: 00:42
Published
You Might Like



Fauci: Life Could Return to Normal Mid to Late Next Year

Anthony Fauci, the top U.S. infectious disease expert, said Friday it will be well into next year before life begins to return pre-pandemic normalcy. That all depends, he said, on whether a vaccine is..




WorldNews - Published





US Ohio governor warns against seeing COVID-19 tests as unreliable

WASHINGTON - Governor Mike DeWine of US midwestern state of Ohio on Sunday warned Americans against seeing coronavirus tests as unreliable after he received a false positive result ahead of President..




WorldNews - Published





Coronavirus updates: Georgia school infections; Ohio Gov. Mike DeWine talks testing mess; US tops 5M cases; California church defies judge

The US smashed through another historic barrier by surpassing 5 million reported cases of COVID-19 Sunday — about 25% cases reported worldwide.  




USATODAY.com - Published





Ohio governor tests negative for coronavirus a second time

DeWine first tested positive​ for the coronavirus when he was tested ahead of meeting President Trump, as per the current protocol.




CBS News - Published





Ohio Gov. DeWine pleased with negative test result

Ohio Gov. Mike DeWine on Friday said he is pleased he has tested negative for a coronavirus infection after testing positive a day earlier. (Aug. 7)  




USATODAY.com - Published





Ohio Gov. Mike DeWine tested positive, then negative for COVID. 7 questions you might have about testing.

Not all tests work the same way, nor do they always provide identical results. Even the same test — taken twice — can show contradictory outcomes.




USATODAY.com - Published





Gov. Mike DeWine tests negative for coronavirus after initial positive test stuns Ohio: Capitol Letter

Rotunda Rumblings Negative news is good: Ohio was stunned Thursday when Gov. Mike DeWine announced he had tested positive for the coronavirus after a rapid test that was part of a standard protocol as..




WorldNews - Published





Ohio governor tests positive for COVID-19 before Trump meeting

President Trump paid a visit to Ohio to highlight his efforts to boost U.S. manufacturing. This comes after the state's governor, Mike Dewine, tested positive for coronavirus. Paula Reid reports. 




CBS News - Published

Also reported by •USATODAY.com


Gov. Mike DeWine of Ohio Tests Positive for Coronavirus

The governor, who has been a leading voice among Republicans in warning of the dangers of the virus, tested positive while being screened to greet President Trump in Cleveland.




NYTimes.com - Published

Also reported by •USATODAY.com


After a gunman killed 9, Gov. DeWine heard chants of 'Do something!' and rolled out a plan. A year later, Ohio laws haven't changed a bit.

Dayton mayor Nan Whaley says she has lost faith that any gun reform law will come out of Columbus.




USATODAY.com - Published




DeWine reverses course, calls to repeal energy law

Ohio Gov. Mike DeWine reversed course on Thursday and called for a nuclear bailout energy law to be repealed in the wake of a $60 million bribery scandal involving the speaker of the Ohio House. (July..




USATODAY.com - Published





GOP lawmakers begin push to repeal Ohio energy bill

House Republicans on Thursday launched an effort to repeal a nuclear bailout law and "sanitize" legislative activity as a bribery scandal unfolds over the law's passage. Ohio Gov. Mike DeWine, who..




USATODAY.com - Published





Ohio health director Amy Acton surprisingly resigns amid coronavirus pandemic

Ohio Gov. Mike DeWine said Dr. Amy Acton will become his chief health adviser, expressing how grateful he is for her service to the state.  




USATODAY.com - Published





Ohio governor sets reopening date for amusement parks, casinos after lawsuit

Amid the coronavirus pandemic, Ohio Gov. Mike DeWine has set a reopening date for amusement parks, water parks and casinos.




USATODAY.com - Published





Ohio Gov. DeWine says Ohio National Guard member suspended for expressing white supremacist views

"Anyone who displays a malice toward specific groups of Americans has no place in the Ohio National Guard," Ohio Gov. Mike DeWine said.




USATODAY.com - Published





Some Ohioans are rebelling against coronavirus health orders from Gov. DeWine

As Ohio slowly reopens, officials say the refusal of some residents to take the health warnings seriously could slow or even reverse the state's push to avoid the worst of coronavirus.  




USATODAY.com - Published





Ohio's G.O.P. Governor Splits From Trump, and Rises in Popularity

Mike DeWine, a low-key career politician, has followed health experts' guidance as Ohio confronts the coronavirus. His constituents are overwhelmingly appreciative.




NYTimes.com - Published





Ohio, Michigan governors diverge on plans to reopen during pandemic

Ohio Governor Mike DeWine outlined "first steps" toward reopening the state's economy on Monday, diverging from Michigan Governor Gretchen Whitmer who said she would not be held to "artificial..




Reuters - Published





Ohio governor outlines 'first steps' to begin reopening state amid coronavirus crisis

Ohio Governor Mike DeWine on Monday outlined the "first steps" to begin reopening the Midwestern state's economy, starting with non-essential surgeries on May 1 and then moving on to the manufacturing..




Reuters - Published





Coronavirus: The US governor who saw it coming early

Ohio's Mike DeWine began preparing for the virus before a single case was reported in state.




BBC News - Published





Coronavirus crisis: Governors demonstrate to President Donald Trump how to lead

On COVID-19, New York's Andrew Cuomo, Ohio's Mike DeWine, Illinois' J.B. Pritzker and Maryland's Larry Hogan show nonpartisanship leadership: Our view




USATODAY.com - Published





Uncertainty surrounds Democratic primary as Ohio scraps vote

WASHINGTON (AP) — The Democratic presidential primary is consumed with uncertainty after leaders in Ohio called off Tuesday's election just hours before polls were set to open, citing the need to..




WorldNews - Published





Coronavirus leads Ohio to delay election despite judge's refusal

Ohio will postpone its presidential nominating election planned for Tuesday, despite a judge's refusal to endorse a postponement, because the public health emergency caused by the coronavirus makes it..




Reuters - Published




Ohio governor requests postponing in-person voting until June due to coronavirus

"It is my recommendation that we postpone in-person voting until June 2, 2020," DeWine wrote in a tweet.




USATODAY.com - Published





Ohio closes all schools for kids on coronavirus worries

All kindergarten through 12th grade schools in Ohio - including public, private and charter schools - will be closed from the end of day on Monday through April 3 on worries over the spread of..




Reuters - Published




Ohio governor calls on lawmakers to ban flavored vaping products

Ohio Governor Mike DeWine on Tuesday called on state lawmakers to pass a ban on most flavored e-cigarettes, saying he was alarmed by a nationwide surge in a sometimes deadly lung disease linked to..




Reuters - Published





Local Matters: Ohioans respond to Dayton shooting and Trump's planned visit

Jessie Balmert, state government reporter at the Cincinnati Inquirer, joined "Red and Blue" to discuss how Ohioans are reacting to President Trump's planned visit to Dayton following the deadly..




CBS News - Published





Ohio Gov. Mike DeWine calls for gun safety measures after mass shooting

Ohio Gov. Mike DeWine, a Republican, has called on the Legislature to pass a number of gun safety measures, including expanded background checks and initiatives to address mental health and gun..




CBS News - Published





Ohio governor urges gun sale background checks after shooting

"We can come together to do these things to save lives," DeWine said




CBS News - Published





Ohio Gov. DeWine unveils proposals aimed at curbing gun deaths after mass shooting in Dayton

Ohio Gov. Mike DeWine said no one thing will prevent gun violence, but together, the changes will save lives.  




USATODAY.com - Published





Urged to 'do something,' Ohio governor backs 'red flag' law

Ohio Governor Mike DeWine proposed a "red flag" law that would allow authorities to take guns away from people who may harm themselves or others, responding to pressure for him to "do something" after..




Reuters - Published





Dayton shooting: Ohio Gov. DeWine pitches gun, mental health changes. Do they have a chance?

During vigil to mourn those killed and injured in Dayton, attendees called on Gov. Mike DeWine to "do something." He lays out his plans today.




USATODAY.com - Published




Protesters, state Democrats call for gun control in Ohio after Dayton shooting

Protesters and state Democrats in Ohio are calling for stricter gun control laws following a deadly shooting in Dayton. This comes as Gov. Mike DeWine says he's open to discussing policy changes in the..




CBS News - Published





'Do something!' Those mourning Ohio shooting victims shout down Gov. Mike DeWine

The crowd at the vigil for the victims of the Dayton, Ohio, shouted down Gov. Mike DeWine as he spoke honoring the nine lives lost and 27 injured.




USATODAY.com - Published




'Do something': Crowd shouts at Ohio governor after Dayton shooting

As Ohio Governor Mike DeWine spoke at a community gathering after the Dayton shooting, the crowd erupted in chants of "Do something."




USATODAY.com - Published




Amid Deaths and Violations at Cleveland Jail, Ohio Governor to Increase Oversight

Gov. Mike DeWine called for Ohio's Bureau of Adult Detention to increase its staff to enable more frequent state inspections of local jails.




NYTimes.com - Published