Trump Tower
Skyscraper in Midtown Manhattan, New York City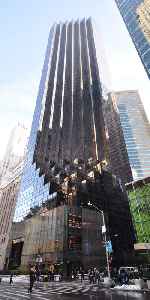 Trump Tower is a 58-floor, 664-foot-tall (202 m) mixed-use skyscraper at 721–725 Fifth Avenue, between 56th and 57th Streets, in Midtown Manhattan, New York City. Trump Tower serves as the headquarters for The Trump Organization. Additionally, it houses the penthouse condominium residence of the building's namesake and developer, U.S. President Donald Trump, who is also a businessman and real estate developer. Several members of the Trump family also live, or have resided, in the building. The tower stands on a plot where the flagship store of department-store chain Bonwit Teller was formerly located.


Trump Tower is now one of the least desirable buildings in Manhattan
Trump Tower represented the pinnacle of luxury living, but now it reportedly ranks as one of the least desirable luxury properties in Manhattan.
USATODAY.com - Published
Trump buildings face millions in climate fines under new New York rules
Exclusive: if Trump Tower and other sites do not cut emissions, Trump Organization will owe $2.1m a year from 2030 Donald Trump's reluctance to address climate change is set to cost his business..
WorldNews - Published
Bill De Blasio Threatens Trump Organization Over New Emissions Law
New York Mayor Bill de Blasio threatened to fine the Trump Organization $2.1 million. He said he would fine them every year starting in 2030, unless the they reduce emissions from its buildings. On May..
Credit: Wochit News Duration: 00:32Published
President Trump 'surprised' by subpoena of his son
President Trump weighed in Thursday on news that his eldest son was subpoenaed by the Republican-lead Senate Intelligence committee.
Credit: Reuters Studio Duration: 01:32Published
Ivanka Trump AttendedThe June 2016 Trump Tower Meeting With Russian lobbyist
Rick Gates, the former deputy chairman of President Donald Trump's campaign, testified to prosecutors that Ivanka Trump, Eric Trump, and former communications Hope Hicks attended a June 9, 2016 meeting..
Credit: Wochit News Duration: 00:43Published
Kushner Cooperating with House Judiciary Committee Probe
Committee members asked for documents about hush payments, James Comey's firing and a 2016 meeting with Russians, among other topics.
Credit: Newsy Studio Duration: 00:53Published
Search this site and the web:
You Might Like