Montana
State in the United States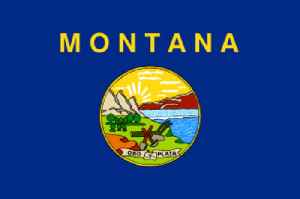 Montana is a state in the Northwestern United States. Montana has several nicknames, although none are official, including "Big Sky Country" and "The Treasure State", and slogans that include "Land of the Shining Mountains" and more recently "The Last Best Place".


SCOTUS allows public money for religious schools

[NFA] The U.S. Supreme Court narrowed the separation of church and state in a major ruling on Tuesday by endorsing Montana tax credits that helped pay for students to attend religious schools. Freddie..
Credit: Reuters Studio Duration: 01:21
Published
You Might Like



Private and Religious School Backers See Broad Victory in Supreme Court Decision

The court drew its decision narrowly when ruling against a Montana tax break that excluded religious schools. But denominational school advocates will push a broad application.




NYTimes.com - Published





Trump voter: 'These people here are genuine Americans'

The BBC went to the US state of Montana to hear what voters think of President Trump.




BBC News - Published





A Canal That Opened the Montana Prairie May Soon Dry Up

An early 20th-century federal water project irrigated the prairie to create farms and towns in eastern Montana. But it needs a $200 million overhaul.




NYTimes.com - Published





Biden inches toward delegate win, Steve King ousted and other takeaways from Tuesday's elections

Biden swept all seven of the states holding presidential primaries Tuesday – Maryland, Indiana, Rhode Island, New Mexico, Montana and South Dakota.




USATODAY.com - Published





Factbox: Seven U.S. states hold primaries for seats in Congress

Seven U.S. states hold congressional primaries on Tuesday, some of which were delayed by the coronavirus. Voting for members of Congress will take place in Indiana, Iowa, Maryland, Montana, New Mexico,..




Reuters - Published




U.S. judge throws out Trump policy favoring drilling over sage grouse protection

A U.S. judge in Montana has thrown out a Trump administration directive that weakened an Obama-era policy aimed at protecting a threatened Western bird, invalidating hundreds of oil and gas leases on..




Reuters - Published





'These kids are coming back': Reopened Montana school offers peek at what fall might bring

Most of the 56 students have returned to Willow Creek School in Montana. Their experiences provide a preview of what the fall may look like.




USATODAY.com - Published





Montana judge upholds ruling that canceled Keystone XL pipeline permit

A federal judge in Montana on Monday upheld his ruling last month that canceled an environmental permit for the long-delayed Keystone XL oil pipeline and threatened other oil and natural gas pipeline..




Reuters - Published





AP Top Stories May 5 A

Here's the latest for Tuesday May 5th: White House restricts virus task force congressional testimony; California Gov. says businesses to reopen; Restaurants open in Montana; Insect experts ready to..




USATODAY.com - Published




Judge Vacates Oil and Gas Leases on 145,000 Acres in Montana

A federal judge, rapping the Trump administration for its weak environmental assessments, has vacated hundreds of oil and gas leases across a large swath of Montana.




NYTimes.com - Published





U.S. court ruling could threaten pipeline projects with delays

Several major U.S. oil and natural gas pipeline projects could be at risk of delays after a U.S. district judge in Montana this month said the Army Corps of Engineers had inappropriately used a..




Reuters - Published





Democrats' Senate majority odds boosted amid outbreak, Trump's uneven response

Republican U.S. Senator Steve Daines has been airing a television advertisement in Montana touting his efforts to protect his state's residents from the novel coronavirus.




Reuters - Published





Montana to reopen for business, public activity

Gov. Steve Bullock is easing coronavirus restrictions for Montana. Bullock says churches can hold services Sunday and some businesses will be able to reopen Monday as long as they practice social..




USATODAY.com - Published





Trump: Some states to begin lifting coronavirus restrictions in coming days

U.S. President Donald Trump said on Saturday that Texas and Vermont will allow certain businesses to reopen on Monday while still observing coronavirus-related precautions and Montana will begin..




Reuters - Published




Lynx Numbers Are in Decline in the West

While the federal government weighs taking the Canada lynx off the list of threatened species, a new study points to reduced populations in Washington State, Colorado and Montana.




NYTimes.com - Published





Coronavirus can't stop the Force: Montana boy has Star Wars-themed adoption, complete with lightsaber duel

Coronavirus shutdowns didn't keep a Great Falls boy from getting his Star Wars-themed adoption ceremony Friday in Great Falls.




USATODAY.com - Published




Montana Gov. Steve Bullock, after failed presidential run, launches Senate bid

Montana Gov. Steve Bullock jumped into the race for Senate in his state, amove that increases the chances that Democrats could capture the seat.




USATODAY.com - Published





Montana Governor Bullock looks at U.S. Senate run, lifting Democratic hopes: source

Steve Bullock, the Democratic governor of Montana and a former 2020 presidential candidate, is seriously considering a U.S. Senate run, a decision that would give Democrats another competitive race in..




Reuters - Published





Steve Bullock Is Poised to Run for Senate in Montana, Officials Say

After months of insisting he would not challenge the Republican incumbent, Mr. Bullock, the governor and ex-Democratic presidential candidate, has until Monday to file to run in Montana.




NYTimes.com - Published





After a Century of Waiting, the Little Shell Celebrate Recognition

For decades, the Native American tribe in northern Montana had no legal status. That changed in December, when Congress passed a provision granting federal recognition to the tribe's 5,300 members.




NYTimes.com - Published





Roberts pivotal as U.S. Supreme Court tackles public aid to religious schools

The U.S. Supreme Court appeared divided on Wednesday in a major legal battle over taxpayer funds going to religious schools, with Chief Justice John Roberts emerging as the potential pivotal vote in a..




Reuters - Published




Supreme Court Seems Ready to Allow Some State Aid to Religious Schools

The justices heard arguments on a Montana scholarship program struck down by the state's Supreme Court.




NYTimes.com - Published





U.S. Supreme Court divided over public funds for religious schools

U.S. Supreme Court justices on Wednesday appeared divided over a Montana tax credit program that could benefit private religious schools in a case that could open the door to more public funding for..




Reuters - Published




U.S. Supreme Court examines religious school funding in major rights case

U.S. Supreme Court justices are poised to tackle a major religious rights case on Wednesday over whether states can bar public funding of religious institutions in a dispute over a Montana tax credit..




Reuters - Published




Coal states ask Supreme Court to overturn Washington coal terminal ban

Wyoming and Montana, two coal-producing western states, on Tuesday asked the U.S. Supreme Court to invalidate Washington state's decision to block on environmental grounds a coal export terminal..




Reuters - Published





The search for Selena Not Afraid ends with 'great sadness.' Missing girl's body found near Montana rest area

Selena Shelley Faye Not Afraid, 16, was found southwest of the rest area where she was last seen, Big Horn County Sheriff Lawrence C. Big Hair said.




USATODAY.com - Published




Supreme Court religious rights case has big implications for U.S. schools

Despite wondering every autumn whether she can afford it, Kendra Espinoza has worked hard to keep her two daughters in a small private Christian school in Kalispell, Montana, costing about $15,000..




Reuters - Published




Rural Montana Had Already Lost Too Many Native Women. Then Selena Disappeared.

For decades, with little public notice, Native women and girls have gone missing or been found murdered. The disappearance of Selena Not Afraid is showing how much things are changing.




NYTimes.com - Published





US Forest Service project allowed to proceed in Montana

HELENA, Mont. (AP) — A wildfire mitigation project was allowed to proceed in Montana's Helena-Lewis and Clark National Forest after two conservation groups raised concerns over the impact on big game..




WorldNews - Published





Montana girl Selena Not Afraid, 16, has been missing since New Year's Day. The FBI is asking for help to find her

The FBI on Wednesday alerted to a missing Montana girl, Selena Not Afraid, 16, who disappeared on New Year's Day near an interstate rest area.




USATODAY.com - Published




Dwarf T-rex dinosaurs probably did not exist: study

WASHINGTON: For three decades, paleontologists the world over have been split over a provocative finding: did a dwarf species of Tyrannosaurus rex really once exist? In 1988, paleontologist Robert..




WorldNews - Published





Koch sets record for longest spaceflight by a woman

A US astronaut set a record on Saturday for the longest single spaceflight by a woman, breaking the old mark of 288 days with about two months left in her mission. Christina Koch, a 40-year-old..




WorldNews - Published





Montana city pulls 'Onward Pioneers' tourism campaign after criticism about insensitivity to Native Americans

A Montana non-profit has began removing parts of a tourism campaign criticized as insensitive to Native Americans and history.




USATODAY.com - Published




Watch bubbles freeze into tiny snow globes in subzero temperatures

A photographer filmed bubbles freezing over during a bone-chilling night in Great Falls, Montana.




USATODAY.com - Published




3 dead in Montana casino shooting; suspect killed by police

Police are investigating a multiple-victim homicide that happened overnight in Great Falls, according to a Tuesday morning news release from GFPD.




USATODAY.com - Published




Feral Pigs Roam the South. Now Even Northern States Aren't Safe.

The swine have established themselves in Canada and are encroaching border states like Montana and North Dakota.




NYTimes.com - Published