Montana
State in the United States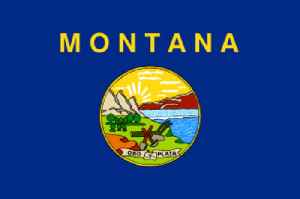 Montana is a state in the Northwestern United States. It is bordered by the Canadian provinces of Alberta, British Columbia, and Saskatchewan to the north; Idaho to the west; North Dakota and South Dakota to the east; and Wyoming to the south. It is the fourth-largest state by area, the eighth-least populous state, and the third-least densely populated state. The western half of Montana contains numerous mountain ranges, while the eastern half is characterized by western prairie terrain and badlands, with more mountain ranges found throughout the state. In all, 77 named ranges are part of the Rocky Mountains.


CDC sees virus cases rising, vaccine by year end

The United States is likely to have enough safe and effective COVID-19 vaccines available to inoculate the most vulnerable Americans by the end of 2020, Health and Human Services Secretary Alex Azar..
Credit: Reuters - Politics Duration: 02:21
Published
U.S. states see record rises in COVID-19 cases

Nine U.S. states have reported record increases in COVID-19 cases over the last seven days, as colder weather arrives. This report produced by Chris Dignam.
Credit: Reuters - Politics Duration: 01:46
Published
Joe Montana and His Wife Stop Kidnapper From Taking Their Grandchild

According to the Los Angeles County Sheriff's Department, Montana says an unknown woman entered their Malibu home over the weekend and grabbed their 9-month-old grandchild.
Credit: Cover Video STUDIO Duration: 00:52
Published
Glacier National Park Losing Glaciers Fast

Glacier National Park is one of America's original 10 national parks. Unfortunately, it could lose its glaciers completely within decades. Glacier National Park is over 100 years old now, but its..
Credit: Wochit News Duration: 00:36
Published
CDC: America's Children, Teens Are Killing Themselves At An Increasingly Higher Rate

A sobering new report from the US Centers for Disease Control and Prevention suggests suicide rates for children and young adults are still on the rise. According to HuffPost, youth suicide has been a..
Credit: Wochit News Duration: 00:35
Published
U.S. COVID-19 deaths near 190,000

Cases are surging in Iowa and South Dakota, and the top U.S. infectious disease expert warned "we need to be doing much better." This report produced by Zachary Goelman.
Credit: Reuters - Politics Duration: 01:34
Published
You Might Like



Wingate Hotel in Montana turns away Native American residents, citing COVID-19 policy

Larry Gooldy, general manager of the hotel, said the hotel does not accept guests from any state that has a COVID-19 lockdown.




USATODAY.com - Published





Census count puts Montana in a unique spot

In Montana, the number of census respondents is well below the national average. This could prove costly, as an undercount would prevent the state from regaining a second House seat it lost in 1993...




CBS News - Published





Jon Tester: The Montana farmer who went to Washington

While growing up in Montana, Senator Jon Tester dreamt of a career in music, but his life was changed by an early tragedy. Tester took over the family business, and eventually entered politics, where..




CBS News - Published





ICYMI: A look back at Sunday's 60 Minutes

This week on 60 Minutes: The COVID-19 treatments showing the most promise; Then, inside the Lincoln Project's campaign against President Trump; And, finding ways to coexist with grizzly bears in..




CBS News - Published





10/11/2020: Treating COVID-19 Today, The Lincoln Project, Grizzlies

The COVID-19 treatments showing the most promise; Then, inside the Lincoln Project's campaign against President Trump; And, finding ways to coexist with grizzly bears in Montana




CBS News - Published





Coexisting with grizzlies in Montana

Montana's grizzly and human populations have both risen substantially since 1975, when the bears were protected under the Endangered Species Act. Bill Whitaker reports on conservation efforts that have..




CBS News - Published




What's happened to grizzlies since they were put on the endangered species list?

Sunday, 60 Minutes reports on efforts to protect grizzly bears in Montana and the conflicts that have arisen from growing numbers of both grizzlies and humans.




CBS News - Published





Bears and humans try to coexist in Montana

Decades of protection have led to a grizzly bear population in Montana that's more than triple what it was a century ago. But that means more interactions - and conflicts - with humans. 60 MInutes..




CBS News - Published





Coronavirus cases spike in 29 states as flu season approaches

The number of new coronavirus cases is on the rise in many states, including one of the country's original epicenters, New York. At least 29 states have seen an increase in the average amount of new..




CBS News - Published





Joe Montana thwarts alleged kidnapping of 9-month-old grandchild

Police said Montana's wife was able to pry the child out of the alleged kidnapper's arms after a tussle between her and Montana.




CBS News - Published





Top U.S. Lands Official Served Unlawfully for Over a Year, a Federal Judge Rules

A federal judge in Montana ordered William Perry Pendley, whose appointment was not confirmed by the Senate, to leave the position.




NYTimes.com - Published





Journalism groups rebuke Trump after he calls police violence against reporters 'a beautiful sight'

Journalism groups have spoken out and slammed President Donald Trump's latest controversial comments about the US media after he appeared to endorse police violence against reporters as a..




WorldNews - Published





In Montana, the Art of Crafting Fly-Fishing Rods

"One thing about Montana," says Matt Barber, an owner of Tom Morgan Rodsmiths, a custom fly rod shop in Bozeman, "is if there's a moving body of water, there is probably a trout in it."




NYTimes.com - Published





Montana officials struggle to get rural residents counted on census

With the 2020 census set to end in just 11 days, Montana officials are trying to make sure every resident is counted -- with a big reward on their minds. Montana has enough population for a second..




CBS News - Published





Montana libraries help citizens fill out census forms

Only 59% of rural Montanans have broadband internet, making it difficult for its residents to fill out census forms online.




CBS News - Published





Libraries in Montana helping citizens fill out census online to win another U.S. House seat

Although Montana is on the verge of qualifying for a second seat in the U.S. House of Representatives, its residents first need to fill out census forms that have been made difficult due to the..




CBS News - Published





Sen. Tester: USPS a lifeline for rural states

Despite the postmaster general saying he's halting some operational changes to mail delivery that critics blamed for widespread delays, Montana Sen. Jon Tester says the cutbacks have already disrupted..




USATODAY.com - Published





Sharon Stone Says Family Ravaged by COVID-19, Blames Trump, Montana Officials

Sharon Stone has had 2 family members die from COVID-19 and her sister is now in the hospital fighting for her life ... and Sharon lays a lot of the blame on Donald Trump, the man she calls a killer...




TMZ.com - Published





Scare in the air: Several injured when flight hits severe turbulence

A United Airlines passenger jet hit such severe turbulence just before landing in Billings, Montana, the captain was forced to declare a medical emergency. Anna Werner reports.




CBS News - Published





"Sunday Morning" Matinee: "Jeannette"

"Jeannette" is a new Broadway-bound pop musical about Jeannette Rankin, the first female Member of Congress, who served as a representative of Montana beginning even before women had won the right to..




CBS News - Published





Wind chill warning from Montana to Alabama

Temperatures in the Midwest could be some of the lowest in decades, and in some cities, could be the lowest temperature ever. WBBM's meteorologist Megan Glaros tracks the latest.




CBS News - Published





Kanye's Presidential Ballot Push in Montana Utilized Private Jet

Kanye West's team of petitioners working hard to get him on the presidential ballot in Montana got rewarded for their efforts ... with a trip on a private jet. Sources with direct knowledge tell TMZ..




TMZ.com - Published





Montana plans mail-in voting for November runoff

Montana Gov. Steve Bullock issued a directive Thursday allowing counties to expand voting by mail and early voting for the November general election. (August 6)  




USATODAY.com - Published





COVID cut me off from Montana and my conservative friends just when we needed to talk

I wanted to find out why my hometown friends have not realized their fears have come true: Secret Police storm troopers and a Dictator President.




USATODAY.com - Published





Why Montana Is a Test Case for Democrats' Winning the Senate

The race between Steve Daines, the Republican incumbent, and Steve Bullock could prove crucial in a year when Democrats need to win in conservative-leaning states where President Trump may still..




NYTimes.com - Published





Montana Staying Afloat During a Pandemic

No one needs to be reminded of the major global crisis that we are experiencing together. Think about it, the last time that the whole world was experiencing the same hard ship at the same time was..




WorldNews - Published





Private and Religious School Backers See Broad Victory in Supreme Court Decision

The court drew its decision narrowly when ruling against a Montana tax break that excluded religious schools. But denominational school advocates will push a broad application.




NYTimes.com - Published





Trump voter: 'These people here are genuine Americans'

The BBC went to the US state of Montana to hear what voters think of President Trump.




BBC News - Published





A Canal That Opened the Montana Prairie May Soon Dry Up

An early 20th-century federal water project irrigated the prairie to create farms and towns in eastern Montana. But it needs a $200 million overhaul.




NYTimes.com - Published





Biden inches toward delegate win, Steve King ousted and other takeaways from Tuesday's elections

Biden swept all seven of the states holding presidential primaries Tuesday – Maryland, Indiana, Rhode Island, New Mexico, Montana and South Dakota.




USATODAY.com - Published





Factbox: Seven U.S. states hold primaries for seats in Congress

Seven U.S. states hold congressional primaries on Tuesday, some of which were delayed by the coronavirus. Voting for members of Congress will take place in Indiana, Iowa, Maryland, Montana, New Mexico,..




Reuters - Published




U.S. judge throws out Trump policy favoring drilling over sage grouse protection

A U.S. judge in Montana has thrown out a Trump administration directive that weakened an Obama-era policy aimed at protecting a threatened Western bird, invalidating hundreds of oil and gas leases on..




Reuters - Published





'These kids are coming back': Reopened Montana school offers peek at what fall might bring

Most of the 56 students have returned to Willow Creek School in Montana. Their experiences provide a preview of what the fall may look like.




USATODAY.com - Published





Montana judge upholds ruling that canceled Keystone XL pipeline permit

A federal judge in Montana on Monday upheld his ruling last month that canceled an environmental permit for the long-delayed Keystone XL oil pipeline and threatened other oil and natural gas pipeline..




Reuters - Published





AP Top Stories May 5 A

Here's the latest for Tuesday May 5th: White House restricts virus task force congressional testimony; California Gov. says businesses to reopen; Restaurants open in Montana; Insect experts ready to..




USATODAY.com - Published




Judge Vacates Oil and Gas Leases on 145,000 Acres in Montana

A federal judge, rapping the Trump administration for its weak environmental assessments, has vacated hundreds of oil and gas leases across a large swath of Montana.




NYTimes.com - Published





U.S. court ruling could threaten pipeline projects with delays

Several major U.S. oil and natural gas pipeline projects could be at risk of delays after a U.S. district judge in Montana this month said the Army Corps of Engineers had inappropriately used a..




Reuters - Published





Democrats' Senate majority odds boosted amid outbreak, Trump's uneven response

Republican U.S. Senator Steve Daines has been airing a television advertisement in Montana touting his efforts to protect his state's residents from the novel coronavirus.




Reuters - Published





Montana to reopen for business, public activity

Gov. Steve Bullock is easing coronavirus restrictions for Montana. Bullock says churches can hold services Sunday and some businesses will be able to reopen Monday as long as they practice social..




USATODAY.com - Published





Trump: Some states to begin lifting coronavirus restrictions in coming days

U.S. President Donald Trump said on Saturday that Texas and Vermont will allow certain businesses to reopen on Monday while still observing coronavirus-related precautions and Montana will begin..




Reuters - Published




Lynx Numbers Are in Decline in the West

While the federal government weighs taking the Canada lynx off the list of threatened species, a new study points to reduced populations in Washington State, Colorado and Montana.




NYTimes.com - Published





Coronavirus can't stop the Force: Montana boy has Star Wars-themed adoption, complete with lightsaber duel

Coronavirus shutdowns didn't keep a Great Falls boy from getting his Star Wars-themed adoption ceremony Friday in Great Falls.




USATODAY.com - Published




Montana Gov. Steve Bullock, after failed presidential run, launches Senate bid

Montana Gov. Steve Bullock jumped into the race for Senate in his state, amove that increases the chances that Democrats could capture the seat.




USATODAY.com - Published





Montana Governor Bullock looks at U.S. Senate run, lifting Democratic hopes: source

Steve Bullock, the Democratic governor of Montana and a former 2020 presidential candidate, is seriously considering a U.S. Senate run, a decision that would give Democrats another competitive race in..




Reuters - Published





Steve Bullock Is Poised to Run for Senate in Montana, Officials Say

After months of insisting he would not challenge the Republican incumbent, Mr. Bullock, the governor and ex-Democratic presidential candidate, has until Monday to file to run in Montana.




NYTimes.com - Published





After a Century of Waiting, the Little Shell Celebrate Recognition

For decades, the Native American tribe in northern Montana had no legal status. That changed in December, when Congress passed a provision granting federal recognition to the tribe's 5,300 members.




NYTimes.com - Published