Cathedral
Christian church, which is seat of a bishop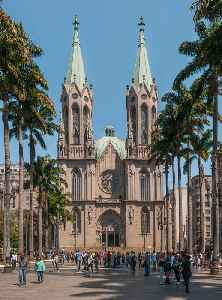 A cathedral is a church that contains the cathedra of a bishop, thus serving as the central church of a diocese, conference, or episcopate. The equivalent word in German for such a church is Dom ; see also Duomo in Italian, Dom(kerk) in Dutch, and cognates in many other European languages. Churches with the function of "cathedral" are usually specific to those Christian denominations with an episcopal hierarchy, such as the Catholic, Anglican, Orthodox, and some Lutheran and Methodist churches. Church buildings embodying the functions of a cathedral first appeared in Italy, Gaul, Spain and North Africa in the 4th century, but cathedrals did not become universal within the Western Catholic Church until the 12th century, by which time they had developed architectural forms, institutional structures and legal identities distinct from parish churches, monastic churches and episcopal residences.


Man arrested in St. Patrick's Cathedral case had bought one-way ticket to Rome
Marc Lamparello's arrest was two days after he was arrested for reportedly refusing to leave a church in Newark.
USATODAY.com - Published
Notre-Dame fire: Cathedral saved within crucial half hour
France's deputy interior minister praises firefighters for risking their lives to save the cathedral.
BBC News - Published
All Is Not Lost At Notre Dame Cathedral
It's a real-life miracle inside one of the world's most visited Cathedrals ahead of the holiest Christian weekend.
Credit: Newsy Studio Duration: 01:23Published
Cries heard from crowd as Notre Dame Cathedral's spire collapses
The spire from the Notre Dame Cathedral in Paris, France collapses into clouds of smoke and flames.
USATODAY.com - Published
Many of Notre Dame Cathedral's irreplaceable artworks may be gone; some moved just in time
Art and architecture lovers around the world, and millions of Roman Catholics, feared the worst in a savage fire that consumed much of Cathedral of Notre-Dame in Paris.
USATODAY.com - Published
Notre Dame cathedral's spire collapses during fire
The spire from the Notre Dame cathedral in Paris, France collapses into clouds of smoke and flames.
USATODAY.com - Published
Search this site and the web:
You Might Like