NBCUniversal
American media and entertainment conglomerate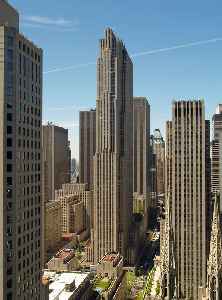 NBCUniversal Media, LLC is an American mass media and entertainment conglomerate owned by Comcast and headquartered at 30 Rockefeller Plaza in Midtown Manhattan, New York City.


Quibi apps arrive on Apple TV, Android TV, Fire TV

American short-form mobile video platform Quibi has just launched apps for Apple TV, Android TV and Fire TV. The streaming service company announced the change in an updated support article. The..
Credit: ANI Duration: 01:10
Published
Big turnout on day one of early voting

[NFA] Voters in Minnesota, Virginia, South Dakota and Wyoming began casting in-person ballots on Friday. In Virginia, elections officials in Fairfax and Arlington counties reported heavy turnout, with..
Credit: Reuters - Politics Duration: 01:54
Published
Roku May Lose NBCUniversal Channels

Roku May Lose NBCUniversal Channels
Credit: Wochit News Duration: 00:25
Published
Will Smith Announces 'Fresh Prince' Reboot

Will Smith announced Tuesday on his YouTube Channel that the new series has been signed by Peacock. Peacock is NBCUniversal's streaming service, according to reports at CNN. "We have just officially..
Credit: Wochit News Duration: 00:33
Published
Hugh Jackman on Getting Ryan Reynolds a (Gross) Birthday Gift, Stephen Colbert Takes Aim at Republican Convention & More | THR N

NBCUniversal hires outside counsel to investigate its former vice chairman Ron Meyer's behavior, Hugh Jackman proposes a gross birthday gift for Ryan Reynolds' birthday and Stephen Colbert gives his..
Credit: The Hollywood Reporter Duration: 02:20
Published
NBCUniversal Continues Investigating as Charlotte Kirk Affair Expands to Other Moguls | THR News

After ousting its longtime studio chief, the company has hired outside counsel to investigate "Ron's behavior," an insider says.
Credit: The Hollywood Reporter Duration: 01:38
Published
You Might Like



Is Quibi done for?

Illustration by Grayson Blackmon / The Verge Struggling streaming service Quibi's days appear to be numbered. The mobile-centric platform, which burned through a mind-boggling amount of investor..




The Verge - Published





Quibi apps arrive on Apple TV, Android TV, and Fire TV

Illustration by Alex Castro / The Verge Quibi, the troubled streaming service focused on "quick bites" of mobile-first content, has just launched apps for Apple TV, Android TV and Fire TV. The..




The Verge - Published





Sacha Baron Cohen's Borat sequel will arrive on Prime Video in late October

Photo by Paul Drinkwater/NBCU Photo Bank/NBCUniversal via Getty Images Sacha Baron Cohen's sequel to Borat, his iconic and controversial 2006 satirical documentary, is coming to Amazon's Prime..




The Verge - Published





All 45 seasons of Saturday Night Live are coming to Peacock

Will Heath/NBC/NBCU Photo Bank via Getty Images Saturday Night Live's complete library will be available to stream on NBCUniversal's streaming platform, Peacock, beginning October 1st, according..




The Verge - Published





NBCUniversal's Peacock streaming service is now available on Roku

Illustration by Alex Castro / The Verge After months of negotiations leading to a public showdown last week between NBCUniversal and Roku, NBCUniversal's streaming service, Peacock, is now on..




The Verge - Published





Roku and Comcast reach agreement to carry Peacock on Roku

Illustration by Alex Castro / The Verge Comcast and Roku have come to an agreement months after NBCUniversal's Peacock streaming service launched. Peacock will be available to stream on Roku in..




The Verge - Published





Comcast may force Roku to drop some NBCUniversal channels

Comcast-owned NBCUniversal is threatening to pull its TV Everywhere channels...




WorldNews - Published





Roku to lose some NBC channels as dispute over Peacock streaming deal heats up

Chris Welch/The Verge Roku is slamming Comcast's decision to pull NBC's TV Everywhere channels from the streaming service as negotiations over distribution for NBCUniversal's Peacock streaming..




The Verge - Published





What the end of E!'s 'Keeping Up with the Kardashians' says about the changing TV industry

Since "Keeping Up with the Kardashians" premiered in 2007, the reality show has been a ratings-generating, attention-grabbing stalwart for NBCUniversal's E! network. That all ends next year when..




WorldNews - Published





'Excited' Will Smith reveals dramatic 'Fresh Prince of Bel-Air' reboot coming to NBC's Peacock

"Yo, homes to Peacock." The dramatized reboot of "The Fresh Prince of Bel-Air" has found a home on NBCUniversal's streaming service.




USATODAY.com - Published





NBCUniversal honcho resigns, citing blackmail attempt

Famed media executive Ron Meyer said woman made "false accusations" against him after "consensual" relationship.




CBS News - Published





The Harry Potter films are headed to Peacock, in a perfect example of how confusing streaming is

Image: Harry Potter/Warner Brothers The tangled journey of the streaming rights for the Harry Potter films just got even more confusing, as Peacock has announced that it'll be offering the series..




The Verge - Published





NBCUniversal CEO Jeff Shell tests positive for the coronavirus

Comcast-owned NBC Universal Chief Executive Officer Jeff Shell has tested positive for the coronavirus, according to a memo to staff on Thursday.




Reuters - Published





Comcast's Universal theme parks extend closures through April 19

NBCUniversal theme parks in Florida and California will remain closed at least through April 19 because of the global coronavirus outbreak, the company said in a statement on Tuesday.




Reuters - Published





NBC hopes 'free' makes Peacock stand out in streaming era

NBCUniversal is launching a new streaming service that will have a large part available for free, an approach it hopes will resonate with people who aren't interested in traditional TV. ......




WorldNews - Published





Comcast bets ads work on streaming TV, plans NBC Peacock debut for April

NBCUniversal's new Peacock streaming service will offer free and $5-per-month options with advertising to try to win customers for its belated entry into the online video wars, the company announced on..




Reuters - Published




Factbox: How NBCUniversal's Peacock streaming service stacks up against others

Comcast Corp's NBCUniversal on Thursday gave specifics on its planned Peacock video streaming service, which will do battle with industry leader Netflix Inc and others in the highly competitive field.




Reuters - Published




Comcast's Peacock streaming service to offer free and $5- or $10-a-month options

Comcast Corp-owned NBCUniversal's new Peacock service, its belated entry into the streaming video wars, will offer free and $5-per-month options with advertising, the company announced on Thursday.




Reuters - Published





NBCUniversal will free ex-employees from confidentiality agreements to speak on harassment

NBCUniversal will release former staffers from their confidentiality agreements should they choose to disclose sexual harassment while at NBC News.




USATODAY.com - Published





'The Big Bang Theory' and 'Parks and Recreation' find new streaming homes

Upcoming streaming services battle over rights to hit sitcoms, while NBC Universal announces new programming and a name: Peacock




USATODAY.com - Published





NBCUniversal files motion to dismiss defamation lawsuit filed by Nick Sandmann

The NBCUniversal request in the case of the Covington Catholic student follows the recent dismissal of a similar lawsuit against the Washington Post.




USATODAY.com - Published




'The Office' to leave Netflix in 2021, head to NBCU streaming service

Comcast Corp's NBCUniversal will pull popular workplace comedy "The Office" from Netflix Inc in the United States in 2021 and make the show available on its own streaming service, the company said on..




Reuters - Published





Disney's Buyout of 21st Century Fox Completes - At $71 Billion

by Graham Pierrepoint - It's been widely regarded as one of the biggest entertainment acquisitions and mergers of recent years, and following months of hype and speculation, The Walt Disney..




One News Page Staff - Published