Cupertino, California
City in California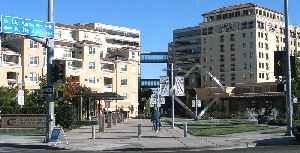 Cupertino is a city in Santa Clara County, California, directly west of San Jose on the western edge of the Santa Clara Valley with portions extending into the foothills of the Santa Cruz Mountains. The population was 58,302 as of the 2010 census.


Apple launches online store in India

Apple has finally marked its first retail presence in the country by way of its very own e-commerce portal named Apple Store Online. The store offers a full range of its products and services directly..
Credit: ANI Duration: 01:22
Published
You Might Like



Apple can permanently block Fortnite game: US judge

A US judge has ruled that Apple can keep blocking the popular game Fortnite permanently but restrained the Cupertino-based iPhone maker from retaliating against the open and real-time 3D creation..




WorldNews - Published





Fitness+ on Apple Watch to deliver personalised tips

Cupertino (California), Sep 16 : Apple has unveiled Fitness+, the first such experience built for its Watch that will arrive later this year. Fitness+ intelligently incorporates metrics from Apple..




WorldNews - Published





Apple expected to unveil updates to Watches, iPads

Apple Inc will broadcast an event from its Cupertino, California campus on Tuesday where analysts expect it to show updated Apple Watches, iPads and other devices while reserving an iPhone launch for..




WorldNews - Published





Qualcomm Prepares to Take Nvidia for a Ride

Didn't Qualcomm get the memo? All cars will be self-driving in a couple of years and the winner is Nvidia. Not likely, they said at Qualcomm headquarters in San Diego. So, join me on a journey around..




WorldNews - Published





Apple CEO Tim Cook joins Billionaire Club after rise in Apple's market cap

San Francisco: Apple CEO Tim Cook has for the first time become a billionaire as the Cupertino-based iPhone maker broke all previous records and is now the worlds most valued company at over $1.84..




WorldNews - Published





Apple's first ARM-based Macs will launch by early 2021, according to noted analyst

Doubling down on his prediction that Apple will ditch Intel in its MacBooks and Macs by 2021, noted industry analyst Ming-Chi Kuo has reiterated that the Cupertino company is on track to deliver new..




WorldNews - Published





Americans bulk up on home gym equipment to stay fit while staying at home

Once the coronavirus pandemic forced her Orangetheory gym to close, Chiaki Osaka was eager to stay in shape while staying inside her home in Cupertino, California.




Reuters - Published




Former Apple HomePod engineers to launch 'revolutionary' new speaker

Two former Apple HomePod engineers have flown the Cupertino nest to create what they say will be a "revolutionary" speaker that's capable of producing "indistinguishable from reality" sound...




WorldNews - Published





Apple warns coronavirus will hit revenue as production is constrained

Apple warned the coronavirus' disruption of its supply chain, and ebbing demand in China will impact its quarterly revenue, after it had projected positive results for the period. In its earlier..




WorldNews - Published





Apple CEO's pay dropped about $10 million in 2019 on lower bonus

Apple Inc Chief Executive Officer Tim Cook made $125 million in the company's 2019 fiscal year, less than the year before due in part to a lower bonus. Cook got a $3 million salary, a $7.7 million..




WorldNews - Published





Apple could sell iPhones as part of Amazon Prime-like subscription service in future

Apple CEO Tim Cook is exploring the idea of selling the iPhone on a subscription basis. According to a CNBC report, the Cupertino company is considering to switch from a traditional model to a..




WorldNews - Published





Apple cuts prices of iPhone XR, iPhone XS and other older iPhones in India. Check details

Following the launch of iPhone 11 series two days ago, Apple has cut prices of several iPhone models in India. The Cupertino-based smartphone giant has slashed the prices of iPhone XR, iPhone XS and..




WorldNews - Published





Apple launches 3 new iPhones starting at $699, plus updated Watch and iPad

At media event in Cupertino, Apple said new phones would be faster and have longer lasting battery. The camera on the Pro models have been updated.




USATODAY.com - Published





Live coverage: The iPhone 11 is here. Everything we know about it

Apple is widely expected to introduce the next iPhone during an event held at its headquarters in Cupertino, Calif.




USATODAY.com - Published





Apple's new products at their annual unveiling

Apple is widely expected to introduce the next iPhone during an event held at its headquarters in Cupertino, Calif.




USATODAY.com - Published





Apple pushes back, says Google's report on iPhone exploit was exaggerated

In a statement released Friday, Apple disputed a recent Google security report that described an iPhone malware attack as "en masse." The Cupertino, California-based...




WorldNews - Published





Apple likely to unveil latest iPhone on September 10

Apple Inc will host an event on Sept. 10 at the Steve Jobs Theater in the company's Cupertino, California campus, where it is widely expected to unveil new iPhone models.




Reuters - Published