France 24
Television channel based in Paris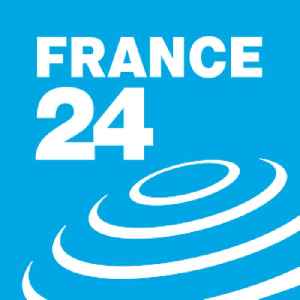 France 24 is a state-owned international news and current affairs television network based in Paris. Its channels broadcast in French, English, Arabic, and Spanish. Its English broadcast service is aimed at the overseas market, similar to DD India, WION, BBC World News, DW and RT.


Fighting ramps up in Ukraine's Donbass ahead of presidential elections
Ukraine goes to the polls on Sunday amid an uptick in fighting in the eastern Donbass region, where two Russian-backed republics broke away in 2015. FRANCE 24's Gulliver Cragg and Jonathan Walsh..
France 24 - Published
Week in Review: The world watches as Notre Dame burns and Cannes announces its selections
FRANCE 24 reported from outside Notre-Dame in the wake of the blaze that threatened to destroy one of the world's most beloved landmarks. Also, the 72nd annual Cannes film festival announced its..
France 24 - Published
EU Commission Clash: The Candidates' Debate - Part 1
France 24 exclusively hosts the first TV debate between the two candidates seen as frontrunners to become the next President of the European Commission -Current First Vice-President of the EU..
France 24 - Published
Victims of Italy's deadly 'Years of Lead' demand justice
Starting in the late 1960s, Italy experienced more than a decade of violence, known as the "Years of Lead". Armed groups on the far right and far left carried out bombings, kidnappings and..
France 24 - Published
Lesbos: Migrants in limbo
FRANCE 24's reporters Claire Paccalin and Zohra Ben Miloud explore what humanitarian organisations are calling a mental health crisis among migrants and refugees on the Greek island of Lesbos. They say..
France 24 - Published
Search this site and the web:
You Might Like