Richard Burr
Sales executive, Senator from North Carolina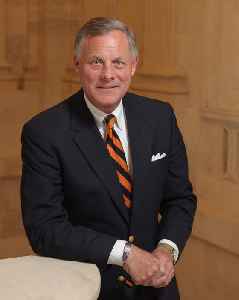 Richard Mauze Burr is an American businessman and politician who is the senior United States Senator from North Carolina, serving since 2005. A member of the Republican Party, Burr was previously a member of the United States House of Representatives.


Donald Trump Jr has agreed to testify before Senate Intelligence Committee in Russian meddling probe, claim US media
Seeking to complete their own report on Russian election interference, Senate Intelligence Committee Chairman Richard Burr risked the wrath of the White House and his Republican party by issuing a..
Firstpost - Published
Donald Trump Jr subpoenaed by Senate intelligence committee for backing out of two interviews on Russia investigation
Senator Richard Burr outlined the events at a GOP caucus luncheon after weathering fierce criticism for the subpoena of Trump Jr
Firstpost - Published
Burr Holds Firm On Don Jr. Subpoena
Senate Intelligence chairman Richard Burr faces intense pressure from Republicans to drop his subpoena of President Donald Trump's eldest son and quickly wrap up the Senate Intelligence Committee's..
Credit: Wochit News Duration: 00:34Published
Trump Surprised By Subpoena Sent To His Son
The Senate Intelligence Committee recently sent a subpoena to President Donald Trump's son. According to Reuters, the president said he was surprised by the subpoena. Senate Majority Leader Mitch..
Credit: Wochit News Duration: 00:32Published
Donald Trump Jr.'s No-Shows Led to Subpoena, Republican Senator Says
Allies of Mr. Trump have mounted a campaign to quash a subpoena from the Senate Intelligence Committee, putting intense pressure on its chairman, Richard M. Burr.
NYTimes.com - Published
Firestorm erupts around Sen. Richard Burr, man behind Donald Trump Jr. subpoena. He's not backing down
Republican Sen. Richard Burr, who spent decades in Washington and is a reliable conservative vote, is not the usual target of Trump's ire.
USATODAY.com - Published
Search this site and the web:
You Might Like