Michelle Obama
Lawyer, writer and former First Lady of the United States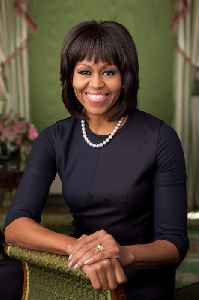 Michelle LaVaughn Robinson Obama is an American lawyer, university administrator and writer, who was First Lady of the United States from 2009 to 2017. She is married to the 44th U.S. President, Barack Obama, and was the first African-American First Lady.


Beyoncé praises Michelle Obama in impassioned essay
Beyoncé has clearly had a very busy week. Not only has she released a Netflix documentary and dropped a 40-track album, she also found the time to praise Michelle Obama in an...
WorldNews - Published
Michelle Obama sparks backlash by implying Donald Trump is like a 'divorced dad'
In the London remarks, Michelle Obama said America was in the midst of extensive changes, similar to those experienced by a teenager.
USATODAY.com - Published
Michelle Obama charms British crowd with praise for Queen Elizabeth
Former U.S. first lady Michelle Obama charmed thousands of Britons on Sunday (April 19), telling anecdotes about meeting the "wonderfully warm and funny" Queen Elizabeth and praising London's diversity..
Credit: Reuters Studio Duration: 01:56Published
Obama calls for 'humane' immigration policy
Former U.S. President Barack Obama at a town hall in Berlin, Germany on Saturday called for an "intelligent" and "orderly" approach to immigration, as U.S. President Donald Trump repeated threats to..
Credit: Reuters Studio Duration: 00:45Published
Sara Bareilles: 'I wrote love songs about the Obamas'
The singer songwriter releases her fifth full-length studio album, 'Admist The Chaos.' Rough cut (no reporter narration)
Credit: Reuters Studio Duration: 01:42Published
Multiple States Sue Trump Over School Breakfast And Lunch Rules
On Wednesday, many U.S. states sued the Trump administration looking to undo its recent decision to relax standards for restricting sodium content and requiring whole grains in school breakfasts and..
Credit: Wochit News Duration: 00:44Published
States Sue Trump Administration Over School Lunch Nutrition
Attorneys general from New York, California, Illinois, New Mexico, Vermont and the District of Columbia filed the lawsuit Wednesday.
Credit: Newsy Studio Duration: 01:07Published
Michelle Obama Might Have Written The #1 Memoir Ever
(CNN)Former first lady Michelle Obama's best-selling memoir, "Becoming," has sold nearly 10 million copies, the parent company of publisher Penguin Random House announced Tuesday. The candid memoir,..
Credit: Wochit News Duration: 00:32Published
Barack Obama Manages to Work in Michelle Obama in a Discussion About 'Being a Man'
Former President Barack Obama teamed up with Golden State Warrior star Stephen Curry to encourage the audience of young African-American men to focus on their own self-confidence as the path to true..
Credit: Time Duration: 01:52Published
Obama Won't Make 2020 Endorsement
Neither former President Barack Obama nor former First Lady Michelle Obama are expected to endorse a candidate during the 2020 Democratic primary, according to The New York Times. Privately, however,..
Credit: Wochit News Duration: 00:40Published
Style Diary: Michelle Obama's post-White House fashion
USATODAY.com - Published
Michelle Obama reveals 'disbelief' over Paris fire
America's former First Lady Michelle Obama told an audience in Paris that she couldn't believe it when she first heard the cathedral was ablaze. (April 16)
USATODAY.com - Published
Search this site and the web:
You Might Like