Seychelles
Country in the Indian Ocean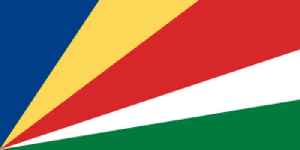 Seychelles, officially the Republic of Seychelles, is an archipelago country in the Indian Ocean. The capital of the 115-island country, Victoria, lies 1,500 kilometres (932 mi) east of mainland East Africa. Other nearby island countries and territories include Comoros, Mayotte, Madagascar, Réunion, and Mauritius to the south; as well as the Maldives and Chagos Archipelago to the east. With a population of roughly 94,367, it has the smallest population of any sovereign African country.


EU lists Cayman Islands, Panama as tax havens, spares Turkey
European Union finance ministers added Panama, the Seychelles, the Cayman Islands and Palau to the EU's blacklist of tax havens, while giving Turkey more time to avoid being listed, an EU document said..
Reuters - Published
Is 'super coral' the key to saving the world's reefs?
Scientists in the Seychelles have started the world's first large scale coral reef restoration project.
BBC News - Published
Mya gets married
Singer Mya secretly married a mystery boyfriend in the Seychelles in December.
Credit: Bang Media World Duration: 01:13Published
Seychelles: The island nation with a novel way to tackle climate change
The Seychelles has swapped 5% of its national debt for a cash injection to fight climate change and save its ocean.
BBC News - Published
Why Seychelles has world's worst heroin problem
The Indian Ocean archipelago suffers from the highest rate of heroin abuse in the world, but policy makers are hopeful that rehabilitation will curb addiction.
BBC News - Published
Island-Hopping: Love nuts from the Seychelles
The Seychelles Islands, nearly a thousand miles off the eastern coast of Africa, are known for being a honeymoon hotspot. Part of the allure is a product of the Coco De Mer tree. Affectionately called..
CBS News - Published
Seychelles leader on climate: no time for blame
The Seychelles president is warning there's no time for a "blame game" in the fight against climate change and he urges major nations to do more. (Oct. 29)
USATODAY.com - Published
India boosts its profile in west Indian Ocean
Using its strengths in defence, economic and climate cooperation, India is quietly making its moves in the western Indian Ocean region. This week, India engaged the Vanilla Islands – Madagascar,..
IndiaTimes - Published
Lebanon's prime minister gave more than $16 million to South African bikini model, report says
Lebanon's prime minister gave more than $16 million (£13m) to a South African bikini model with whom he was in a romantic relationship, the New York Times has reported. Saad Hariri, a prominent..
WorldNews - Published
Bitmex restricts service in Seychelles, Hong Kong and Bermuda – Here's Why!
Popular Seychelles-based crypto derivatives trading platform, BitMEX has announced that it is closing its platform to three jurisdictions. The announcement was made in other to ensure the safety of its..
WorldNews - Published
UK's Chagos Islands descendants feel like 'lost nation'
"It hurt me to leave and it hurt me even more when I went back," he says. An imposing military airbase had been built and the small town where Daniel grew up had been flooded by rising sea levels. "I..
WorldNews - Published
You Might Like