Golden Globe Awards
Award of the Hollywood Foreign Press Association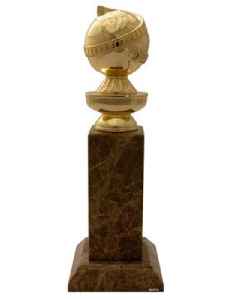 The Golden Globe Awards are accolades bestowed by the 93 members of the Hollywood Foreign Press Association beginning in January 1944, recognizing excellence in film, both American and International, and American television.


Hollywood Award Shows Are Being Delayed Due To Coronavirus

The pause button has been pressed on Hollywood award shows amid the coronavirus pandemic. The 78th annual Golden Globe Awards will take place a little later than usual in 2021. The Hollywood Foreign..
Credit: Wochit News Duration: 00:32
Published
Golden Globe Awards moved to February

Officials at the Hollywood Foreign Press Association are following the example set by the Oscars and Independent Spirit Awards and have moved their 2021 prizegiving.
Credit: Cover Video STUDIO Duration: 00:40
Published
Golden Globes Delayed Until Late February | THR News

The awards show, which usually takes place in early January, is the latest one to be scheduled later than usual after the 2021 Oscars delayed their show until April amid the coronavirus pandemic.
Credit: The Hollywood Reporter Duration: 01:37
Published
You Might Like



ShowBiz Minute: Schumacher, Globes, Plants.

Joel Schumacher, director of 'St. Elmo's Fire,' dies at 80; Golden Globes set Feb. 28 for pandemic-delayed ceremony; Plants fill seats at Barcelona opera house concert. (23 June)  




USATODAY.com - Published





Golden Globes postponed until Feb. 28 amid coronavirus pandemic

Like the Oscars, the Golden Globes are being delayed by coronavirus. The awards show, usually held in early January, will take place on Feb. 28, 2021.




USATODAY.com - Published





Ben Stiller to helm Oscar Isaac-starrer London

Actor Ben Stiller is set to direct Lionsgate thriller London starring Golden Globe winner Oscar Isaac in the lead. The film is based on a new short story/high-concept thriller by bestselling crime..




WorldNews - Published





Brian Dennehy, veteran character actor known for 'Tommy Boy,' 'Death of a Salesman,' dies at 81

Brian Dennehy, a Tony- and Golden Globe-winning actor known for his roles in the movie "Tommy Boy" and TV's "Death of a Salesman," has died at 81.




USATODAY.com - Published





Jessica Chastain Was Approached For A Key Doctor Strange Role, According To The Writer

Jessica Chastain has done quite well for herself over the years, from her Golden Globe-winning performance as Maya in Zero Dark Thirty to most recently starring as the adult Beverly Marsh in IT Chapter..




WorldNews - Published





This Should Come as No Surprise, But It Turns Out Adele Is the Perfect Wedding Singer

Adele already has fifteen Grammys, an Oscar and a Golden Globe to her name, among many, many accolades. And it seems fair to say she could add a trophy — or at least a bouquet — anointing her as..




WorldNews - Published





Oscars after party to host a 70 percent vegan menu this year!

It's pretty interesting to see how new trends spread like a wildfire, one such trend, which is changing the dynamics of the culinary world is veganism. Now, this trend is all set to hit the Hollywood..




WorldNews - Published





'1917' in line for potential Oscar glory after Baftas win

Sweeping World War I odyssey 1917 won big at Sunday's Bafta awards, landing the best film prize and best director trophy for Sam Mendes, and putting it in line for potential Oscars glory next weekend...




WorldNews - Published





Oscar-nominated filmmaker Chris Butler's top animation tips

Chris Butler caused an upset when Missing Link beat Toy Story 4 in the Golden Globes.




BBC News - Published





Wendy Williams apologizes for Joaquin Phoenix 'cleft lip' comments

(CNN)After being slammed for appearing to mock those with cleft lips and palates, Wendy Williams has apologized. The daytime talk show host ran afoul of some parents and activists after recent comments..




WorldNews - Published





They're back! Amy Poehler and Tina Fey to host 2021 Golden Globes

Amy Poehler and Tina Fey will return to host the 2021 Golden Globe Awards, for the first time since 2015.




USATODAY.com - Published





Australia fires: Phoebe Waller-Bridge auctions Golden Globes outfit for relief effort

Fleabag creator puts her Golden Globes tuxedo on eBay to support the relief effort in Australia.




BBC News - Published





Joaquin Phoenix, fresh off Golden Globes win, arrested at Jane Fonda's climate change protest

Joaquin Phoenix was arrested at Jane Fonda's latest Fire Drill Friday climate change march in Washington D.C.




USATODAY.com - Published





Oscar nominations 2020: Who's in for sure – and who may get snubbed

With Golden Globes doled out, it's time to separate awards season's contenders and pretenders with our fearless predictions for Oscar nominations.




USATODAY.com - Published





Quiz of the week: Do you know your Golden Globe winners?

Have you been paying attention to what's been going on during the past seven days?




BBC News - Published





Beyoncé and Jay-Z send Reese Witherspoon champagne after hilarious Golden Globes encounter

Reese Witherspoon is feeling bubbly after Beyoncé and Jay-Z sent her luxury champagne days after they were tablemates at the Golden Globe Awards.




USATODAY.com - Published





Record number of female film leads, US study suggests

Last week the Golden Globes again failed to recognise any women, including Little Women filmmaker Greta Gurwig, in their five-strong all-male pool for best directors - won by Sam Mendes for his war..




WorldNews - Published





After his controversial Golden Globes hosting, Ricky Gervais defends his humor

Ricky Gervais hosted the Golden Globes Sunday. Days later, he took to Twitter to defend his humor. "It's not all about you."




USATODAY.com - Published





Ramy Youssef's Golden Globe trophy searched by TSA, star suggests it's over 'Muslim name'

Ramy Youssef's Golden Globe trophy was flagged at the Los Angeles International Airport days after he won lead actor in a comedy for Hulu's "Ramy."




USATODAY.com - Published





Golden Globes: Jennifer Aniston, Reese Witherspoon score some of Beyoncé's luxury champagne

When Jennifer Aniston and Reese Witherspoon ran out of water at their Golden Globes table, they got something even better from Beyoncé and Jay-Z.




USATODAY.com - Published





Golden Globes 2020: Everything you missed at the after-parties

What happened after the Golden Globes broadcast ended? All the parties! Here's an inside look at how the stars danced the night away.




USATODAY.com - Published





Golden Globes 2020: Truce? Taylor Swift and Amy Poehler reunite onstage 7 years after feud

The two have made up seven years after Amy Poehler and Tina Fey made a joke about Taylor Swift's love life that the artist didn't take too kindly to.




USATODAY.com - Published





Golden Globes: What you didn't see on TV, from Joaquin's F-bombs to Jen Aniston's train

What was bleeped from Joaquin Phoenix's speech? Why'd Jennifer Aniston need help from friends? Here's what happened offscreen at the Golden Globes.




USATODAY.com - Published





ShowBiz Minute: Golden Globes

"1917," "Once Upon a Time in... Hollywood" win Golden Globes; "Fleabag," "Succession," "Chernobyl" win top TV Golden Globes; Plenty of pink, puffy sleeves and shimmer at Golden Globes. (Jan. 6)  




USATODAY.com - Published





Golden Globes 2020 Worst Dressed: Jennifer Lopez, Awkwafina, Jodie Comer leave fans disappointed - view pics

Golden Globes 2020 Worst Dressed: Jennifer Lopez, Awkwafina, Jodie Comer's sartorial choices left a lot to be desired ByUrmimala BanerjeePublished: January 6, 2020...




WorldNews - Published





Your Monday Briefing

Iran, Golden Globes, Harvey Weinstein: Here's what you need to know.




NYTimes.com - Published





Hanks sends 'good thoughts' to Australia

Speaking backstage at the Golden Globes, Lifetime Achievement Award winner Tom Hanks says he's about to play a bad guy on location in Australia. (Jan. 6)  




USATODAY.com - Published





Michelle Williams: 'I have so much to give'

Backstage at the Golden Globes, "Fosse/Verdon" star Michelle Williams talks about becoming stronger over time and learning to use her voice to help others. (Jan. 6)  




USATODAY.com - Published





Phoenix would need to 'feel inspired' to return to Joker

Speaking backstage, Joaquin Phoenix was reluctant to answer questions about his Golden Globe-winning performance in "Joker," and discussed the possibility of a sequel. (Jan. 6)  




USATODAY.com - Published





Sam Mendes 'optimistic' over future of cinema

Speaking backstage after his Golden Globe win for war drama "1917," director Sam Mendes discusses his take on streaming versus theatrical releases. (Jan. 6)  




USATODAY.com - Published





Sam Mendes: 'The world is always in flux'

Director of Golden Globe-winning WWI drama "1917" discusses the similarities between the events that led to the start of the Great War and today's political climate. (Jan. 6)  




USATODAY.com - Published





Duplass on inclusion: award ceremonies 'need to wake up and do a better job'

Directors Mark Duplass, Lorene Scafaria, Noah Baumbach and actress Cynthia Erivo discuss the lack of women director nominees at this year's Golden Globes. (Jan. 6)  




USATODAY.com - Published





Brad Pitt is happy to avoid 'fish breath' at Golden Globes

Brad Pitt praises Golden Globes vegan menu for averting "fish breath" and badly cooked steaks. (Jan. 6)  




USATODAY.com - Published





'1917,' 'Once Upon a Time in Hollywood' win best picture honors at Golden Globes

Sam Mendes' World War I tale "1917" wins best picture, drama, and Quentin Tarantino's "Once Upon a Time ... in Hollywood" wins best film, comedy or musical at the 77th Golden Globes. (Jan. 6)  




USATODAY.com - Published

Also reported by •France 24 •Reuters


Harvey Weinstein, Tua Tagovailoa, Golden Globes: 5 things you need to know Monday

Harvey Weinstein's sex-crimes trial, Tua Tagovailoa's big decision and more things to start your Monday.




USATODAY.com - Published





Golden Globes' best backstage quotes: Renée Zellweger explains 'scrambled' acceptance speech

These were all the best backstage quotes from the stars after claiming their Golden Globe Awards, from Awkwafina to Tom Hanks and Michelle Williams.




USATODAY.com - Published





Golden Globes: Joaquin Phoenix drops F-bombs, gets bleeped in head-turning acceptance speech

Joaquin Phoenix won a Golden Globe for "Joker," and his speech at the awards show is getting almost as much attention.




USATODAY.com - Published





Absent Russell Crowe uses Golden Globes win to highlight Australia bushfire crisis

Antipodean actor Russell Crowe almost stole the show with his absence from the Golden Globe awards on Sunday - using his best actor win to send a message on climate change's role in devastating..




Reuters - Published





Best looks from the Golden Globes red carpet

Leonardo DiCaprio, Jennifer Aniston, Olivia Colman, Billy Porter and more shine on the Golden Globes red carpet. (Jan. 5)  




USATODAY.com - Published




'1917' upsets Hollywood awards season as Globes host Gervais goes for broke

World War One movie "1917" and "Once Upon a Time in Hollywood," set in 1960s Tinseltown, won the top movie prizes at the Golden Globes on Sunday on a night packed with upsets and hot-button issues at..




Reuters - Published





'Please donate to Australia': Stars use Golden Globes to call for bushfire aid

Nicole Kidman, Margot Robbie, Cate Blanchett and Toni Collette came up short at the Golden Globes.




SBS - Published





Ricky Gervais skewers Hollywood's A-list as Golden Globes host

British comedian and actor Ricky Gervais returned to host the Golden Globe awards on Sunday, cracking scathing jokes about Hollywood's elite that got both laughs and disapproving looks from the A-list..




Reuters - Published





Brad Pitt's 'Titanic' reference, the joke too much for Ricky Gervais and more Golden Globes moments you missed

The Golden Globes offered plenty of moments that people will be talking about, including Brad Pitt's 'Titanic' joke. Here's what you need to know.




USATODAY.com - Published





Golden Globes: Brad Pitt called a 'legend' for quip about 'Titanic' aimed at Leonardo DiCaprio

Brad Pitt got a lot of attention at the Golden Globes. He turned up around the same time as Jennifer Aniston, and his "Titanic" joke killed.




USATODAY.com - Published





Golden Globes 2020: Michelle Williams tells women to vote 'your own self-interest' like men

Michelle Williams got political at the 2020 Golden Globes, encouraging women to "make (the world) look more like us" by voting in "your own self-interest."




USATODAY.com - Published





Golden Globes 2020 red carpet: Four things we learned

From British stars shining brightly to discussion over no female best director nominees.




BBC News - Published





Russell Crowe, Phoebe Waller-Bridge win Golden Globes for TV

Russell Crowe won a Golden Globe for his portrayal of Fox News Channel architect Roger Ailes in The Loudest Voice, drawing Australia's disastrous fires into Sunday's ceremony from thousands of..




WorldNews - Published





Factbox: Key winners of the 2020 Golden Globes

The Golden Globes for film and television, organized by the Hollywood Foreign Press Association, were awarded at a gala dinner hosted by British comedian Ricky Gervais in Beverly Hills, California, on..




Reuters - Published





Golden Globes 2020: Exclusive photos of Renee Zellweger, Scarlett Johansson, Joaquin Phoenix and more

Fresh off the Golden Globes 2020 red carpet Sunday night, stars entered the ballroom, where USA TODAY captured them before they took their seats.




USATODAY.com - Published





Golden Globes 2020: Kate McKinnon nails what it feels like to see yourself represented onscreen

When Kate McKinnon got up to present an award to Ellen DeGeneres at the Golden Globes, I didn't expect to get choked up, but I did. Here's why.




USATODAY.com - Published