Good Friday
Christian religious holiday, the Friday before Easter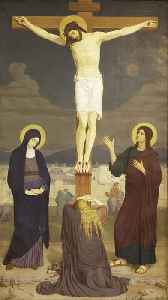 Good Friday is a Christian holiday commemorating the crucifixion of Jesus and his death at Calvary. It is observed during Holy Week as part of the Paschal Triduum on the Friday preceding Easter Sunday, and may coincide with the Jewish observance of Passover. It is also known as Holy Friday, Great Friday, and Black Friday.


You Might Like
US-UK trade deal in danger if Good Friday agreement jeopardised, Democrats warn
Dominic Raab faces backlash over Irish border and attempts to leave EU on own terms The UK foreign secretary, Dominic Raab, is facing a growing backlash in the US Congress after senior Democrats warned..
WorldNews - Published
John Hume, Northern Ireland peace accord architect, dead at 83
The politician from Northern Ireland shared the Nobel Peace Prize in 1998 for his role in forging the Good Friday peace agreement.
CBS News - Published
Empty churches, food drive mark start of Easter weekend in coronavirus-hit U.S.
Political leaders and health experts urged Americans celebrating Good Friday and the Easter weekend under threat of the coronavirus to avoid church gatherings and observe the holidays at home as the..
Reuters - Published
Watch: SBS World News live
Tonight on SBS World News: An eerie quiet fills St Peter's Basilica in Rome as Pope Francis conducts Good Friday services amid a coronavirus lockdown; world health authorities warn against lifting..
SBS - Published
AP Top Stories April 10 P
Here are the top stories for Friday, April 10th: Trump expresses hope, anguish over coronavirus, Cuomo highlights mixed picture in NY; WHO warns about lifing virus restrictions too quickly; Good Friday..
USATODAY.com - Published
Pope prays for sick at Good Friday service scaled back by coronavirus
Pope Francis prostrated himself on the floor of an empty St. Peter's Basilica on Friday to pray at a "Passion of the Lord" service commemorating Jesus' last hours of life and his crucifixion, an event..
Reuters - Published
Nearly year after fire, Notre Dame Cathedral opens for small Good Friday mass amid virus lockdown
Seven people gathered for a Good Friday service at the Notre Dame Cathedral nearly a year after fire ravaged the structure.
USATODAY.com - Published
Also reported by •Reuters
Today in History for April 10th
Highlights of this day in history: Peace talks conclude in Northern Ireland with Good Friday agreement; the Titanic sets sail; F. Scott Fitzgerald's 'The Great Gatsby' published; Comedian Sam Kinison..
USATODAY.com - Published
Good Friday Agreement architect Seamus Mallon dies at 83
Former Northern Ireland Deputy First Minister Seamus Mallon, one of the architects of the 1998 Good Friday peace agreement, died on Friday aged 83, drawing tributes from across a political divide he..
Reuters - Published
Seamus Mallon death: Former Northern Ireland deputy first minister and architect of Good Friday agreement dies
Former SDLP leader described as 'force of nature' and 'Irish patriot' after passing away aged 83
Independent - Published
EU position remains that it wants a Brexit deal: Commission
The European Union still wants a deal with Britain on the country's exit from the bloc and is also determined to protect the Good Friday agreement that ended decades of violence in Northern Ireland,..
Reuters - Published