Adolf Hitler
Leader of Germany from 1934 to 1945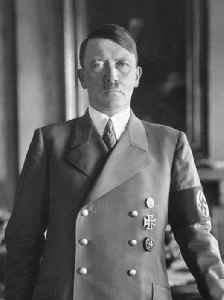 Adolf Hitler was a German politician and leader of the Nazi Party. He rose to power as Chancellor of Germany in 1933 and later Führer in 1934. During his dictatorship from 1933 to 1945, he initiated World War II in Europe by invading Poland in September 1939. He was closely involved in military operations throughout the war and was central to the perpetration of the Holocaust.


Austrian far-right politician resigns over 'rat' poem
The vice-mayor of the Austrian town where Adolf Hitler was born resigned from his post and the far-right Freedom Party on Tuesday after provoking strong criticism with a poem in which he compared..
Reuters - Published
Today in History April 20
Highlights of this day in history: Nazi Germany's dictator Adolf Hitler born; Gunfire erupts at Columbine High; Cubans in the Mariel boatlift arrive in the U.S.; Ted Williams makes his baseball debut;..
USATODAY.com - Published
Candace Owens Slams Rep. Ted Lieu Over Adolf Hitler Recording
Candace Owens slammed rep. Ted Lieu for playing an audio clip of her talking about Adolf Hitler and nationalism without giving context to her response. She said Lieu "extracted" a segment to create a..
Credit: Newsweek Duration: 01:53Published
Watch: Rep. Ted Lieu Plays Recording Of Candace Owens On Adolf Hitler And Nationalism
During a House Judiciary Committee Hearing on Hate Crimes, Rep. Ted Lieu (D-CA) played a recording of Candace Owens on Adolf Hitler and nationalism, saying at the time: "The problem is that he..
Credit: Newsweek Duration: 01:35Published
Watch: Bauhaus and its designs on a new museum to mark 100th birthday
The art school movement began in 1919 and ended in 1933, the year Hitler came to power, coinciding with the lifespan of the Weimar Republic.
Credit: euronews (in English) Duration: 00:20Published
Hi, Hitler: What creators looking to satirise the Fhrer must remember about the perils of parody
There's a sense of inevitability about the internet and Hitler jokes, one would argue - at this point, the phenomenon is approaching axiomatic status.
Firstpost - Published
DD's vetting committee spikes reference to RSS, Hitler, CPI cries foul, to approach EC
IndiaTimes - Published
Goalkeeper showed ignorance of fascism, says FA panel
A goalkeeper in the Premier League has been criticized for his lack of knowledge about fascism and Adolf Hitler
USATODAY.com - Published
Search this site and the web:
You Might Like