Liam Neeson
Irish actor from Northern Ireland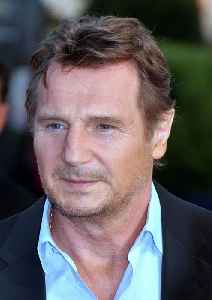 Liam John Neeson is a Northern Irish actor. He has been nominated for several awards, including an Academy Award for Best Actor, a BAFTA Award for Best Actor in a Leading Role, and three Golden Globe Awards for Best Actor in a Motion Picture Drama. Empire magazine ranked Neeson among both the "100 Sexiest Stars in Film History" and "The Top 100 Movie Stars of All Time". He is one of the highest grossing actors of all time.


You Might Like
ShowBiz Minute: Sting; Van Halen; Box Office
Sting, Renee Zellweger, Kermit the Frog appear in streaming event to raise funds for network of camps that host seriously ill children and their families; Two guitars owned, played and partly designed..
USATODAY.com - Published
Julianne Moore, Liam Neeson talk "Non-Stop"
Liam Neeson is back with another action thriller, this one set on a plane. Suzanne Marques gives us an inside look into the new action thriller.
CBS News - Published
Michelle Obama hosts screening of "The Trip to Bountiful"
The first lady honors actress Cicely Tyson, plus Liam Neeson and Julianne Moore hit the red carpet for "Non-Stop." Bigad Shaban has today's Eye on Entertainment.
CBS News - Published
Liam Neeson opens up about wife Natasha Richardson's death
Actor Liam Neeson says the sudden death of his wife Natasha Richardson still doesn't seem real, even five years later. Anderson Cooper profiles the Hollywood star on Sunday, Feb. 23 at 7 p.m. ET/PT.
CBS News - Published
For Liam Neeson and son, 'Made in Italy' was a family affair
Liam Neeson and son Micheal Richardson remember late wife and mother, Natasha Richardson. The two act opposite each other in new comedy drama, "Made in Italy." (Aug. 5)  
USATODAY.com - Published
MOVIE REVIEW: Men in Black: International
by Graham Pierrepoint - MEN IN BLACK: INTERNATIONAL IMDb Dir: F Gary Gray Starring Chris Hemsworth, Tessa Thompson, Rebecca Ferguson, Kumail Nanjiani, Rafe Spall, Laurent Bourgeois, Larry..
One News Page Staff - Published
Liam Neeson on "Kinsey"
Talking about sex in the '50s
CBS News - Published
MOVIE REVIEW: Cold Pursuit
by Graham Pierrepoint - COLD PURSUIT IMDb Dir: Hans Petter Moland Starring Liam Neeson, Tom Bateman, Tom Jackson, Emmy Rossum, Domenick Lombardozzi, Julia Jones, John Doman, Laura Dern 3.5 STARS..
One News Page Staff - Published