Ash Carter
United States Secretary of Defense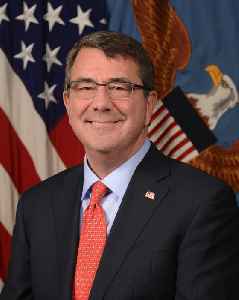 Ashton Baldwin Carter is an American public policy professor who served as the 25th Secretary of Defense from February 2015 to January 2017. He is currently Director of the Belfer Center for Science & International Affairs at Harvard Kennedy School.


US to withdraw from Intermediate-Range Nuclear Forces Treaty with Russia; ex-defence secretary Ash Carter calls move 'not so bad'
Earlier this year, President Donald Trump's administration announced its intention to ditch agreement, accusing Moscow of repeatedly violating its terms. Washington formally launched the procedure of..
Firstpost - Published
Why former Defense Secretary Ash Carter wouldn't work for Trump
"It's not politics, it's personal conduct," Carter defended on "CBS This Morning" on Monday
CBS News - Published
Biden "touching" accusation spurs defense of former VP
Reports that Biden inappropriately touched a woman in 2014 have moved the wife of former Defense Secretary Ash Carter and Sen. Chris Coons to speak out in his defense
CBS News - Published
Joe Biden: ex-defense secretary's wife says viral photo used 'misleadingly'
As Joe Biden faced intense scrutiny of his behavior toward women, the wife of former defense secretary Ash Carter dismissed claims a photo of her with the former vice-president was an example of..
WorldNews - Published
Wife of ex-defense sec. says picture of Biden with his hands on her is misleading
With Joe Biden making headlines for an apparent inappropriate interaction with Lucy Flores, a photo has resurfaced of Biden with Stephanie Carter, the wife of former Defense Secretary Ash Carter...
USATODAY.com - Published
Meet women who are taking on coveted combat roles for Marine Corps
Our Profiles in Service series highlights Americans who dedicate their lives to helping others. The U.S. Marines' iconic tagline is "the few, the proud." Just over three years ago, then Defense..
CBS News - Published
You Might Like