Etsy
E-commerce website focused on handmade or vintage items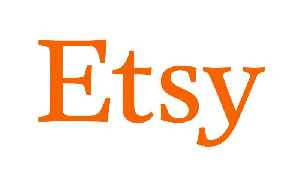 Etsy is an American e-commerce website focused on handmade or vintage items and craft supplies. These items fall under a wide range of categories, including jewelry, bags, clothing, home décor and furniture, toys, art, as well as craft supplies and tools. All vintage items must be at least 20 years old. The site follows in the tradition of open craft fairs, giving sellers personal storefronts where they list their goods for a fee of US$0.20 per item.


Tesla Excluded From S&P500, Stock Sinks

On Tuesday, Tesla stock tumbled as much as 13% in pre-market trading. The decline follows the surprise exclusion of Tesla from the S&P 500. An important shareholder cutting its stake, and its..
Credit: Wochit News Duration: 00:27
Published
You Might Like
'Truth Over Flies' fly swatters and 'I'm speaking' shirts: Joe Biden campaign, Etsy sellers capitalize on VP debate
Following the vice presidential debate between Mike Pence and Kamala Harris, "Truth Over Flies" fly swatters and "I'm speaking" shirts are for sale.
USATODAY.com - Published
Etsy is banning QAnon merch
Etsy has pulled merchandise related to radical conspiracy group QAnon from its platform. Insider reported the news today. An Etsy spokesperson told the publication that seller policies prohibit items..
The Verge - Published
Etsy removes Proud Boy merchandise
Members of the far-right Proud Boys group at a demonstration at Delta Park in Portland, Oregon September 2020. | Photo by John Lamparski/SOPA Images/LightRocket via Getty Images Etsy is the latest..
The Verge - Published
Ruth Bader Ginsburg stickers, T-shirts, books among Amazon's and Etsy's bestsellers
RBG T-shirts, books, masks and other memorabilia are trending on Amazon, Etsy, Redbubble and other online shops, celebrating Justice Ginsburg's life.
USATODAY.com - Published
Making it Work
The Verge presents Making It Work, a special issue about how small businesses have found clever and creative ways to adapt to the current climate, be it the pandemic, sweeping tech platform changes, or..
The Verge - Published
The mask barons of Etsy
Illustration by Claudia Chinyere Akole How a couple of mom-and-pop shops made millions off masks
The Verge - Published
10 top-rated face shields you can buy online right now
From Polaroid to Vistaprint to Etsy, these are the most popular face shields you can buy online, including stylish face shields and custom face shields.
USATODAY.com - Published
Etsy gets into S&P 500, Tesla does not
Shares of Tesla tumbled 7% in extended trade on Friday after the electric car maker was excluded from a group of companies being added to the S&P 500, among them Etsy, whose stock market value is less..
WorldNews - Published
Etsy helped sell $346 million worth of homemade masks
It's starting to seem like Etsy only sells two kinds of products: masks, and everything else. The handmade and vintage product marketplace just released its Q2 earnings report, and the company..
The Verge - Published
9 retailers selling fabric face masks that are worth buying
These are the best cloth face masks from Etsy and other brands including Aplat, Avocado Mattress, Alice and Olivia, Hedley and Bennett and Plover.
USATODAY.com - Published