Mick Mulvaney
Director of the Office of Management and Budget; White House Chief of Staff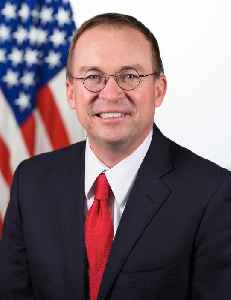 John Michael "Mick" Mulvaney is an American politician who served in President Donald Trump's cabinet as Director of the Office of Management and Budget (OMB), as well as acting White House Chief of Staff until 2020. A Republican, Mulvaney serves as United States Special Envoy for Northern Ireland and previously served as the acting Director of the Consumer Financial Protection Bureau (CFPB) from November 2017 to December 2018.


New report revisits 'Sharpiegate' controversy

A Monday report found that U.S. agency leaders violated their own policy on scientific integrity after they backed a Trump tweet about Hurricane Dorian last year - that was false. Gloria Tso reports.
Credit: Reuters - Politics Duration: 01:39
Published
Mick Mulvaney Dropped As Much As $550,000 In Stocks

President Donald Trump's former chief of staff Mick Mulvaney dropped as much as $550,000 in stocks. He did it on the same day Trump assured the public the economy was "doing fantastically" during..
Credit: Wochit News Duration: 00:32
Published
You Might Like



Trump Names Mark Meadows Chief of Staff, Ousting Mick Mulvaney

(Written by Peter Baker) President Donald Trump on Friday pushed out Mick Mulvaney, his acting White House chief of staff, and replaced him with Rep. Mark Meadows, a stalwart conservative ally, shaking..




WorldNews - Published

Also reported by •NYTimes.com


Trump abruptly replaces acting chief of staff Mulvaney with North Carolina lawmaker

President Donald Trump parted ways on Friday with acting White House chief of staff Mick Mulvaney and replaced him with conservative lawmaker and close ally Mark Meadows, who was a strong Trump..




Reuters - Published





Trump's acting chief of staff Mick Mulvaney is out. Mark Meadows will take on role

Mark Meadows, a North Carolina lawmaker, will become Donald Trump's latest White House chief of staff, replacing Mick Mulvaney.




USATODAY.com - Published





Mick Mulvaney: Trump replaces White House chief of staff

Mr Trump says Mr Mulvaney will become US special envoy to Northern Ireland.




BBC News - Published





How Does the Coronavirus Compare to the Flu?

Is this new coronavirus really a serious danger? Doesn't the flu kill more people? As the United States recorded its first coronavirus death Saturday — and as other cases popped up in people..




WorldNews - Published





Mick Mulvaney says media covering coronavirus because they think it will 'bring down' Trump

Mick Mulvaney claimed the media is covering the coronavirus because "they think this is going to be what brings down the president."




USATODAY.com - Published





Mulvaney alleges U.S. media is focusing on coronavirus to hurt Trump, advises turning off TV

White House Acting Chief of Staff Mick Mulvaney on Friday played down the deadly coronavirus that has caused U.S. stock markets to plummet, telling top conservatives that wall-to-wall news coverage of..




Reuters - Published





Mulvaney Says He Often Disagrees With Trump (Just Never Publicly)

The acting chief of staff, addressing a crowd of several hundred in England, spoke freely about the impeachment inquiry into President Trump.




NYTimes.com - Published





Trump says will keep Mulvaney as chief of staff, will decide on Vindman

President Donald Trump on Friday said he is keeping Mick Mulvaney as his acting chief of staff, but there will be a decision in the future on what to do with Alexander Vindman, the aide who testified..




Reuters - Published





Murkowski says she's a 'no' vote on calling witnesses, virtually assuring Bolton, Mulvaney won't appear at Trump trial

Sen. Lisa Murkowski, R-Alaska, announced Friday she will not vote to call witnesses in President Donald Trump's impeachment trial.




USATODAY.com - Published





The witness at the top of Democrats' list isn't Bolton.

Senate Democrats and the House impeachment managers privately say they are more interested in Mick Mulvaney, the acting White House chief of staff.




NYTimes.com - Published





Senate rejects bid to subpoena Mick Mulvaney for testimony

The acting White House chief of staff may be summoned later.




NYTimes.com - Published





Democrats push to hear witness testimony from Mulvaney

The debate raises the larger question of whether any Republican senators will join Democrats in insisting that senior administration officials appear before the Senate.




NYTimes.com - Published





3 top witnesses I'd call in Trump impeachment trial and what I'd ask: Ex-US attorney

It would be tempting to call Rudy Giuliani, Mike Pence and Donald Trump. But John Bolton, Mick Mulvaney and Mike Pompeo would be better witnesses.




USATODAY.com - Published





If Donald Trump is 'perfect' on Ukraine, then let Senate impeachment trial hear witnesses

John Bolton, Mick Mulvaney, Michael Duffey need to testify in the Senate trial of President Donald Trump: Our view




USATODAY.com - Published





McConnell Rejects Calling Mulvaney or Bolton for Impeachment Trial

Senator Chuck Schumer, the Democratic leader, had sought testimony from four witnesses the White House had blocked, including Mick Mulvaney and John Bolton.




NYTimes.com - Published





Schumer seeks testimony from Mulvaney, Bolton in expected Senate trial of Trump

The senior U.S. Senate Democrat called on Sunday for the Republican-led chamber to demand testimony from four current and former White House aides in a trial expected early next year on whether to..




Reuters - Published





Senate's Schumer wants Mulvaney, Bolton, others to testify in impeachment trial

U.S. Senate Democratic leader Chuck Schumer proposed in a letter released on Sunday that at least four witnesses including acting White House Chief of Staff Mick Mulvaney and former national security..




Reuters - Published




Dems outline potential framework for Senate impeachment trial, want Bolton, Mulvaney to testify

Mitch McConnell told Fox News that he was working in "total coordination with the White House counsel."




USATODAY.com - Published





Ukraine scandal: I know why Trump top dogs — Mulvaney, Pompeo, Perry & Bolton — won't bark

Because it would be so easy for these people to clear the president, it's hard to escape the conclusion that their silence is part of a cover-up.




USATODAY.com - Published





Trump says he still has confidence in Mulvaney

U.S. President Donald Trump said on Monday he still had confidence in his acting Chief of Staff Mick Mulvaney amid frustration at his team's response to the Democrats' impeachment inquiry.




Reuters - Published




White House emails reveal effort to justify Trump's freeze on Ukraine military aid

An internal review by the White House uncovered emails showing acting chief of staff Mick Mulvaney asking for legal justification for holding $400 million in military aid to Ukraine. The hold is at the..




CBS News - Published




Credible Sondland is no Never Trumper. House hearings now need Bolton, Pompeo, Mulvaney.

'We followed the president's orders,' Trump donor-turned-ambassador tells House impeachment investigators. Now call Bolton, Pompeo, Mulvaney: Our view




USATODAY.com - Published





In impeachment hearings, Donald Trump is the one blocking firsthand witnesses

House Republicans complain impeachment witnesses are giving secondhand or thirdhand information. So where are Mick Mulvaney and John Bolton?: Our view




USATODAY.com - Published





Taylor disputes Mulvaney's claim that withholding aid for political reasons happens "all the time"

The top U.S. diplomat in Ukraine, William Taylor, was questioned by Democratic Congressman Eric Swalwell about White House chief of staff Mick Mulvaney's recent comment that using foreign policy for..




CBS News - Published





AP Top Stories November 12 P

Here's the latest for Tuesday, November 12th: Mulvaney to not sue over House impeachment proceedings; Ousted Bolivian president arrives in Mexico; Former President Carter recovers after brain surgery;..




USATODAY.com - Published





Acting White House chief of staff under fire after Ukraine comments

The acting White House chief of staff Mick Mulvaney says President Trump didn't expect so much opposition to his plan to host next year's G-7 summit at his Florida resort. The president now says he..




CBS News - Published





Mulvaney will defer to Trump and not testify in impeachment hearings

The acting White House chief of staff had planned to let the courts decide whether he should testify before Congress, but he has reversed course and says he would not comply with a congressional..




CBS News - Published





Mulvaney Will Defy House Impeachment Subpoena

Mick Mulvaney, the acting White House chief of staff, said he would obey President Trump's order not to testify rather than seek a judge's ruling first.




NYTimes.com - Published

Also reported by •Reuters


In reversal, Mulvaney says he won't sue over impeachment probe subpoena

White House acting Chief of Staff Mick Mulvaney on Tuesday said in a court filing that he would not bring a lawsuit challenging a subpoena for his testimony in the impeachment probe into President..




Reuters - Published




White House's Mulvaney withdraws request to intervene in impeachment probe lawsuit

Acting White House Chief of Staff Mick Mulvaney on Monday withdrew his request to join a lawsuit seeking a court ruling on whether witnesses must testify in the House of Representatives impeachment..




Reuters - Published




Ex-official opposes Mulvaney effort to join lawsuit over testimony

An attorney for Charles Kupperman asked a federal judge to deny a request from Mulvaney to join the suit




CBS News - Published





Bolton Rejects Legal Alliance With Mulvaney

A lawyer representing the president's former national security adviser filed a motion opposing an effort by Mick Mulvaney to join a suit on impeachment testimony.




NYTimes.com - Published





Mulvaney asks to join lawsuit over complying with House subpoenas

The acting chief of staff wants to join a lawsuit that asks a court to decide whether to comply with a House subpoena or obey a White House order




CBS News - Published





Mick Mulvaney asks to join lawsuit on congressional subpoena enforcement in Trump impeachment probe

Mulvaney's lawyers said their intervention in the lawsuit would lead to a ruling on whether officials needed to comply with subpoenas.




USATODAY.com - Published





White House officials fail to appear at Trump impeachment probe

Acting Chief of Staff Mick Mulvaney and another White House official on Friday failed to appear at the Democratic-led impeachment inquiry into President Donald Trump, as the administration continued to..




Reuters - Published





Trump's acting chief of staff won't appear for impeachment inquiry deposition: congressional aide

President Donald Trump's acting chief of staff Mick Mulvaney will not appear for a deposition requested by House Democrats investigating Trump's possible impeachment after his personal lawyer asserted..




Reuters - Published





Impeachment updates: Mulvaney subpoenaed by House Intel Committee

During a press briefing in October, Mulvaney appeared to admit the administration had engaged in a quid pro quo with the government of Ukraine




CBS News - Published





Trump impeachment inquiry, Camp Fire one year later, Black Friday preview: 5 things to know Friday

Will Mick Mulvaney testify in the ongoing impeachment inquiry, remembering the Camp Fire one year later and more news to start your Friday morning.




USATODAY.com - Published





Mick Mulvaney scheduled to testify in Trump impeachment inquiry: the latest

Mulvaney is unlikely to appear for scheduled testimony but was subpoenaed on Thursday.




USATODAY.com - Published





Acting White House Chief of Staff Mulvaney subpoenaed in impeachment inquiry: media reports

U.S. House of Representatives committees investigating President Donald Trump for possible impeachment have subpoenaed acting White House Chief of Staff Mick Mulvaney, Politico and the Washington Post..




Reuters - Published





White House Budget Director says budget savings have already started "at home"

White House Budget Director Mick Mulvaney responds to criticisms of President Trump's expensive trips to Mar-a-Lago. "At the Office of Management and Budget we have to pay for our own business cards,"..




CBS News - Published





Congressional impeachment investigators call Trump chief of staff Mulvaney to testify

U.S. House of Representatives committees conducting an impeachment inquiry of President Donald Trump said on Tuesday they had asked Mick Mulvaney, the acting White House Chief of Staff, to appear for a..




Reuters - Published





Which agencies would a government shutdown affect?

Ben Domenech, Kelsey Snell, Ed Wong and Margaret Talev discuss the possibility of a government shutdown and President Trump's new chief of staff Mick Mulvaney.




CBS News - Published





Open: This is Face the Nation, January 27

This week on Face the Nation, moderator Margaret Brennan talks to White House acting chief of staff Mick Mulvaney, Sen. Susan Collins and Sen. Joe Manchin. Plus, Mayors Dee Margo and Michael Passero..




CBS News - Published





Mulvaney says Trump is willing to shut down government again

White House acting chief of staff Mick Mulvaney joins Margaret Brennan to discuss President Trump's decision to reopen the government without funding for the wall.




CBS News - Published





Mulvaney can't say if Trump will accept lower border spending

Margaret Brennan asked acting White House chief of staff Mick Mulvaney whether President Trump was open to accepting less than the $5.7 billion he has demanded for the border wall.




CBS News - Published