Budapest
Capital city in Hungary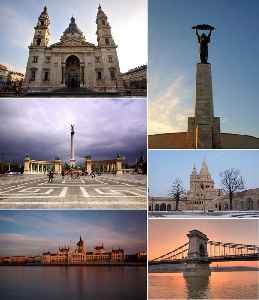 Budapest is the capital and the most populous city of Hungary, and the tenth-largest city in the European Union by population within city limits. The city had an estimated population of 1,752,286 in 2019 distributed over a land area of about 525 square kilometres. Budapest is both a city and county, and forms the centre of the Budapest metropolitan area, which has an area of 7,626 square kilometres and a population of 3,303,786, comprising 33 percent of the population of Hungary.


China, Hungary vow to deepen cooperation, boost ties
BUDAPEST, July 13 -- Hungarian Prime Minister Viktor Orban and visiting Chinese State Councilor and Foreign Minister Wang Yi met here on Friday, pledging to deepen cooperation and boost bilateral..
WorldNews - Published
Smartwings passenger plane makes emergency landing in Budapest
An airplane operated by Czech airline Smartwings made an emergency landing shortly after takeoff at Budapest's Liszt Ferenc Airport on Thursday after its landing gear was damaged, a spokesman for..
Reuters - Published
London, Bupadest celebrate LGBT rights with Pride parades
Thousands of people turned out to celebrate LGBT rights in London and Budapest's Pride parades. This year marked 50 years since the Stonewall uprising in New York, a protest that changed the face of..
Credit: euronews (in English) Duration: 00:50Published
Crews lift Hungarian boat from Danube
Salvage crews recovered four bodies as they lifted the wreck of a boat, two weeks after it capsized on the Danube River in Budapest killing 28.
Credit: Reuters Studio Duration: 00:41Published
Body removed from boat salvaged from Danube
Salvage crews have recovered more bodies from the wreckage of a Hungarian boat that capsized on the Danube river in Budapest last month, killing 26 South Korean tourists and two Hungarian crew. Rough..
Credit: Reuters Studio Duration: 00:46Published
Hungary boat crash: Arrested captain onboard different ship during another accident
Hungarian prosecutors say the Ukrainian captain arrested over the fatal sinking of The Mermaid in Budapest last week had been involved in another accident in the Netherlands in April
Credit: euronews (in English) Duration: 01:05Published
Rescuers in Hungary find body 100kms from scene of Danube boat accident
A body was pulled from the Danube more than 100 km downstream from Budapest
Credit: euronews (in English) Duration: 00:49Published
Cruise ship collides with Venice tourist boat, injuring four
A cruise ship collided with a dock and a tourist boat in Venice on Sunday, injuring four people, the local port authority said. Rough cut (no reporter narration).
Credit: Reuters Studio Duration: 00:47Published
Budapest tour boat flipped over 'in an instant' say survivors
Survivors of the Budapest tour boat disaster say they barely had time to grab hold of a drifting lifeboat while watching in horror as others struggled in the dark, rainy waters.
Credit: euronews (in English) Duration: 00:42Published
Search operations continue after Budapest disaster
Rescue teams search for victims of the boat tragedy on the Danube River but with little hope of any survivors.
Credit: Reuters Studio Duration: 00:57Published
Video emerges of deadly Budapest boat smash as hunt for survivors goes on
Rescue workers were searching a vast length of the River Danube on Thursday for 21 tourists and crew missing after a sightseeing boat collided with a larger ship and sank within seconds.
Credit: euronews (in English) Duration: 00:45Published
Rescue drama in Budapest after tourist boat sinks in Danube rainstorm
Seven people are dead and 20 missing after a pleasure boat carrying South Koreans was struck by another vessel in the Hungarian capital.
Credit: euronews (in English) Duration: 03:19Published
Search this site and the web:
You Might Like