Yankee Stadium
Baseball stadium in The Bronx, New York City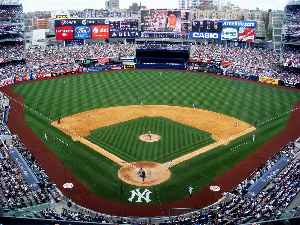 Yankee Stadium is a baseball park located in Concourse, Bronx, New York City. It is the home field for the New York Yankees of Major League Baseball (MLB), and New York City FC of Major League Soccer (MLS). The $2.3 billion stadium, built with $1.2 billion in public subsidies, replaced the original Yankee Stadium in 2009. It is located one block north of the original, on the 24-acre (9.7 ha) former site of Macombs Dam Park; the 8-acre (3.2 ha) site of the original stadium is now a public park called Heritage Field.


You Might Like
Lance McCullers Jr. gives Astros fans World Series tickets after alleged taunts at Yankee Stadium
Lance McCullers Jr. gave three World Series tickets to a trio of Houston Astros fans who said they were taunted at Yankee Stadium during the ALCS.
USATODAY.com - Published
How to watch Yankees vs. Astros: MLB live stream, schedule, TV channel, start time for ALCS Game 5
With a 3-1 series lead, Houston can secure a spot in the World Series with a win in Game 5 at Yankee Stadium.
USATODAY.com - Published
Astros get last laugh with ALCS Game 4 win, silence Yankee Stadium fans
After an 8-3 victory in Game 4 of the ALCS, the Astros were able to quiet the fans in the Bronx after another loss.
USATODAY.com - Published
Astros' Josh Reddick calls New York fans 'disrespectful' at Yankee Stadium after abuse
Astros right fielder Josh Reddick was critical of the fans behavior at Yankees Stadium after Game 3 of the ALCS, calling it "disrespectful."
USATODAY.com - Published
LEADING OFF: Stroman at Yankee Stadium, Red Sox get Cashner
LEADING OFF: Stroman starts at Yankee Stadium as trade talk swirls, Red Sox get Cashner from the Orioles, Ryu pitches at Fenway Park
USATODAY.com - Published
Yankees unveil plaque commemorating Stonewall Inn uprising
A plaque in Monument Park at Yankee Stadium has been dedicated to commemorate the Stonewall Inn uprising 50 years ago, which sparked a pivotal rebellion in the LGBTQ rights movement
USATODAY.com - Published
LEADING OFF: Subway Series, Freeway Series, Keuchel pitches
LEADING OFF: Subway Series at Yankee Stadium, Freeway Series at Angel Stadium, Keuchel starts in minors
USATODAY.com - Published