Oklahoma City Thunder
Professional basketball team based in Oklahoma City, Oklahoma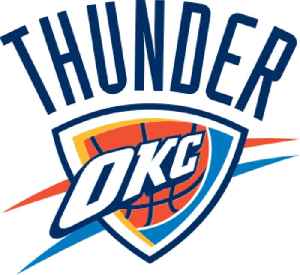 The Oklahoma City Thunder are an American professional basketball team based in Oklahoma City, Oklahoma. The Thunder competes in the National Basketball Association (NBA) as a member of the league's Western Conference Northwest Division. The team plays its home games at Chesapeake Energy Arena.


Did Thunder star Paul George violate an unwritten NBA rule during Game 3 vs. Blazers?
Baseball isn't the only sport with unwritten rules. Paul George tried to dunk at the final buzzer up 12 points against Portland. OK or not?
USATODAY.com - Published
Westbrook leads Thunder past Trail Blazers, 120-108
Russell Westbrook had 33 points and 11 assists and the Oklahoma City Thunder beat the Portland Trail Blazers 120-108 to cut their series deficit to 2-1
USATODAY.com - Published
The Thunder Hit 15 3's To Beat The Blazers
There's no secret as to why Damian Lillard was a little bothered on Friday following his game against Oklahoma City. After winning the first two games at home, the Blazers dropped Game 3 against the..
Credit: Wochit News Duration: 00:42Published
Russell Westbrook Goes 20-20-20 In Honor Of Rapper Nipsey Hussle
Russell Westbrook completed the ultra-rare double triple-double Tuesday night, in a 119–103 Thunder win over the visiting Los Angeles Lakers. The counting stats are absurd: 20 points, 20 rebounds,..
Credit: Wochit News Duration: 00:35Published
What's Wrong With the Oklahoma City Thunder?
The Oklahoma City Thunder have fallen from third to eighth in the West after four straight losses. SI Now hosts Robin Lundberg and Amy Campbell discuss whether Russell Westbrook, Paul George and..
Credit: Sports Illustrated Duration: 01:15Published
Assessing Russell Westbrook's Verbal Altercation With a Utah Fan
In Oklahoma City's 98-89 win over the Utah Jazz on Monday night, Thunder guard Russell Westbrook got into a heated verbal exchange with a Utah fan. SI Now's Madelyn Burke and Amy Campbell weigh in on..
Credit: Sports Illustrated Duration: 02:10Published
Russell Westbrook out-duels Damian Lillard as Thunder beat Blazers to cut deficit to 2-1
Russell Westbrook (33 points) and Damian Lillard (32 points) put on a show in Game 3, with OKC prevailing 120-108 to cut the series deficit to 2-1
USATODAY.com - Published
Russell Westbrook in playoff offensive slump since 2016
Oklahoma City guard Russell Westbrook's playoff struggles against Portland are emblematic of his postseason issues going back to the 2016 playoffs.
USATODAY.com - Published
Thunder's Paul George out of sync, looking to find rhythm
Thunder forward George out of sync, says he just needs to find his rhythm after shoulder issues
USATODAY.com - Published
Portland Trail Blazers take two-game lead on Oklahoma City Thunder in NBA playoff series
The Portland Trail Blazers opened an NBA playoff series with two wins for the first time since the 2014 playoffs.
USATODAY.com - Published
NBA Playoffs: Nuggets save season, Thunder may have lost theirs
SportsPulse: While the first four series completed are now all tied at one apiece the Trail Blazers made sure to break that streak by going up 2-0 on the Thunder.
USATODAY.com - Published
Blazers go up 2-0 against the Thunder with 114-94 win
CJ McCollum had 33 points and Damian Lillard added 29, and the Portland Trail Blazers took a 2-0 lead in their first-round playoff series against the Oklahoma City Thunder with a 114-94 victory on..
USATODAY.com - Published
Paul George's shoulder injury casts dark cloud over Thunder's hopes vs. Blazers
Paul George downplayed his lingering injury, even though he admitted after the Game 1 loss that "four days ago I couldn't lift my shoulder."
USATODAY.com - Published
Portland wins Game 1 against the Thunder 104-99
Damian Lillard scored 30 points and the third-seeded Portland Trail Blazers opened their playoff series against the No. 6 Oklahoma City Thunder with a 104-99 victory on Sunday
USATODAY.com - Published
You Might Like