Banksy
Pseudonymous England-based graffiti artist, political activist, and painter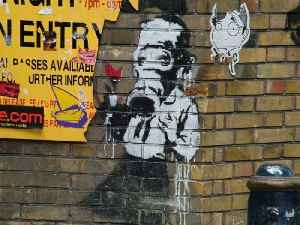 Banksy is an anonymous England-based street artist, vandal, political activist, and film director, active since the 1990s. His satirical street art and subversive epigrams combine dark humor with graffiti executed in a distinctive stenciling technique. His works of political and social commentary have been featured on streets, walls and bridges throughout the world. Banksy's work grew out of the Bristol underground scene, which involved collaborations between artists and musicians. Banksy says that he was inspired by 3D, a graffiti artist and founding member of the musical group Massive Attack.


Louis Theroux met Banksy at a football match

Louis Theroux claimed he met Banksy in 2001 at a Queens Park Rangers game.
Credit: Bang Media World Duration: 01:10
Published
Stolen Banksy artwork found in Italian farmhouse

A mural by secretive British street artist Banksy that was stolen from the Bataclan theatre in Paris, where Islamist militants killed 90 people in 2015, has been found in a farmhouse in central Italy,..
Credit: Reuters Studio Duration: 01:25
Published
Banksy artwork stolen from Bataclan found in Italy

The image of a girl in mourning had been painted on one of the exits of the Paris concert hall to commemorate the victims of the November 2015 terror attacks.View on euronews
Credit: euronews (in English) Duration: 00:26
Published
You Might Like



France arrests six over stolen Banksy artwork - source

PARIS — Six people have been arrested in France over the theft of an artwork by the British street artist Banksy that was stolen from the Bataclan...




WorldNews - Published





Banksy artwork stolen from the Bataclan in Paris is found in Italy

The mural, a tribute to victims of the 2015 attack, was reportedly found by police in a farmhouse.




BBC News - Published





Artist Banksy has new take on toppled statue of English slave trader

The toppling of a statue of a 17th century slave trader in the English port city of Bristol was hailed by some as a long-overdue reckoning with Britain's imperalist past and denounced by others as a..




Reuters - Published




Britain's Banksy depicts U.S. flag on fire in Floyd tribute

Reclusive British street artist Banksy published a new artwork online on Saturday which depicts the United States flag being set alight by a candle that forms part of a memorial to an anonymous, black,..




Reuters - Published




Coronavirus: Winchester teenager paints Banksy-style mural

Belle should have been doing her GCSEs this week, instead she's painted this mural for key workers.




BBC News - Published





New Banksy art unveiled at British hospital to thank doctors, nurses

14 minutes ago A new work by the elusive street artist Banksy, honoring health workers, has been unveiled at a British hospital. The framed picture, titled "Game Changer," depicts a young boy..




WorldNews - Published





New Banksy artwork appears at Southampton hospital

The piece depicts a young boy discarding his superhero toys in favour of a model of an NHS nurse.




BBC News - Published




Banksy's 'Girl with a Pierced Eardrum' gains a coronavirus face mask

Banksy's "Girl with a Pierced Eardrum" has been updated for the coronavirus era with the addition of a blue surgical face mask.




Reuters - Published

Also reported by •BBC News


Coronavirus: Banksy makes 'bathroom' lockdown art

The elusive Bristol artist says his wife "hates it when I work from home".




BBC News - Published





Monkey business at Bansky's Bethlehem hotel masks coronavirus fears

British artist Banksy's hotel in Bethlehem brought a touch of humor to the West Bank town by strapping a surgical mask to the model monkey bellhop at its entrance as coronavirus fears grip residents..




Reuters - Published





Meet China's Banksy: Badiucao

Chinese-Australian artist, Badiucao, has been called 'China's Banksy'. But he's no longer hiding his identity, despite threats for targeting the Chinese government in his art.




SBS - Published





Banksy's Valentine's Day mural in Bristol vandalised within 48 hours

Pink graffiti scrawled across artwork created by enigmatic street artist




Independent - Published





Banksy artwork in Bristol is vandalised days after appearing

Piece, which appears to be a nod to Valentine's Day, has graffiti scrawled across it A piece of street art in Bristol that was this week confirmed as by Banksy has been vandalised. A picture shared..




WorldNews - Published





Banksy confirms Bristol Valentine's Day artwork is his

The piece on the side of a house in Bristol depicts a young girl firing red flowers from a catapult.




BBC News - Published




Artwork on Bristol house causes stir over new Banksy hopes

The artwork on the side of a house in Bristol echoes pieces created by the graffiti artist.




BBC News - Published





Banksy artwork to be auctioned for Victoria bushfire relief

An original piece by renowned British street artist Banksy will be auctioned along with other works at a bushfire relief event in Melbourne.




SBS - Published




Banksy's 'Scar of Bethlehem' nativity unveiled in West Bank hotel

British street artist Banksy has brought a somber Christmas spirit to a hotel he founded in the West Bank town of Bethlehem, with a nativity scene evoking the Palestinian-Israeli conflict.




Reuters - Published




Anonymous British artist Banksy unveils dark nativity scene in Belthlehem

British street artist Banksy has brought a sombre Christmas spirit to a hotel he founded in the West Bank town of Bethlehem, with a nativity scene evoking the Palestinian-Israeli conflict.




France 24 - Published





Banksy 'nativity scene' appears in Bethlehem hotel

Dubbed the "Scar of Bethlehem", the work shows Jesus's manger by Israel's separation barrier.




BBC News - Published





Banksy unveils 'Scar of Bethlehem' nativity mural

Banky's latest piece — his take on a nativity scene — has been unveiled at his hotel in Bethlehem. The "Scar of Bethlehem" artwork features a nativity scene with Mary and Joseph...




WorldNews - Published





Defaced Banksy festive artwork gets protection

Man jumps over barriers to spray two red noses on festive mural in Birmingham.




BBC News - Published





Banksy: Defaced artwork in Birmingham gets protection

Man jumps over barriers to spray two red noses on festive mural in Birmingham.




BBC News - Published





Banksy's Birmingham artwork highlighting homelessness preserved

Banksy's reindeer is being protected by a plastic sheet attached by wall owners Network Rail.




BBC News - Published





'God bless Birmingham', says Banksy as artwork appears in city

Banksy praises Brummies' generosity as he reveals a Christmas-themed work in the city.




BBC News - Published





Banksy artwork is now under floodwater in Venice

A Banksy artwork depicting a migrant child signaling for help is now partially underwater due to "apocalyptic" flooding in Venice




CBS News - Published





Banksy: Behind-the-scenes photos 'show artist at work'

A book from Banksy's former agent contains photos said to be of the artist - but none show his face.




BBC News - Published





Why is Banksy vetting the customers of his online store?

Anyone hoping to buy official merchandise from his new online store has to answer a question.




BBC News - Published





Banksy: Card firm rejects 'custody' claim

A firm in a row with elusive street artist Banksy denies trying to take "custody" of his trademark.




BBC News - Published





'Monkey Business': Banksy painting of primates in British Parliament sold for $12.2 million

A Banksy painting entitled "Devolved Parliament" depicting primates conducting business as usual in British Parliament fetched a whopping 9.88 million Euros at an auction ($12.2 million) on..




WorldNews - Published





Banksy painting of British lawmakers as chimps sells for millions

"Devolved Parliament" depicts the House of Commons populated by primates




CBS News - Published





Banksy's chimp-depicting 'Devolved Parliament' sells for over $12 million

A large Banksy painting depicting primates sitting in Britain's parliament sold for more than $12 million on Thursday, a record price at auction for a work by the secretive British street artist,..




Reuters - Published





Banksy MPs as chimpanzees painting sells for £9.9m

The artist said it was a "record price for a Banksy painting".




BBC News - Published




Banksy opens pop-up "store" in feud with greeting card company

Guerrilla artist says he's launched the storefront exhibition in south London for the "least poetic reason"




CBS News - Published





Banksy opens 'pop-up' shop in Croydon

The shop appeared overnight at a disused retail outlet in south London.




BBC News - Published




'Banksy' display featuring Stormzy stab vest appears in Croydon

Stormzy's stab vest and a cradle surrounded by CCTV cameras appeared overnight at a shop in London.




BBC News - Published





Banksy-painted 'Turbozone Truck' fails to sell at auction

The 17-tonne lorry had a guide price of up to £1.5m and auctioneers are considering offers for it.




BBC News - Published





Banksy planned Brexit day update for whitewashed EU mural

A whitewashed artwork in Dover was to have been updated on "Brexit day", the artist says.




BBC News - Published





The secrets of controlling your internet profile

Banksy reckoned we would all be anonymous for 15 minutes, but is this even possible?




BBC News - Published





Banksy artwork stolen from outside Pompidou Centre in Paris

A stencilled work by the elusive British street artist Banksy has been stolen from outside the Pompidou Centre in Paris, the modern art museum announced Tuesday.




France 24 - Published

Also reported by •BBC News


Concrete block 'Banksy' removed by Bristol City Council

The authority says it has removed the block until the artwork's authenticity is confirmed.




BBC News - Published





Banksy 'Brexit' mural: Scaffolding appears over Dover EU piece

The artwork appeared near Dover's ferry terminal in 2017 on a building due to be demolished.




BBC News - Published





Banksy teased by Skegness gnome street artist

Numerous pictures have appeared in Skegness, including one which says "better than Banksy".




BBC News - Published





China's 'Banksy' fears 'storm is coming' after revealing identity on Tiananmen anniversary

Chinese-Australian artist Badiucao told SBS News he doesn't feel safe anywhere, fearing the Chinese Communist Party's global reach.




SBS - Published