Carolina Hurricanes
American professional ice hockey team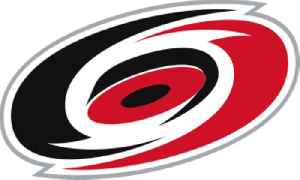 The Carolina Hurricanes are a professional ice hockey team based in Raleigh, North Carolina. They are members of the Metropolitan Division of the Eastern Conference of the National Hockey League (NHL). The Hurricanes play their home games at the 18,680-seat PNC Arena.


Rookie coaches enjoying chess match that comes in playoffs
Rookie coaches Rod Brind'Amour of the Hurricanes and Jim Montgomery of the Stars are thriving with the chess match of NHL playoff hockey in their first opportunity to call the shots
USATODAY.com - Published
Capitals T.J. Oshie 'won't be playing any time soon' after being hurt in Game 4 loss
Washington Capitals forward T.J. Oshie is out long-term after check from Warren Foegele as Carolina Hurricanes win 2-1 to tie playoff series 2-2.
USATODAY.com - Published
Teravainen, Hurricanes beat Capitals 2-1, even series
Teuvo Teravainen scored the go-ahead goal with 27.9 seconds left in the second period, and the Carolina Hurricanes beat the Washington Capitals 2-1 to even their playoff series at two games apiece
USATODAY.com - Published
Hurricanes rout Caps 5-0 in 1st home playoff game since '09
Rookie forward Warren Foegele had two goals and an assist, Petr Mrazek earned his fourth career postseason shutout and the Carolina Hurricanes won their first home playoff game in a decade, routing the..
USATODAY.com - Published
Ovechkin injures Carolina's Svechnikov with punch to face
Washington Capitals star Alex Ovechkin injured Carolina Hurricanes rookie Andrei Svechnikov with a punch to the face during a fight in Game 3 of their first-round playoff series
USATODAY.com - Published
Alex Ovechkin knocks out Andrei Svechnikov in fight during Capitals-Hurricanes Game 3
Alex Ovechkin appeared to knock out fellow Russian Andrei Svechnikov in the first period of the Capitals' game against the Hurricanes.
USATODAY.com - Published
Orpik scores in OT, Capitals take 2-0 lead over Hurricanes
Brooks Orpik scored less than two minutes into overtime, Alex Ovechkin had two assists and the Washington Capitals beat the Carolina Hurricanes 4-3 to give the defending Stanley Cup champions a 2-0..
USATODAY.com - Published
Capitals jump out to early lead, hang on to beat Hurricanes
NHL Playoff Capsules
USATODAY.com - Published
Capitals survive surge from Hurricanes to win Game 1
Nicklas Backstrom and Alex Ovechkin combined to score three goals on the first eight shots, and the defending Stanley Cup champion Washington Capitals survived a surge from the Carolina Hurricanes to..
USATODAY.com - Published
You Might Like