David Cameron
Former Prime Minister of the United Kingdom, British Conservative Party politician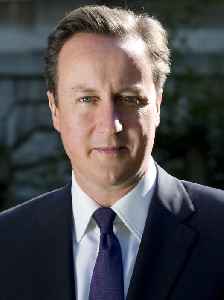 David William Donald Cameron is a British Conservative Party politician who served as Prime Minister of the United Kingdom from 2010 to 2016. He was the Member of Parliament (MP) for Witney from 2001 to 2016 and leader of the Conservative Party from 2005 to 2016. He identifies as a one-nation conservative, and has been associated with both economically liberal and socially liberal policies.


Cameron: Breaking international law 'an absolute final resort'

Tory former prime minister David Cameron said passing an Act of Parliament andthen going on to break an international treaty obligation "is the very, verylast thing you should contemplate", saying he..
Credit: PA - Press Association STUDIO Duration: 00:45
Published
Cameron: Breaking an international treaty should be a 'final

David Cameron has said breaking an international treaty obligation is the 'very, very last thing you should contemplate'. The former Prime Minister added that we need to keep the 'prize' of a deal with..
Credit: ODN Duration: 00:45
Published
You Might Like



The Guardian view on covert human intelligence sources: draw a line | Editorial

On 12 February 1989, two men burst through the door of Pat Finucane's home in Belfast as he sat down to dinner, shooting him 14 times in front of his wife and children. Twenty-three years later,..




WorldNews - Published





David Cameron joins ex-PMs warning against Boris's Brexit plan

David Cameron said he had 'misgivings' over Boris Johnson's controversial plan to break international law (Picture: Sky News) David Cameron has become the fifth former Prime Minister to criticise..




WorldNews - Published





Fifth UK ex-PM speaks out against post-Brexit bill

David Cameron says he has "misgivings" about the proposed law to override the withdrawal agreement.




BBC News - Published





UK will lose respect overseas with Boris Johnson's 'mistaken' decision to scrap foreign aid department, David Cameron warns

Former prime minister joins aid groups in rare criticism of his successor




Independent - Published





Coronavirus: David Cameron's tutor Prof Peter Sinclair dies

Prof Peter Sinclair taught the future prime minister at Brasenose College in the 1980s.




BBC News - Published





Ban on subsidies for onshore wind farms to be lifted by government

State support has been banned since David Cameron policy change




Independent - Published





Cameron's G8 Summit table should be returned to Fermanagh: Sinn Fein

A table commissioned by David Cameron for the G8 Summit in Fermanagh, which he took to Downing Street, should be "repatriated or released" back to Fermanagh, it has been claimed. Sinn Fein...




WorldNews - Published





Ed Miliband should be named president of UN climate change summit, Corbyn suggests

Former Tory leaders David Cameron and William Hague turn down approaches to take charge of global event




Independent - Published





Boris Johnson news – live: David Cameron rejects PM's climate role offer, as Labour attacks 'Trumpian' proposal to suspend European human rights law

Follow all the latest developments




Independent - Published





Former British PM Cameron turns down climate summit job

Former British Prime Minister David Cameron rejected an offer from the government to lead a major United Nations climate summit taking place in November.




Reuters - Published





Former British PM Cameron's bodyguard forgets loaded gun in plane toilet

A passenger found a loaded pistol and David Cameron's passport in an airplane toilet after the former British prime minister's bodyguard forgot them there, the British media reported on Wednesday.




Reuters - Published





Ex-PM David Cameron's bodyguard 'left gun in aeroplane toilet'

A Met Police officer is being investigated after the incident on a British Airways flight to the UK.




BBC News - Published




David Cameron bodyguard suspended after 'leaving loaded gun in plane toilet'

Passport belonging to Mr Cameron reportedly found alongside firearm by passenger on British Airways flight




Independent - Published





COP26: David Cameron 'turned down Boris Johnson offer to head UN climate summit'

William Hague also reportedly sounded out for presidency role




Independent - Published





David Cameron has earned £1.6m since Brexit vote

Former PM's accounts filed on 31 January as the UK prepares to finally leave the EU




Independent - Published





Boris Johnson could axe hundreds of government projects as he orders ministers to cut waste

Pet schemes of David Cameron and Theresa May could be scrapped as ministers told to root out all wasteful spending




Independent - Published





General election: Anger as Boris Johnson refuses to attend his own constituency hustings

PM declines local debate invitations despite Theresa May and David Cameron previously attending events in their constituencies




Independent - Published





Prince Andrew 'used N-word' in Buckingham Palace meeting, Downing Street adviser claims

Former advisor to David Cameron claims Duke of York used offensive language during discussion about government's Department for International Trade




Independent - Published





David Cameron thinks he is born to rule, says John Bercow

The former Speaker of the House of Commons, John Bercow, has stoked his longstanding feud with David Cameron, saying the former Tory prime minister feels he is "born to rule" and has a "probably..




WorldNews - Published





Juncker: Boris Johnson told 'so many lies' in EU referendum campaign

Boris Johnson told "so many lies" during the EU referendum campaign, the outgoing president of the European commission, Jean-Claude Juncker, has said. In a valedictory interview with the German..




WorldNews - Published





David Cameron calls Boris Johnson a 'greased piglet' before backing Brexit deal

Protesters heckled former prime minister for calling EU referendum




Independent - Published





'Greased piglet' Boris Johnson could pass deal, says David Cameron

Former prime minister says he would vote for the deal on Saturday if he was still an MP - "The thing about the greased piglet is that he manages to slip through other people's hands where mere..




WorldNews - Published





Boris Johnson's attempts to secure Brexit deal win David Cameron's backing

Boris Johnson's attempts to secure a deal with Brussels have won the backing of former prime minister David Cameron. The ex-premier said he "completely supports" the incumbent's efforts to get..




WorldNews - Published





Cameron warns Johnson breaking the law is 'not a good idea' ahead of crucial Supreme Court ruling

David Cameron has warned Boris Johnson that breaking the law is "not a good idea" ahead of a critical ruling from the Supreme Court on the suspension of parliament.




Independent - Published





Buckingham Palace 'displeased' by David Cameron's comments about seeking Queen's help during Scottish referendum

Revelation 'makes it very hard for the relationship to thrive,' says Palace source




Independent - Published





Manmohan Singh 'saintly man' but 'robust' on threats India faced: Ex-PM Cameron

Former UK PM David Cameron describes ex-Indian PM Manmohan Singh in his memoir as a "saintly man" who was "robust" on the threats India faced. "Manmohan Singh said another terrorist attack like..




IndiaTimes - Published





The Queen and David Cameron: What royal displeasure really means

If the Queen is really that angry with David Cameron, why is Buckingham Palace's statement so muted?




BBC News - Published





David Cameron re-emerges, just as his promise to 'settle the Europe question forever' reaches the Supreme Court

Writing about Brexit is like being a TV critic. There is just no way this stuff is not scripted.




Independent - Published





David Cameron suggests he persuaded the Queen to warn against Scottish independence

The Queen has been dragged further into British politics after David Cameron suggested that he persuaded the monarch to warn against Scottish Independence during the 2014 referendum. The role of the..




WorldNews - Published





David Cameron explains why he asked Queen to intervene in Scottish referendum and admits 'terrible mistake' over phone call revelation

The Queen famously told wellwishers outside a church in Aberdeenshire that she hoped people 'will think very carefully about the future'




Independent - Published





David Cameron breaks silence on 'false and ludicrous' dead pig allegations

Former prime minister says he found the story hilarious, not embarrassing




Independent - Published





David Cameron fuelled Brexit support by blaming EU for domestic problems, says George Osborne

Documentary also shows Mr Cameron admitting he asked the Queen to intervene in the Scottish independence referendum




Independent - Published





Boris Johnson 'thought Brexit would lose, but wanted to be romantic, patriotic hero', says David Cameron

Ex-PM says Johnson sent him a text saying 'Brexit will be crushed like a toad under the harrow'




Independent - Published





David Cameron says Boris Johnson asked him if Michael Gove was 'a bit cracked'

Former PM claims Mr Johnson complained that he was treated like 'a leper' in wake of Brexit vote




Independent - Published





David Cameron: Boris Johnson backed Leave to 'help career'

The former PM claims Boris Johnson did not believe in Brexit during the 2016 referendum campaign.




BBC News - Published





'Johnson is a liar who only backed Leave to help his career' – David Cameron

Boris Johnson is a liar who only backed the Leave campaign to help his career and Michael Gove was a "foam-flecked Faragist" whose "one quality" was disloyalty, David Cameron writes in his..




WorldNews - Published





David Cameron claims Johnson 'didn't believe in Brexit' in blistering new attack on new PM and Gove

Michael Gove's claim public were tired of experts made him 'an ambassador for the truth-twisting age of populism', former PM claims




Independent - Published





Donald Trump may drop in at PM Narendra Modi's Houston diaspora meet

A large diaspora rally in Houston, to be addressed by Prime Minister Narendra Modi, is likely to be also attended by US President Donald Trump. The event to be held on September 22, may see the US..




IndiaTimes - Published





David Cameron memoirs: Forget Brexit - what else does his book tell us?

Never mind Brexit, the former PM talks about drug use, gay marriage, and an early brush with royalty.




BBC News - Published





Former PM Cameron 'sorry' for Brexit divisions

LONDON (AP) — The British prime minister who called the Brexit referendum and then saw the public vote to leave the European Union says he is sorry for the divisions it has caused. David Cameron said..




WorldNews - Published





Cameron suspected Cummings of 'dripping poison' into Gove's ear

Dominic Cummings has developed a somewhat unsavoury reputation since taking over as Boris Johnson's senior aide. But his nefarious influence over the machinations of No 10 stretches back much..




WorldNews - Published





Britain may need a second Brexit referendum, says former PM Cameron

Former British prime minister David Cameron, who took the decision in 2016 to hold a referendum on the country's membership of the European Union, said another vote may be needed to resolve the Brexit..




Reuters - Published




David Cameron: Johnson and Gove behaved 'appallingly'

The former prime minister says the 2016 EU referendum turned into a "terrible Tory psychodrama".




BBC News - Published





'People say all sorts of things': David Cameron admits being shouted at in street about Brexit

'I do understand some people are very angry because they didn't want to leave the EU,' former PM concedes




Independent - Published





David Cameron hits out at Boris Johnson for suspending parliament and expelling MPs, warning no-deal Brexit would be 'bad outcome'

Former prime minister claims suspension 'a bad thing' and warns that tough stance against rebels has 'rebounded'




Independent - Published





The vices that led Johnson to the top are useless when it comes to wielding power

The self-image of the public-school ethos from which Boris Johnson springs is best expressed in Thomas Hughes's high-Victorian novel, Tom Brown's School Days. But Johnson's own model is surely..




WorldNews - Published





UK's Johnson described former PM Cameron as 'girly swot' in memo: Sky

British prime minister Boris Johnson described one of his predecessors David Cameron as a "girly swot" in a memo which was disclosed to courts this week, Sky News reported on Friday.




Reuters - Published




Boris Johnson called David Cameron a 'girly swot' in handwritten cabinet paper

Redacted document written in August shown in court




Independent - Published





Fake poison letter to Queen sparked major alert, court told

David Parnham also sent letters containing white powder to Theresa May, David Cameron and two bishops.




BBC News - Published





Ex-UK finance chief Osborne eyes IMF role

Former British chancellor George Osborne has reportedly told friends he is interested in becoming the next head of the International Monetary Fund, also known as the IMF, after incumbent Christine..




WorldNews - Published