Navy
Military branch of service primarily concerned with naval warfare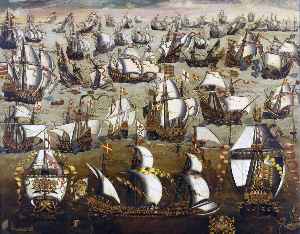 A navy or maritime force is the branch of a nation's armed forces principally designated for naval and amphibious warfare; namely, lake-borne, riverine, littoral, or ocean-borne combat operations and related functions. It includes anything conducted by surface ships, amphibious ships, submarines, and seaborne aviation, as well as ancillary support, communications, training, and other fields. The strategic offensive role of a navy is projection of force into areas beyond a country's shores. The strategic defensive purpose of a navy is to frustrate seaborne projection-of-force by enemies. The strategic task of the navy also may incorporate nuclear deterrence by use of submarine-launched ballistic missiles. Naval operations can be broadly divided between riverine and littoral applications, open-ocean applications, and something in between, although these distinctions are more about strategic scope than tactical or operational division.


Navy deploys two warships in Gulf of Oman for security of Indian vessels in wake of attacks on oil tankers
The Navy has deployed two warships in the Gulf of Oman to "reassure" Indian vessels in wake of two foreign oil tankers being attacked in the critical shipping lane in recent days amidst escalating..
IndiaTimes - Published
Candidate declared unfit for Navy due to ear ailment moves HC
IndiaTimes - Published
Trump Expresses Skepticism Of UFOs
President Donald Trump said in an interview he had "one very brief meeting" about UFOs. According to Business Insider, Trump said he doesn't believe there are UFOs. When asked if he would know..
Credit: Wochit News Duration: 00:32Published
Trump On Future US Supercarriers
President Donald Trump criticized the Navy's plans to install new electromagnetic aircraft launch systems on its new Ford-class supercarriers while talking to US troops at a Memorial Day event in..
Credit: Wochit News Duration: 00:49Published
U.S. Navy Sails Again Through Taiwan Strait
Reuters reports The U.S. military said it sent two Navy ships through the Taiwan Strait on Wednesday, its latest transit through the sensitive waterway, angering China at a time of tense relations..
Credit: Wochit News Duration: 00:34Published
How a Pakistani spy used bots to lure 98 targets
A Pakistani spy who went by the Facebook nickname 'Sejal Kapoor' managed to hack into the computer systems of more than 98 officials from various defence forces and organisations, including the Indian..
IndiaTimes - Published
Soon, onshore doctors for injured Navy sailors on warships, submarines
The Navy has recently placed an order to initiate the acquisition of a rugged portable tele-medicine system for healthcare management on its warships and submarines. "The system can store and..
IndiaTimes - Published
India set to join heavyweight torpedo club
India's underwater weaponry is set to get more firepower with the Navy deciding to induct the indigenously developed heavyweight torpedo "Varunastra" into its arsenal.
IndiaTimes - Published
NCIS: The Cases They Can't Forget: Road Map to Murder
The murder of a Navy communications officer after using an ATM leads NCIS agents and police on a trail of twisted relationships, lies and secret double lives.
CBS News - Published
You Might Like