Bihar
State in Eastern India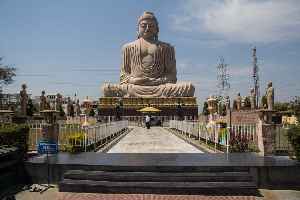 Bihar is a state in eastern India. It is the third-largest state by population and twelfth-largest by territory, with an area of 94,163 km2 (36,357 sq mi). It is contiguous with Uttar Pradesh to its west, Nepal to the north, the northern part of West Bengal to the east, and with Jharkhand to the south. The Bihar plain is split by the river Ganges, which flows from west to east. Three main cultural regions converge in the state: Magadh, Mithila, and Bhojpur. Bihar is also the world's third-most populous subnational entity.


People use boats to commute after floodwater enters in parts of Bihar's Darbhanga

People use boats as floodwater entered in some areas of Bihar's Darbhanga district. The floodwater entered following heavy rainfall in the area. Locals have been alerted by the authorities as the..
Credit: ANI Duration: 01:14
Published
Construction work done along embankment swept away in Bihar's Sheohar

Construction which was being done along the embankment on Bagmati River in Bihar's Sheohar district was damaged on July 12 due to heavy water pressure. While speaking to media, the District Magistrate..
Credit: ANI Duration: 01:36
Published
Heavy rainfall leads to flood in Bihar's Muzaffarpur, lives of villagers severely affected

The annual flood in Bihar has again forced poor people out of their homes. Several areas submerged in the flood water. The water level has increased in Bagmati River due to heavy rain. The villagers..
Credit: ANI Duration: 01:51
Published
Bihar Health Minister denies Tejashwi's allegations regarding mishandling of bodies in Patna hospital

While speaking to media in Patna on July 09, the Health Minister of Bihar, Mangal Pandey spoke on video posted by Rashtriya Janata Dal (RJD) leader Tejashwi Yadav alleging mishandling of bodies in..
Credit: ANI Duration: 01:42
Published
Stop hero-worshipping Vikas Dubey, he is no Bhagat Singh: Bihar DGP slams 'culture of crime'

The Director General of Police of Bihar, Gupteshwar Pandey, commented on Kanpur shootout and appealed to the people to not encourage the "culture of crime" and "hero-worshipping" of criminals. "Should..
Credit: ANI Duration: 03:49
Published
COVID-19: Schools shut, mid-day meals become thing of the past in Muzaffarpur

As all government and private schools remain closed since the COVID-19 lockdown, it's having a devastating effect on the poor children in parts of Bihar. With schools closed and mid-day meal supply..
Credit: ANI Duration: 01:23
Published
Tejashwi Yadav lashes out at Bihar govt, says 'CM residence turned into hospital while poor are suffering'

Patna Medical College issued an order to deploy six doctors, three nurses, and a ventilator at the official residence of Bihar Chief Minister Nitish Kumar, after Secretary of the Health Department..
Credit: ANI Duration: 02:22
Published
Demand of cycles surging with growing fitness awareness: Hero Cycles CMD

Hero Cycles CMD Pankaj Munjal said that there has been increase in sales in parts of Odisha, Bihar, Jharkhand, West Bengal and Odisha after return of migrant workers during coronavirus-induced..
Credit: ANI Duration: 02:00
Published
'Seva Hi Sangathan': PM Modi congratulates Bihar workers in Bhojpuri

On July 04, Prime Minister Narendra Modi reviewed relief works done by BJP workers during the lockdown. In a virtual meet, he said, "Workers of Bihar BJP and the people deserve congratulations. Many..
Credit: ANI Duration: 01:40
Published
Heavy rainfall leads to waterlogging in Bihar's Patna

Waterlogging has been reported in various parts of Bihar's Patna city due to heavy rainfall. Water also entered Bihar Minister Prem Kumar's residence. Rainfall is expected to continue in Patna,..
Credit: ANI Duration: 01:10
Published
Bihar LJP vice president takes a dig at Congress, says 'there's no one left to help them'

Bihar Lok Janshakti Party (LJP) vice president Hula Pandey on July 04 took a dig at the Congress and said that there is no one left to help the party. Pandey said that may be the Congress is thinking..
Credit: ANI Duration: 01:29
Published
Amritsar farmers face problems in sowing season due to labour shortage

Farmers in Punjab are facing problems in sowing crops as majority of the labourers have returned to their hometowns due to COVID-19 pandemic. Farmers are now involving their family members to carry out..
Credit: ANI Duration: 01:17
Published
Unlock 2.0: Migrant workers return to workplaces in Ahmedabad

Many Mmgrant workers who had returned to their native places due to COVID-19 lockdown returned to their workplaces. Lockdown has impacted businesses across the country. A migrant worker said, "I am..
Credit: ANI Duration: 01:20
Published
Over 70 test COVID positive after attending wedding in Bihar's Paliganj, groom dies

More than 70 people have found corona positive after they attended a wedding ceremony in Bihar's Paliganj. The groom was a software engineer in Delhi and he died two days after his marriage. Speaking..
Credit: ANI Duration: 02:07
Published
Instead of COVID, Bihar govt concerned about assembly elections: Tejashwi Yadav

Rashtriya Janata Dal leader and former Deputy Chief Minister of Bihar Tejashwi Yadav on June 30 slammed Nitish Kumar government over Prime Minister Narendra Modi's recent address to the nation. Taking..
Credit: ANI Duration: 01:56
Published
Hyderabad, Dehradun get pleasant rains, Bihar and WB brave heavy showers

Monsoon has knocked over most of the states of the country. Parts of Hyderabad received pleasant rain on June 29. Rains also lashed Uttarakhand's Dehradun. India Meteorological Department has predicted..
Credit: ANI Duration: 02:01
Published
Patna Congress workers ride bicycles, bullock carts to protest against fuel price hike

Congress workers rode bicycles and bullock carts in Bihar's Patna on June 29. They also rode horse cart as a mark of protest against the increased fuel prices. The prices of petrol and diesel are..
Credit: ANI Duration: 01:17
Published
No heavy rainfall in Delhi NCR for next 5 days: IMD scientist

IMD senior scientist Naresh Kumar on June 28 briefed about weather forecast of Bihar and northern states for upcoming two days. He said that Bihar and northeastern states will receive heavy rainfall..
Credit: ANI Duration: 01:32
Published
You Might Like



Differences brew in NDA, opposition camps in poll-bound Bihar




IndiaTimes - Published





Bihar polls: Senior citizens group writes to EC, lauds rule to allow use of postal ballots

Senior citizens associations have written to the Election Commission appreciating its new rule allowing those above 65 years to vote by postal ballot in Bihar elections, and requested this practice to..




IndiaTimes - Published





Chirag Paswan says holding Bihar polls during Covid pandemic will put people at risk; JD(U) differs

BJP ally LJP on Friday joined the opposition Rashtriya Janata Dal in expressing concern over holding the Bihar assembly polls amid a spread of Covid-19 cases, with its president Chirag Paswan saying it..




IndiaTimes - Published




Red alert in states over rain, intense thunderstorm and lightning: Full details

The Met Department has issued a red alert for intense thunderstorm and lightning for some parts of Uttar Pradesh and Bihar besides moderate to heavy rain forecast for various parts of the country...




DNA - Published





Bihar: Four Naxals killed in encounter in West Champaran

The encounter took place in the forest area of Valmikinagar. There was heavy firing from both sides.




DNA - Published





Bihar polls: All well in Mahagatbandhan, claims CongresS

Congress Rajya Sabha MP and Bihar in-charge Shaktisinh Gohil on Thursday said all was well in Mahagatbandhan and they will declare their chief minister candidate before the announcement of assembly..




IndiaTimes - Published





Complete lockdown in Patna for a week from July 10: Here is what will be allowed

As the number of COVID-19 cases in Bihar surged to 13,000 on Wednesday, the Patna district administration decided to impose complete lockdown in the city for a week from Friday.




DNA - Published





Bihar government not bothered about Covid-19, only polls: Tejashwi Yadav




IndiaTimes - Published





LJP may reject Nitish as CM face, set to drive hard bargain

BJP ally Lok Janshakti Party (LJP) is set to drive a tough political bargain in Bihar as the assembly election nears. While party sources refused to comment on the likelihood of a switch over from NDA..




IndiaTimes - Published





Climate change 'fuelling deadly India lightning strikes'

Lightning strikes during the annual monsoon that runs from June to September are fairly common in India. But officials said this year's toll in Bihar has already surpassed the total number of deaths..




IndiaTimes - Published





No rift in NDA, will fight Bihar Assembly polls together: MoS Home Nityanand Rai

Union Minister for Home affairs Nityanand Rai, on Sunday, while addressing a virtual rally in Purnea, Bihar, hit out at the Congress and RJD for spreading rumours that all is not well within the NDA..




IndiaTimes - Published





Lightning strikes kill 20 in Bihar, 17 in UP; Nitish, Yogi announce Rs 4 lakh ex-gratia

At least 20 people died in five districts of Bihar while 17 people died in four districts of Uttar Pradesh.




DNA - Published




Lalu Prasad seeks bail ahead of Bihar assembly elections

Jailed former Bihar chief minister and Rashtriya Janata Dal (RJD) supremo Lalu Prasad has applied for bail in the Chaibasa treasury fraudulent withdrawal case in the run-up to the Bihar assembly polls.




IndiaTimes - Published





'Very inspiring!': PM Modi praises BJP workers for welfare measures during COVID-19 lockdown

He lauded BJP karyakartas from Rajasthan, Bihar, Delhi, Jharkhand, and Karnataka, among other states.




DNA - Published





How Covid-19 may recast electioneering in Bihar assembly polls




IndiaTimes - Published





Bihar polls: Tejashwi Yadav apologises for 'mistakes' during RJD's 15-year tenure

Rashtriya Janata Dal (RJD) leader Tejashwi Yadav on Thursday apologised for committing any mistakes during RJD's 15 years in power in Bihar but also said that nobody can deny that party supremo Lalu..




IndiaTimes - Published





Kanwariyas barred from entering Haridwar; 14 days quarantine on arrival

Kanwar Yatra is an annual pilgrimage of Lord Shiva's devotees known as Kanwars, who visit Haridwar, Gaumukh and Gangotri in Uttarakhand and Sultanganj in Bihar to fetch holy waters of the River Ganga..




DNA - Published





Election Commission likely to discuss possible revision of campaigning methods for Bihar assembly election




IndiaTimes - Published





Bihar: Wedding in Patna triggers biggest COVID-19 infection chain; Groom dead, over 100 test positive

Most of the patients are asymptomatic and have been shifted to solation centers in Bihta and Phulwarisharif.




DNA - Published





Hurry to reduce age limit for voters to opt for postal ballot aimed at Bihar polls: CPM

CPM general secretary Sitaram Yechury has written to the Election Commission of India objecting to the "unilateral measures" being taken by the poll panel in "altering" electoral procedures without..




IndiaTimes - Published





Create infrastructure in UP, Bihar to decongest Mumbai: Sena

An editorial in Sena mouthpiece 'Saamana' claimed that nearly 1.50 lakh migrant labourers, who went to their native places during the lockdown, have returned to Maharashtra as they "do not have any..




IndiaTimes - Published





Centre cancels Bihar's mega bridge project involving Chinese firms




IndiaTimes - Published





In 15 years, there have been 55 scams in Bihar: Tejashwi Yadav slams Nitish govt

"No action or inquiry has been undertaken against any official or a political leader by the government," RJD leader Tejaswi Yadav said.




DNA - Published





'Irony at its peak': Rainwater enters residence of Bihar Road Construction Minister; Twitter says it's 'karma'

Notably, the incessant rainfall is continuing even two days after continual thunder and lightning strikes killed more than 90 people and injured several in different parts of Bihar.




DNA - Published





Sacrifice of every martyr's family is worth worshipping: PM Narendra Modi

"Martyr Kundan Kumar's father from Bihar said that he will send his grandsons also to the armed forces to protect the country. This is the spirit of every martyr's family. The sacrifice of these..




IndiaTimes - Published





BJP eyes Bihar polls with PM Modi's Aatma Nirbhar Abhiyan, Congress flags migrants' anger




IndiaTimes - Published





Blow to RJD as Bihar unit vice-president quits party




IndiaTimes - Published





Jobs calling: Trains from UP, Bihar run full

The reservation status for trains from June 26 to June 30 was at 100% with more people on the waiting list, rail ministry data showed, indicating that migrant workers who had gone to their homes in the..




IndiaTimes - Published





IAS officer from Bihar first non-local bureaucrat to get J&K domicile rights




IndiaTimes - Published




Monsoon covers entire India 12 days in advance, Bihar and eastern UP continue to be under lightning threat

Bihar and eastern Uttar Pradesh, which saw over 100 deaths due to lightning in a single day on Thursday, continue to be under similar threat as the India Meteorological Department (IMD) on Friday..




IndiaTimes - Published





Southeast Monsoon covers entire country nearly two weeks early: IMD

The Southwest Monsoon has covered the entire country nearly two weeks ahead of its schedule, the India Meteorological Department (IMD) said Friday. The IMD has predicted heavy rains in Bihar, West..




IndiaTimes - Published





Lightning strikes kill over 110 in two Indian states

Lightning strikes killed at least 117 people in India's eastern Bihar state and in the northern state of Uttar Pradesh, according to local authorities. Edward Baran reports. ......




WorldNews - Published




PM using Army's valour for Bihar assembly polls: Shiv Sena

The ruling coalition lead party in Maharashtra said the PM is playing "caste and regional card" by highlighting the role of a particular Army regiment whose personnel were involved in the fierce clash..




IndiaTimes - Published





Lightning claims 107 lives in Bihar and UP in one day

In Bihar, a total of 23 districts reported fatalities, with Gopalganj in the northern part of the state accounting for the highest number of 13 deaths, followed by Madhubani with eight. Siwan and..




IndiaTimes - Published





India: Lightning kills 83 villagers in Bihar in single day

Patna: At least 83 villagers were killed in the deadliest-ever single-day lightning strike in Bihar on Thursday. Most of the villagers were engaged in paddy plantation and were caught unawares. A..




WorldNews - Published





83 die in Bihar due to thunderstorms, CM announces Rs 4 lakhs ex gratia

At least 83 people died due to thunderstorms in Bihar in the last 24 hours, according to Chief Minister's Office. Bihar Chief Minister Nitish Kumar announced Rs 4 lakhs each for the families of..




IndiaTimes - Published





22 people killed due to thunderstorms in Bihar

IMD has warned of very heavy rainfall in several states including Bihar for the next three days.




DNA - Published





Railways to generate 8 lakh man days of employment for returning migrants, to spend 1,800 crore by October

Rs 1800 crore would be spent in 116 identified districts of six states - Uttar Pradesh, Bihar, Rajasthan, Madhya Pradesh, Orissa and Jharkhand - as part of the Garib Kalyan Rojgar Abhiyaan.




DNA - Published





Why Bihar Regiment isn't only about soldiers from Bihar

Some military veterans said the Indian Army regiments aren't strictly about regions or states




IndiaTimes - Published





Bihar failed to help out its 13 lakh construction labour with either cash or food during lockdown




IndiaTimes - Published





In blow to Lalu ahead of polls, 5 of RJD's 8 MLCs join JD(U)

Bihar's main opposition party RJD suffered twin jolts on Tuesday with one of its founders, Raghuvansh Prasad Singh, quitting the vice-president's post and five of its total eight MLCs forming a..




IndiaTimes - Published





Law Ministry tweaks rule to allow use of postal ballot for those suffering from Covid-19

Voters in Bihar who test positive for Covid-19 will be allowed to cast their vote using postal ballot in the state assembly polls due later this year. The Legislative Department in the Union Law..




IndiaTimes - Published





Why two Bihar cops are stationed outside Navjot Singh Sidhu's Amritsar home for 4 days

For four days, two cops from Bihar have been waiting for the former Punjab minister to sign a piece of paper so they can go back to their home state.




DNA - Published





Nepal obstructing Bihar govt from flood prevention-related work; Bihar Minister says will approach MEA




IndiaTimes - Published





Days after border dispute, Nepal prevents India from carrying out embankment work in Bihar

This is the second time that Nepal has laid claim to Indian territory




DNA - Published





Concerned over how quickly Covid-19 cases are rising in India: Indian-origin expert

Harvard Global Health Institute Director Dr. Ashish Jha has expressed concern over how quickly new the coronavirus cases are rising in India and said when populous states like Bihar and Uttar Pradesh..




IndiaTimes - Published





Lawyer appears in virtual hearing while lying on bed; SC says minimum court etiquette be followed

"This court is of the view that when counsel appear in court video hearings, they should be presentable and avoid showing images, which are not appropriate and can only be tolerable in the privacy of..




IndiaTimes - Published





Everyone is proud of Bihar Regiment's valour, says PM Modi on Ladakh stand-off

"Everyone is proud of Bihar Regiment's valour. Each and every Bihari is very proud of it," he said as he launched a employment scheme from which Bihar would be a key beneficiary. Chief Minister Nitish..




IndiaTimes - Published





Mistaken identity causes 16-hr ordeal for jawan's kin

Two short sentences from Sepoy Sunil Kumar of 16 Bihar ended a 16-hour ordeal for his family in Saran district. "Mein Leh se Sunil bol rahan hoon. Mein surakshit hun (This is Sunil calling from Leh...




IndiaTimes - Published





Farewells and gun salutes across states as more martyrs cremated

Tear-laden farewells and patriotic sentiments were witnessed yet again in many parts of the country – from Punjab to Bihar and Odisha to Jharkhand — on Friday, as a few of the soldiers who lost..




IndiaTimes - Published