National Security Advisor (India)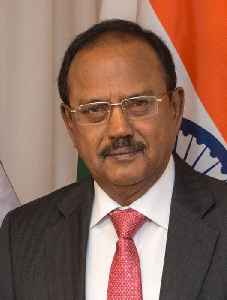 The National Security Advisor is the senior official on the National Security Council of India, and the chief adviser to the Prime Minister of India on national security policy and international affairs. Ajit Doval is the current NSA, and has the same rank as a Union Cabinet Minister.


PM Modi meets Mike Pompeo, Mark Esper

US State Secretary Mike Pompeo and US Defence Secretary Mark Esper met Prime Minister Narendra Modi on October 27. Defence Minister Rajnath Singh, External Affairs Minister S. Jaishankar and National..
Credit: ANI Duration: 01:12
Published
NSA Ajit Doval meets French Minister of Armed Forces

National Security Advisor (NSA) Ajit Doval on September 10 and Minister of the armed forces of Florence Parly met at Hyderabad House in the national capital. Minister Florence Parly was the chief guest..
Credit: ANI Duration: 01:12
Published
'Happy to repeat Rafale aircraft order if Indian Air Force wants': Dassault CEO

Dassault CEO Eric Trappier said he would be happy to repeat orders for Rafale aircraft if Indian Air Force wants. Trappier was speaking during the induction ceremony of Rafale jets. On Thursday, five..
Credit: HT Digital Content Duration: 02:21
Published
You Might Like



NSA Ajit Doval's speech not about China or any specific situation, government officials clarify

The National Security Advisor (NSA) Ajit Doval was speaking purely in a civilisational and spiritual context and was not referring to any country or specific situation at the religious function in..




IndiaTimes - Published





Jaishankar, NSA Ajit Doval attend Saudi National Day in New Delhi

Speaking at the 90th National day celebrations, Saudi Arabia's envoy to India Saud M Al Sati called India a "close friend and an important strategic partner".




DNA - Published





Ajit Doval meets visiting French defence minister at Hyderabad House

National Security Advisor (NSA) Ajit Doval on Thursday held a meeting with visiting French Defence Minister Florence Parly at Hyderabad House.




IndiaTimes - Published





Comments attributed to NSA Ajit Doval in Chinese state media are false: MEA




IndiaTimes - Published





NSA Ajit Doval reviews situation at India-China border

National Security Advisor (NSA) Ajit Doval, along with top officials, reviewed the situation at the India-China border, sources said. Defence minister Rajnath Singh is likely to call another high-level..




IndiaTimes - Published





Why China doesn't clearly define its borders

Barely three days after Prime Minister Narendra Modi's' visit to Ladakh on July 3, China's State Counsellor and Foreign Minster, Wang Yi, called India's National Security Adviser, Ajit Doval,..




WorldNews - Published





India, China agree that differences should not become disputes after key phone call

With Prime Minister Narendra Modi visiting the forward areas in Ladakh over the weekend coupled with sustained diplomatic pressure, the India-China border face-off appears to have reached some sort of..




IndiaTimes - Published





NSA Ajit Doval intervened to get Delhi's Markaz premises vacated: Govt sources

National Security Adviser (NSA) Ajit Doval had been in touch with representatives of the Jamaat in Nizamuddin to convince them to vacate the Markaz premises and get tested for COVID-19, claimed..




IndiaTimes - Published





If police fail to enforce law, democracy fails: NSA Ajit Doval

Police should be seen by the common man as "credible and fair" and if it fails to enforce the law, democracy fails, National Security Adviser (NSA) Ajit Doval said on Thursday while addressing young..




IndiaTimes - Published





Delhi violence: CPM says NSA Ajit Doval's 'Jo hua so hua' remark shocking

The CPM on Friday slammed National Security Advisor Ajit Doval's "jo hua so hua (whatever happened has happened)" remark while speaking to people in the riot-hit areas of Delhi, and alleged attempts..




IndiaTimes - Published





NSA Doval briefs Amit Shah on Delhi situation

National Security Advisor (NSA) Ajit Doval on Wednesday briefed home minister Amit Shah about the prevailing situation in North East Delhi where communal violence has claimed at least 22 lives,..




IndiaTimes - Published





NSA Ajit Doval charged to bring Delhi violence under control

As violence in North-East Delhi claimed lives of at least 18 people, National Security Adviser (NSA) Ajit Doval has been given the charge to bring the violence under control, government sources have..




DNA - Published





Iran foreign minister Javad Zarif meets PM Modi in New Delhi

The meeting was held on the sidelines of the Raisina Dialogue 2020 which is currently going on in the national capital. Earlier in the day, Zarif met National Security Advisor (NSA) Ajit Doval here on..




IndiaTimes - Published





'India can play a role in de-escalating tensions in Gulf': Iran FM Javad Zarif meets PM Modi, NSA Doval

Zarif arrived in India on Tuesday on a three-day visit in the midst of spiralling tension between Iran and the US over the killing of Iranian general Maj Gen Qasem Soleimani.




DNA - Published





India-China Boundary Question: Special Representatives of both countries to hold border talks today

The Indian delegation will be led by National Security Advisor (NSA) Ajit Doval, while the Chinese side will be led by State Counsellor& Foreign Minister Wang Yi.




DNA - Published





India-China Boundary Issue: NSA Ajit Doval meets Chinese Foreign Minister Wang Yi

The Indian delegation is led by National Security Advisor (NSA) Ajit Doval, while the Chinese side is led by State Counsellor& Foreign Minister Wang Yi.




DNA - Published




European lawmakers to visit Kashmir; PM Modi, NSA Doval brief them on situation

Ahead of their two-day Kashmir visit, members of European Parliamentarians (MEPs) met PM Modi, who categorically told them that an urgent action was needed against those supporting and sponsoring..




IndiaTimes - Published





'Preserve evidence' of Pak role in terror attacks, NSA Doval to counter-terror agencies




IndiaTimes - Published





Ponung Doming 1st woman Lieutenant Colonel from Arunachal Pradesh

National Security Advisor (NSA) Ajit Doval also heaped praises and congratulated Major Doming calling her an "empowered and daring woman"




DNA - Published





Pakistani handlers told terrorists in Kashmir they will get bangles if they don't cause unrest, says NSA

Pakistan has readied about 230 terrorists for infiltration into Kashmir, and some have already crossed over with orders to cause unrest, India's National Security Adviser Ajit Doval said on Saturday,..




IndiaTimes - Published





NSA Doval orders shifting of baby Asma injured in Sopore terrorists attack to Delhi AIIMS

NSA Doval has asked the concerned authorities to bring Asma to AIIMS in Delhi for better medical care after he learned about her critical condition. In an interaction with journalists on Saturday,..




IndiaTimes - Published





France's NSA meets PM Narendra Modi in Delhi

France's National Security Advisor (NSA) Emmanuel Bonne met Prime Minister Narendra Modi here on Thursday. Earlier in the day, NSA Ajit Doval held a meeting with Bonne. The meeting of the two NSAs came..




IndiaTimes - Published





Ahead of PM Modi's Russia visit, NSA Ajit Doval meets his counterpart in Moscow

National Security Advisor (NSA) Ajit Doval on Wednesday met with Nikolai Patrushev, secretary of the Russian National Security Council, ahead of Prime Minister Narendra Modi's visit to Vladivostok for..




IndiaTimes - Published





'Nehru ji ke pairon ki dhool bhi nahi hain Shivraj': Digvijaya on Chouhan's 'Nehru was a criminal' remark

Asserting that saving Kashmir is their prime focus, senior Congress leader Digvijaya Singh also appealed Prime Minister Narendra Modi, Union Home Minister Amit Shah and National Security Advisor (NSA)..




DNA - Published





NSA Ajit Doval tours sensitive downtown Srinagar, talks to locals, security personnel

National Security Adviser Ajit Doval on Friday visited downtown Srinagar and spent over two hours in the area interacting with troops and local people. Doval, who is in J&K to review the situation..




IndiaTimes - Published





Abrogation of Article 370: National Security Advisor Ajit Doval says locals support Centre

The NSA gave directions that the common person should not face any hardships




DNA - Published





Home minister Amit Shah chairs meeting with Home secretary, NSA

Union Home minister Amit Shah on Sunday chaired a high-level meeting with Home secretary Rajiv Gauba and National Security Advisor Ajit Doval in Parliament Complex in Delhi. The meeting came in the..




IndiaTimes - Published





Amit Shah meets NSA Ajit Doval in Parliament over security situation in Kashmir

These meetings could assume significance in the backdrop of swirling rumours or speculation that the Centre could alter the provisions that glove special status to Jammu and Kashmir




DNA - Published





For counter-terror operations, Centre to deploy additional 10,000 troops in Kashmir

Decision comes after NSA Ajit Doval returned from a two-day review visit to the Valley




DNA - Published





Ajit Doval back as National Security Adviser, gets Cabinet rank

Sources says the Prime Minister's decision to elevate Doval to the rank of Cabinet Minister was to maintain equilibrium in the functioning of his government




DNA - Published





NSA Ajit Doval gets 5 more years, and cabinet rank as well

Marking his first executive appointment in the new government, PM Modi reappointed national security advisor Ajit Doval for another five-year term. Doval, the first NSA to serve two consecutive terms,..




IndiaTimes - Published