Akihito
Emperor of Japan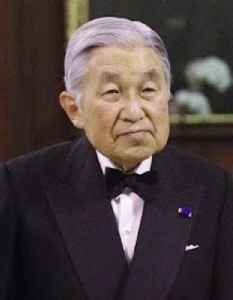 Akihito
is the current Emperor of Japan. He succeeded to the Chrysanthemum Throne upon the death of his father Emperor Shōwa (Hirohito) on 7 January 1989. According to Japan's traditional order of succession, he is the 125th member of the world's oldest reigning dynasty. The Japanese government announced in December 2017 that Akihito would abdicate on 30 April 2019 due to his age and declining health.
Factbox: Key facts about Japan's imperial system
Japanese Emperor Akihito, 85, will abdicate on April 30, the first Japanese monarch to do so in about two centuries. He will be succeeded by Crown Prince Naruhito, 59.
Reuters - Published
Japan emperor to pay last homage at Shinto holy site before abdication
TOKYO (Reuters) - Japanese Emperor Akihito, along with Empress Michiko, on Wednesday started a three-day pilgrimage to the Ise Grand Shrine, the holiest site in Japan's Shinto religion, as part of a..
WorldNews - Published
Japan's Emperor Performs Shinto Ritual As Part Of His Abdication
According to a report by Business Insider, on Wednesday, Japan's 85 year-old emperor performed a sacred ritual involving the country's imperial treasures to announce his abdication from the throne to..
Credit: Wochit News Duration: 00:36Published
Japan's Emperor Akihito and Empress Michiko celebrate their 60th wedding anniversary
The couple met in 1957 at a tennis championship remembered as the "love match".
Credit: euronews (in English) Duration: 00:50Published
Critics Claim New Imperial Era 'Reiwa' Means An Era Of 'Control & Harmony'
According to a report by Reuters, on Tuesday, controversy has arisen in Japan as the nation prepares to enter a new imperial era and people debate the meaning of its recently revealed name, "Reiwa." On..
Credit: Wochit News Duration: 00:45Published
Japan Names New Era Under Emperor Naruhito 'Reiwa'
In Japan, a new emperor means choosing a new gengō — the formal name for an era that is used to date documents, describe culture and more.
Credit: Newsy Studio Duration: 01:29Published
Japan reveals name of new imperial era
Japan's new imperial era to begin on May 1, when Crown Prince Naruhito becomes emperor, will be called "Reiwa", Chief Cabinet Secretary Yoshihide Suga announced on Monday (April 1), a month ahead of..
Credit: Reuters Studio Duration: 01:09Published
Emperor Akihito Will Abdicate In April
TOKYO (Reuters) - Japan's Emperor Akihito, who will abdicate at the end of April in the first such event in two centuries, marked the 30th anniversary of his enthronement on Sunday with a call for..
Credit: Wochit News Duration: 00:38Published
Search this site and the web:
You Might Like