Central Bureau of Investigation
India government investigating agency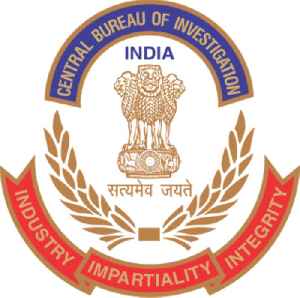 The Central Bureau of Investigation (CBI) is the premier investigating agency of India. Operating under the jurisdiction of the Ministry of Personnel, Public Grievances and Pensions, the CBI is headed by the Director. The agency has been known to investigate several economic crimes, special crimes, cases of corruption and other high-profile cases.


Dabholkar case: CBI cites confession of accused to oppose lawyer's bail
IndiaTimes - Published
Darvesh Yadav murder: SC refuses to entertain plea seeking CBI inquiry
A vacation bench comprising Justice Sanjiv Khanna and Justice B R Gavai was hearing a petition filed by lawyer Indu Kaul seeking a CBI inquiry into the matter and compensation for the family of the..
IndiaTimes - Published
SC to hear plea for CBI probe into UP Bar Council chief's murder
The Supreme Court Friday agreed to hear a plea seeking CBI probe into the recent murder of Uttar Pradesh Bar Council president Darvesh Singh Yadav, who was shot dead in the Agra court premises.
DNA - Published
INX case: CBI filed FIR in 2017 over alleged irregularities
IndiaTimes - Published
Former Niti Aayog CEO, ex-MSME secretary may face CBI probe in INX case
The Central Vigilance Commission (CVC) has held that there is a prima facie case for prosecuting four retired and serving bureaucrats, including former Niti Aayog CEO Sindhushree Khullar and ex-MSME..
IndiaTimes - Published
Dabholkar case: CBI again seeks Sanjeev Punalekar's custody to quiz him
The Central Bureau of Investigation (CBI) made the plea before the court of additional sessions judge (special judge) R M Pande here through its special public prosecutor Prakash Suryawanshi.The court..
IndiaTimes - Published
Mukherjee Nagar case: Delhi HC to hear PIL for CBI probe into police assault on tempo driver, son
The petition, which also sought framing of appropriate guidelines for police reforms, was mentioned before a bench of justices Jayant Nath and Najmi Waziri. The bench will hear the matter at 2.15 pm on..
DNA - Published
Lawyers Collective says 'no basis in fact and law' after CBI registers case n violation of FCRA
The Central Bureau of Investigation (CBI) has registered a case against NGO Lawyers Collective and senior lawyer Anand Grover on charges of violating rules under the Foreign Contribution (Regulation)..
IndiaTimes - Published
CBI FIR baseless, it has been filed to silence organisation: Lawyers Collective
Lawyers Collective (LC) is run by Grover and his wife, lawyer Indira Jaising. In a statement Grover, Jaising and the LC said that the FIR is solely based on proceedings under the Foreign Contribution..
IndiaTimes - Published
CBI books senior lawyer Anand Grover, his NGO for foreign aid irregularities
The agency has filed an FIR on the basis of a complaint from the Ministry of Home Affairs (MHA), which has alleged several discrepancies in the utilisation of foreign aid received by the NGO. The..
IndiaTimes - Published
Saradha Chit Fund scam: Calcutta HC dismisses CBI's plea for urgent hearing in ex-Kolkata top cop Rajeev Kumar case
The Calcutta High Court has dismissed plea saying that the hearing will be held as per the scheduled hearing date on July 2.
DNA - Published
You Might Like