Bahrain
Sovereign island state in the Persian Gulf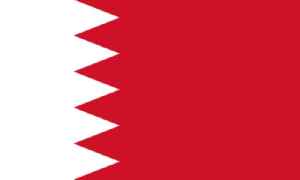 Bahrain, officially the Kingdom of Bahrain, is an island country in the Persian Gulf. The sovereign state comprises a small archipelago centered around Bahrain Island, situated between the Qatar peninsula and the north eastern coast of Saudi Arabia, to which it is connected by the 25-kilometre (16 mi) King Fahd Causeway. Bahrain's population is 1,234,571, including 666,172 non-nationals. It is 765.3 square kilometres (295.5 sq mi) in size, making it the third-smallest nation in Asia after the Maldives and Singapore.


Bahrain king reinstates nationality to 551 citizens tried in courts
Bahrain's king, Hamad bin Isa Al Khalifa, reinstated nationality to 551 people stripped of their citizenship by courts in the Gulf Arab state, state news agency BNA said on Sunday.
Reuters - Published
Bahrain king reinstates citizenship of 551 amid mass trials
DUBAI, United Arab Emirates (AP) - Bahrain's king on Sunday reinstated the citizenship of 551 people convicted and stripped of their nationality amid a series of mass trials conducted during the..
WorldNews - Published
Also reported by •BBC News
Hass Wants To Solve Problem Before Next Baku Race
According to Thisis1.com, "Haas says it has serious work to do before the next race in Baku. Having earlier looked 'best of the rest' behind the big three teams in 2019, the American team's race..
Credit: Wochit News Duration: 00:37Published
McLaren's Lando Norris' Secret Formula For Success Doesn't Involve Champagne
F1 Fansite.com reports no alcohol could be one of the secrets of Lando Norris' early success in 2019. Before the season, some were predicting that McLaren would be bringing up the rear in 2019 along..
Credit: Wochit News Duration: 00:44Published
"It's not really any different", says Hamilton on eve of 1,000th GP
Lewis Hamilton says he is in China "to do a job" and is not concerned with Sunday's Chinese Grand Prix milestone 1000th race
Credit: Reuters - Sports Duration: 01:17Published
Ferrari Might Have A Bigger Advantage In China
According to Thisis1.com, "Lewis Hamilton may have won in Bahrain, but he says Mercedes has serious work to do ahead of round three in China in a fortnight. Immediately after winning on Sunday, the..
Credit: Wochit News Duration: 00:31Published
Gulf Arab Allies, Iran Reject U.S. Recognition Of Israel's Claim To Golan Heights
According to a report by Reuters, on Tuesday, Washington's Gulf Arab allies, along with regional foe Iran, condemned US President Donald Trump's decision to recognize Israel's sovereignty over the..
Credit: Wochit News Duration: 00:40Published
Bahrain To Implement Commercial 5G Network With Huawei Despite U.S. Warning
According to a report by Reuters, Bahrain, home to the United States Navy's Fifth Fleet, plans to implement a commercial 5G mobile network by June, partly using Huawei technology despite US concerns..
Credit: Wochit News Duration: 00:41Published
Hakeem Al-Araibi granted Australian citizenship after time in Thai prison
Refugee footballer Hakeem Al-Araibi met with Australian Prime Minister, Scott Morrison after being granted citizenship. Rough cut - no reporter narration.
Credit: Reuters Studio Duration: 01:04Published
Bahrain mass trial raises deep concern: U.N. rights chief
United Nations human rights chief Michelle Bachelet said on Thursday she was concerned that a Bahrain mass trial that revoked the nationality of 138 people this week had not met international fair..
Reuters - Published
Bahrain jails 139 on terrorism charges, revokes citizenship
A court in Western-allied Bahrain sentenced 139 people to jail on terrorism charges on Tuesday and revoked the citizenship of all but one of them, the public prosecutor said, in the latest mass trial..
Reuters - Published
Search this site and the web:
You Might Like