Prayut Chan-o-cha
Thai politician, current Prime Minister of Thailand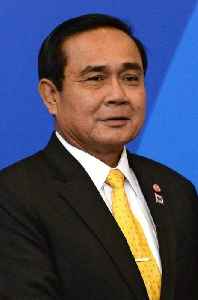 Prayut Chan-o-cha is a Thai politician, retired Royal Thai Army general officer and former leader of the National Council for Peace and Order (NCPO), the military junta which governed Thailand between 22 May 2014 and 10 July 2019. As of August 2019 he serves as the prime minister and defence minister.


Thai anti-government protesters hold art exhibition

Thousands of anti-government protesters gathered in Bangkok's business district on Thursday for an outdoor art exhibition to call for Thailand's prime minister Prayuth Chan-ocha to resign - and also..
Credit: Reuters Studio Duration: 01:09
Published
Thailand lifts protest ban that backfired

Thailand on Thursday rolled back an emergency decree aimed at ending months of protests against the government and monarchy that had only inflamed anger and brought tens of thousands of people onto..
Credit: Reuters - Politics Duration: 02:06
Published
Hand signals only: The language of Thai protests

Thai protesters are learning a whole new language, developed within days to co-ordinate among crowds of thousands of people at demonstrations that have swollen in defiance of a government ban and..
Credit: Reuters - Politics Duration: 02:03
Published
Thailand: Protesters take to Bangkok streets despite warning

Protesters demand the removal of PM Prayuth Chan-ocha who first took power in a 2014 coup.
Credit: Al Jazeera STUDIO Duration: 02:02
Published
Thailand: Clashes as Thousands Defy Ban to Attend Protests

Thousands of pro-democracy protesters took to the streets of Bangkok defying a strict ban on large public gatherings in Thailand. Some demonstrators clashed with police, as officers tired to..
Credit: ODN Duration: 01:38
Published
Thailand bans protests, news that "could create fear"

Thailand's government banned protests and the publication of sensitive news on Thursday in the face of escalating protests that have targeted King Maha Vajiralongkorn as well as Prime Minister Prayuth..
Credit: Reuters - Politics Duration: 01:33
Published
Thai protest targets government and monarchy

Around 20,000 people protested in Thailand's capital on Saturday against the government of former coup leader and Prime Minister Prayuth Chan-ocha, with many demonstrators also calling for reforms to..
Credit: Reuters Studio Duration: 00:44
Published
You Might Like



Thai protesters give PM Prayuth three-day deadline to quit

BANGKOK: Thai protesters set a three-day deadline for Prime Minister to quit on Wednesday as tens of thousands of people marched to to submit their demands. "Our goal today is...




WorldNews - Published





Thai PM Refuses to Resign, Police Crack Down on Protesters

Thailand's prime minister rejected calls for his resignation Friday, while riot police cracked down on thousands of student-led protesters who rallied in the capital in defiance of a strict state of..




WorldNews - Published





Thailand protests: Protesters defy rally ban as PM Prayuth vows not to quit

Police use water canon as thousands of pro-democracy protesters rally in Bangkok for the second day.




BBC News - Published





Thai protests: PM declares state of emergency in Bangkok to combat protests

Prayuth Chan-ocha has invoked a state of emergency decree in Bangkok to combat pro-democracy protests.




BBC News - Published





Thai protesters hold ambitious rally for democratic reforms

BANGKOK--Protesters gathered Saturday in Bangkok for the most ambitious rally so far in a pro-democracy campaign that has shaken up the government and Thailand's conservative establishment. Organizers..




WorldNews - Published





Thailand's new finance minister resigns amid economic crisis

BANGKOK (Reuters) – Thailand's recently appointed finance minister, Predee Daochai, has resigned as the government struggles to pull Southeast Asia's second-largest economy out of a slump caused..




WorldNews - Published





Thai PM asks student protesters 'not to create chaos'

BANGKOK (Reuters) - Thailand's prime minister on Tuesday asked increasingly bold student-led protesters "not to create chaos" after some broke longstanding taboos by openly calling for reform of the..




WorldNews - Published





Thailand to declare one-month emergency on March 26: prime minister

Thailand will be in an emergency mode from March 26 for a month to deal with the coronavirus outbreak, Prime Minister Prayuth Chan-ocha told a news conference on Tuesday.




Reuters - Published





Thailand to tighten entry rules for all nationalities in virus fight

Thailand will introduce new measures requiring all travellers to the country to present medical certificates and health insurance before gaining entry in an effort to curb the spread of the..




Reuters - Published





'RIP Democracy': Thai students protest party ban as opposition grills PM in parliament

Hundreds of Thai students protested on Monday against the dissolution of a popular opposition party as Prime Minister Prayuth Chan-ocha and five cabinet ministers faced the first day of a censure..




Reuters - Published





Thai opposition starts censure debate against PM and ministers

Thailand's opposition began a parliamentary censure debate against Prime Minister Prayuth Chan-ocha and five of his cabinet ministers on Monday, just days after the Constitutional Court dissolved a key..




Reuters - Published





Banned Thai opposition party says junta helped 1MDB cover-up

A banned Thai opposition party on Sunday accused the former military junta of helping cover up Malaysia's multi-billion-dollar 1MDB scandal, urging Thais to demand the truth ahead of a censure debate..




Reuters - Published




Thai soldier's killing spree left 26 dead, 57 wounded: PM

A Thai soldier who went on a rampage in a northeastern city that ended in a standoff in a packed shopping mall killed 26 people and wounded at least 52, Prime Minister Prayuth Chan-ocha said on Sunday.




Reuters - Published




Thousands join Thai anti-government run, while rival camp pushes back

Thousands of Thais joined a run in the capital on Sunday in what appeared to be the biggest show of dissent against the government of Prime Minister Prayuth Chan-ocha, although he also drew a big show..




Reuters - Published




Bangkok stages biggest anti-government protest since 2014 coup

Thailand demonstration called in response to ban on Future Forward opposition party Thousands of people joined Bangkok's biggest protest since a 2014 coup on Saturday, after authorities in Thailand..




WorldNews - Published





Thousands join biggest protest for years in Thai capital

Thousands of people joined Bangkok's biggest protest since a 2014 coup on Saturday, after authorities in Thailand moved to ban a party that has rallied opposition to the government of former military..




Reuters - Published





Thai Opposition Leader Asks Supporters to Mobilise in Bangkok on Saturday

Thai opposition party leader Thanathorn Juangroongruangkit called on supporters to mobilize in Bangkok on Saturday, days after the national election body called for the dissolution of his party...




WorldNews - Published





Thai PM says Cambodia's Sam Rainsy unlikely to be allowed in

Thailand is unlikely to allow entry to Cambodian opposition founder Sam Rainsy, Prime Minister Prayuth Chan-ocha said on Wednesday, after the self-exiled dissident said he planned to return to Cambodia..




Reuters - Published





A vibrant Asean is in India's interest: PM

"India's Act East policy is an important part of our Indo-Pacific vision and Asean lies at the core of it. Integrated & economically vibrant Asean is in the interest of India," PM Modi told Asean..




IndiaTimes - Published





India, Thailand decide to boost defence cooperation

Prime Minister Narendra Modi and his Thai counterpart Prayut Chan-o-cha on Sunday agreed to enhance bilateral cooperation in the defence industries sector and explore possibility of boosting trade ties..




IndiaTimes - Published





Thai PM vows to take sole responsibility for oath of office gaffe

Thai Prime Minister Prayuth Chan-ocha said on Thursday he will take sole responsibility for failing to recite the full oath of allegiance when he and his Cabinet were sworn in last month.




Reuters - Published





Thailand seeks more than 10 suspects for series of bombs in Bangkok

Thai security forces are hunting more than 10 suspects in connection with a series of bomb attacks in Bangkok last week, Prime Minister Prayuth Chan-ocha said on Monday.




Reuters - Published





Bangkok bombings: Four wounded by blasts in Thai capital as leaders meet for high-level summit; security tightened, says PM Prayut Chan-O-Cha

Several small bombs exploded across Bangkok on Friday, rattling the Thai capital as it hosted a regional summit attended by US Secretary of State Mike Pompeo and leaving four people wounded but not..




Firstpost - Published





Thai PM condemns those behind blasts that destroy peace

Thai Prime Minister Prayuth Chan-Ocha on Friday condemned those behind at least three small bomb blasts that hit the capital Bangkok as it was hosting a South East Asian security meeting with world..




Reuters - Published




Thai PM faces first opposition challenge as he sets out plans

Thailand's Prime Minister Prayuth Chan-ocha faced opposition questions in parliament for the first time on Thursday as the former junta leader set out his government's plans.




Reuters - Published





Thai coup leader's new cabinet sworn in pledging loyalty to king

Thai King Maha Vajiralongkorn on Tuesday swore in the cabinet of Prime Minister Prayuth Chan-ocha, a former army chief who seized power in a 2014 coup.




Reuters - Published





Thai king swears in coup leader's cabinet

Thai King Maha Vajiralongkorn on Tuesday swore in the cabinet of Prime Minister Prayuth Chan-ocha, a former army chief who seized power in a 2014 coup.




Reuters - Published





Thai prime minister declares end of military rule

Thai Prime Minister Prayuth Chan-ocha formally resigned as the head of the military government on Monday, saying the country would function as a normal democracy after five years of military rule.




Reuters - Published





Thai king endorses new cabinet weeks after disputed election

Thailand's King Maha Vajiralongkorn has endorsed the new civilian cabinet of Prime Minister Prayuth Chan-ocha following a March 24 election, the Royal Gazette said on Wednesday.




Reuters - Published





Thai junta leader orders end to army rule but keeps tough powers

Thai junta chief Prayuth Chan-ocha on Tuesday ordered an end to military rule before his new civilian government is sworn in, but kept the power to let security forces carry out searches and arrests..




Reuters - Published





Thai coup leader completes transition to elected PM, cabinet unclear

Thailand's king formally endorsed former army chief General Prayuth Chan-ocha as an elected prime minister on Tuesday, five years after he seized power in a military coup, though the makeup of his..




Reuters - Published





Economic woes face Thailand's junta chief turned civilian PM

Thailand's junta chief-turned-civilian prime minister Prayuth Chan-ocha faces a tough task in reviving a faltering economy and sinking investor confidence - the same problems as when he seized power in..




Reuters - Published





'Not here for decoration': Thai transgender MPs make history in parliament

Thailand's transgender community enjoys a high profile, but still faces major hurdles in the conservative Buddhist-majority kingdom Smiling broadly, Tanwarin triumphantly cast her vote for prime..




WorldNews - Published





Thai junta chief vows to 'do his best' as civilian PM

Thailand's junta chief General Prayuth Chan-ocha called on Thursday for national unity and thanked members of parliament after they voted him in as a civilian prime minister, five years after he seized..




Reuters - Published





Thai parliament elects ex military government chief Prayuth as PM

Thailand's opposition says the vote was rigged as the Senate was hand-picked by the military.




BBC News - Published





Junta leader elected Thai prime minister

Thailand's junta chief Prayuth Chan-ocha was elected late Wednesday as the kingdom's first civilian prime minister since the 2014 coup he led, in a vote by a parliament stacked with appointed allies of..




France 24 - Published





Thai Parliament Votes To Keep Prayuth Chan-ocha In Power As Prime Minister

Thailand's two houses of Parliament voted to keep Prayuth Chan-ocha in power on Wednesday, five years after he removed an elected government in a military coup, according to The Straits Times. Prayuth..




WorldNews - Published





How Thailand's coup leader kept power through election

When Thailand's former army chief, General Prayuth Chan-ocha, was confirmed as prime minister by parliament on Wednesday, he completed his transition from coup leader to head of a civilian government..




Reuters - Published





Parliament confirms Thai coup leader Prayuth as prime minister

Thailand's new parliament confirmed military junta leader General Prayuth Chan-ocha as civilian prime minister on Wednesday, five years after he seized power from an elected government while he was..




Reuters - Published





Thai junta leader voted in as prime minister after election

Thailand's new parliament voted in ruling military junta chief General Prayuth Chan-ocha as prime minister on Wednesday, five years after he overthrew an elected government.




Reuters - Published





Thailand's opposition alliance to nominate rising star Thanathorn as PM

Thailand's anti-military Democratic Front alliance will on Wednesday nominate rising political star Thanathorn Juangroongruangkit for prime minister, facing off against junta leader Prayuth Chan-ocha,..




Reuters - Published