Cape Canaveral
Cape at the Atlantic coast of Florida, United States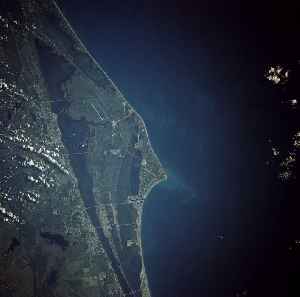 Cape Canaveral, from the Spanish Cabo Cañaveral, is a cape in Brevard County, Florida, United States, near the center of the state's Atlantic coast. Known as Cape Kennedy from 1963 to 1973, it lies east of Merritt Island, separated from it by the Banana River. It was discovered by the Spanish conquistador Juan Ponce de León in 1513.


SpaceX postpones launch of Starlink satellites aimed at delivering internet from space
Billionaire Elon Musk's plans to launch 60 satellites into space as part of a project to build a high-speed internet network that would be available anywhere on the planet has had to be postponed due..
WorldNews - Published
SpaceX to launch first satellites for Musk's Starlink internet service
CAPE CANAVERAL: Elon Musk's SpaceX was due to launch 60 small satellites into low-Earth orbit on Wednesday, part of his rocket company's plan to sell Internet service beamed from space to fund his..
WorldNews - Published
Watch: SpaceX rockets blasts off from Cape Canaveral
The resupply mission had been plagued by unsual delays.
Credit: euronews (in English) Duration: 00:35Published
First Commercial Launch For SpaceX's Falcon Heavy
According to a report by Digital Trends, on Wednesday, the world's most powerful rocket in operation, SpaceX's Falcon Heavy, is scheduled to launch from the Kennedy Space Center in Cape Canaveral,..
Credit: Wochit News Duration: 00:52Published
Search this site and the web:
You Might Like