Cape Canaveral
Cape on the Atlantic coast of Florida in the United States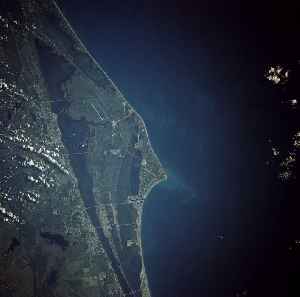 Cape Canaveral is a prominent cape in Brevard County, Florida, in the United States, near the center of the state's Atlantic coast. Officially Cape Kennedy from 1963 to 1973, it lies east of Merritt Island, separated from it by the Banana River.


SpaceX, NASA launch U.S. astronauts into orbit

SpaceX, the private rocket company of billionaire entrepreneur Elon Musk, launched two Americans toward orbit from Florida on Saturday in a mission that marks the first spaceflight of NASA astronauts..
Credit: Reuters Studio Duration: 01:13
Published
Astronauts strap into SpaceX capsule before launch day

NASA astronauts Doug Hurley and Bob Behnken test out the SpaceX Crew Dragon capsule ahead of Wednesday's anticipated launch. Gavino Garay has more.
Credit: Reuters Studio Duration: 01:17
Published
U.S. Space Force launches Boeing-built spaceplane

The U.S. Space Force launched the Boeing-built test spaceplane X-37B into orbit for its 7th mission on Sunday from Cape Canaveral. Caroline Malone reports.
Credit: Reuters Studio Duration: 01:19
Published
You Might Like



At Cape Canaveral, Trump's Search for a Heroic Narrative Is Thwarted

The president had hoped to watch the first launch of NASA astronauts into orbit from the United States in nearly a decade. Nothing would say the U.S. is back with more verve than a rocket's red..




NYTimes.com - Published





Saturday SpaceX launch weather forecast: More showers, thunderstorms likely at Cape Canaveral

The weather may not be much better Saturday for the rescheduled launch of a SpaceX rocket ship with two NASA astronauts on board, forecasters say.  




USATODAY.com - Published





2 U.S. astronauts board SpaceX rocket for historic launch

CAPE CANAVERAL — With thunderstorms and the possibility of tornadoes threatening a delay, two NASA astronauts climbed aboard a SpaceX rocket ship Wednesday for liftoff on a history-making flight that..




WorldNews - Published





Weather better for historic SpaceX launch of Nasa astronauts

CAPE CANAVERAL: With the weather looking up, SpaceX and NASA officials vowed Tuesday to keep crew safety the top priority for the nation's first astronaut launch to orbit in nearly a decade. Veteran..




WorldNews - Published





Stormy weather puts damper on SpaceX's 1st astronaut launch

CAPE CANAVERAL: Stormy weather is threatening to delay SpaceX's first astronaut launch. A SpaceX rocket is scheduled to blast off Wednesday afternoon from Kennedy Space Center, carrying a Dragon..




WorldNews - Published





SpaceX ready for defining moment with first humans on rocket

Elon Musk is about to face his biggest test after almost two decades as a space entrepreneur: launching human beings into orbit. If the weather holds and there are no technical issues, a SpaceX Dragon..




WorldNews - Published





Space Plane: Mysterious US military aircraft launches

The Atlas V rocket, carrying the X-37B space plane, launched from Cape Canaveral on Sunday.




BBC News - Published





US Space Force launches first national security mission

The United Launch Alliance Atlas 5 rocket was launched from Cape Canaveral, Florida.




BBC News - Published





Julius Montgomery, Who Broke a Space-Age Race Barrier, Dies at 90

In the Jim Crow South, he was the first black professional to be hired at Cape Canaveral, then made a sacrifice so that a technology school might open.




NYTimes.com - Published





Solar Orbiter set to reveal Sun's secrets

The European Space Agency will embark upon one of its most ambitious projects to date Sunday when its Solar Orbiter probe launches from Florida's Cape Canaveral bound for the Sun. ......




WorldNews - Published





SpaceX launches, destroys rocket in astronaut escape test

CAPE CANAVERAL, Fla. (AP) — SpaceX completed the last big test of its crew capsule before launching astronauts in the next few months, mimicking an emergency escape shortly after liftoff Sunday. No..




WorldNews - Published





Boeing's Starliner set for early return from failed mission Sunday morning

Cape Canaveral (AFP) Dec 20, 2019 Boeing's Starliner spacecraft...




WorldNews - Published





Boeing's Starliner capsule makes launch debut, but runs into trouble in orbit

CAPE CANAVERAL, Fla. — Boeing's new Starliner capsule ran into trouble and went off course in orbit minutes after blasting off Friday on its first test flight, a crucial dress rehearsal for next..




WorldNews - Published





Rocket launched carrying Boeing spacecraft

A rocket launched from Cape Canaveral, Florida on Friday morning. It's delivering Boeing's CST-100 Starliner spacecraft on its way to the International Space Station. NASA is testing the Starliner in..




USATODAY.com - Published





Rocket launch from Florida may be visible as far as Maryland on Friday morning

When United Launch Alliance launches its Atlas V Starliner from Cape Canaveral, people outside Florida's Space Coast may to see it light up the sky.




USATODAY.com - Published





SpaceX's reusable rocket launches communication satellite

WASHINGTON, Dec. 16 (Xinhua) -- U.S. private spaceflight company SpaceX launched a communication satellite on Monday with its Falcon 9 rocket from Launch Complex 40 at Cape Canaveral...




WorldNews - Published





SpaceX launches rocket from Cape Canaveral

A SpaceX Falcon 9 rocket launched a communications satellite from Cape Canaveral Air Force Station in Florida on Monday. (Dec. 16)




USATODAY.com - Published




Air Force's space plane back after 2-year voyage

The Air Force's mystery space plane is back on Earth, following a record-breaking two-year mission. The X-37B landed at NASA's Kennedy Space Center in Florida early Sunday. The Air Force is mum about..




WorldNews - Published





Pence says Trump "might make an effort" to stop more "send her back" chants

CBS News chief Washington correspondent Major Garrett sat down with Vice President Mike Pence at Cape Canaveral for an interview on a wide range of topics, including the "send her back" chants from the..




CBS News - Published





Astronauts hailed as heroes 50 years after historic moon landing

CAPE CANAVERAL — Capping a week of celebrations over the historic Apollo 11 mission, Vice President Mike Pence joined astronaut Buzz Aldrin on Saturday at the launch pad in Florida that sent the..




WorldNews - Published





Fifty years after Apollo 11 lifted off, NASA prepares new Moon mission

On July 16, 1969, Apollo 11 lifted off from Cape Canaveral, Florida carrying its crew to the Moon and into history. Half-a-century later, NASA is now preparing a new Moon mission under the Artemis..




France 24 - Published





Apollo 11: Dewsbury man saw 'astonishing' Moon launch

John Blackburn vividly remembers watching Apollo 11 take off at Cape Canaveral in 1969.




BBC News - Published





SpaceX launches hefty rocket with 24 satellites

SpaceX launched its heftiest rocket with 24 research satellites early Tuesday. It marked the military's first ride on a recycled rocket. Both side boosters landed back at Cape Canaveral, but the new..




USATODAY.com - Published