Rashida Tlaib
U.S. Representative from Michigan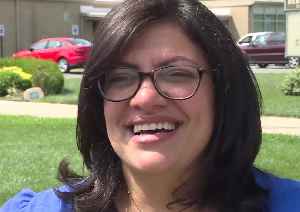 Rashida Harbi Tlaib is an American politician and lawyer serving as the U.S. Representative for Michigan's 13th congressional district since 2019. The district includes the western half of Detroit, along with several of its western suburbs and much of the Downriver area. A member of the Democratic Party, Tlaib represented the 6th and 12th districts of the Michigan House of Representatives before her election to Congress. She was the first Muslim woman to serve in the Michigan legislature.


Lawmakers Break Ramadan Fast on Capitol Hill
Representatives André Carson, Ilhan Omar and Rashida Tlaib, all Muslims, hosted an iftar meal on Monday night at the Capitol Visitor Center.
NYTimes.com - Published
Rashida Tlaib's Holocaust comments are wrong, but so are her critics: Today's talker
It is not acceptable for elected leaders to weaponize comments about Jews or the Holocaust for political gain. We must end the blame game.
USATODAY.com - Published
Democrat Rashida Tlaib Still Looks For Ways To Impeach Donald Trump
Rep. Rashida Tlaib of Michigan asked her fellow Democrats to sign a resolution. She wants them to collectively ask the House Judiciary Committee to investigate President Donald Trump. According to..
Credit: Wochit News Duration: 00:32Published
Lindsey Graham Issues Stern Warning To Impeachment Hungry Democrats
Sen. Lindsey Graham issued a stern warning to Democrats. There is a coalition of freshmen Democrats, led by Rashida Tlaib and Alexandria Ocasio-Cortez, pushing to remove Pres. Trump. Graham warned that..
Credit: Wochit News Duration: 00:32Published
GOP slams Rep. Rashida Tlaib for Holocaust remarks
Tlaib said she gets "a calming feeling" when she thinks of "the tragedy of the Holocaust," the suffering of her Palestinian ancestors and the new state of Israel
CBS News - Published
Also reported by •USATODAY.com
Rashida Tlaib defends Holocaust comments on Seth Meyers' show in face of 'racist idiots'
The Detroit congressman defended her comments on the Holocaust and Palestine and suggested that Republican critics are "racist idiots."
USATODAY.com - Published
A 'Calming Feeling,' a Furor and a New Front in the War Over Anti-Semitism
Representative Rashida Tlaib's set off another firestorm with her awkward comment that she had a "calming feeling" knowing that her ancestors had lost their land in the creation of Israel after..
NYTimes.com - Published
Search this site and the web:
You Might Like